Retailers are in danger of posting their first same-store sales decline since August 2009 when they report monthly results today, as surging gas prices, a later Easter and lingering winter weather across the U.S. most likely held back consumer spending in March.
Last March, the 27 retailers we track reported sales that were 11.4% higher than 2009, while same-store sales rose 9.2%. On the back of those tough comps, analysts are expecting sales that are roughly flat to last year. However, we will not read too much into March performance – Easter falls three weeks later than last year, so the best comparison will be the combined March-April period. On this basis, retailers are up against equally strong comps from a year ago.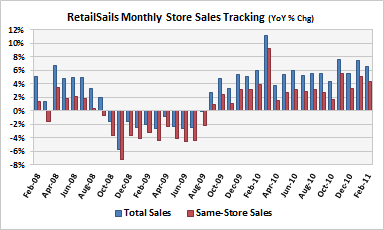 (Click charts to expand)
Based on this morning's report from MasterCard SpendingPulse, most retail sectors continued to see strong year-over-year growth in March, led by strong performance in e-commerce (+16.1%) and luxury (+8.5%).
Michael McNamara, Vice President, Research and Analysis for MasterCard Advisors SpendingPulse, said, "Most retail sectors continued to record solid growth year-over-year, similar to February, although we're not seeing an acceleration of momentum from February to March. The lack of increased momentum in some sectors could be due to calendar shifts, given that Easter falls very late this year."
He noted, like many others have recently, that high gas prices remain a concern: "Compared to March 2010, we're seeing drivers pump less gasoline," he notes. "Based on what we've observed in the last three to four years, high gasoline prices typically result in consumers consolidating shopping trips, shopping closer to home, and making fewer trips to the brick and mortar locations as we get to Saturday. On the other hand, we've seen the e-Commerce channel benefitting somewhat from this trend."
Here is what the analysts are predicting for March same-store sales:
Thomson Reuters expects consolidated same-store sales to fall 0.7% compared with a 9.0% gain last March. Led by a 2.3% decline at department stores as Target (NYSE:TGT) and Macy's (NYSE:M) it said it expects comps to fall
The International Council of Shopping Centers (ICSC) projects chain store sales will be flat to up 2% after a 9.0% gain last March
Retail Metrics expects a 0.5% drop in revenue at stores open at least a year for March, compared with an 8.7% increase last year
Redbook Research said same-store sales rose 1.9% in March (based on weekly tracking results), below the 2.5% expected, and only expects a 2.8% gain in April
Recent gains in employment and personal income have so far offset surging gas and food prices. However, all three consumer confidence measures we track have recently plummeted on inflation worries and discretionary spending is already being crimped by higher prices. Commentary from Surveys of Consumers chief economist, Richard Curtin sums up the issues well:
"The proximate cause of the sharp drop in confidence was the rise in gas and food prices. The more damaging cause, however, was that the fewest consumers in more than a half century expected income increases, and many fewer anticipated gains in their inflation-adjusted incomes. The data clearly indicate that the rate of real consumer spending will diminish, but the data do not indicate a renewed downturn is now on the horizon. Continued job gains are essential as even modest job losses could quickly shift consumers toward retrenchment. For now, consumers find discounts attractive, and remain willing to modestly increase their spending."
As always, we will have the full roundup of monthly results from retailers posted tomorrow morning.

Related Stories: