The retail sector has enjoyed a solid run to the upside over the last 24 months. The chart below of SPDR S&P Retail ETF (NYSEARCA:XRT) shows the rise from March 2009 to current. The ETF has moved from $17.87 to $51.74 or a gain of 189%. The recent break above $50.30 established the next leg higher for the sector ETF, but the question facing investors is the sustainability of the move.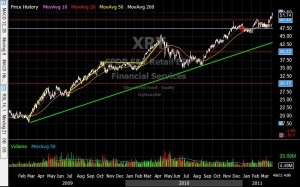 (Click chart to enlarge)
On Wednesday, April 13, the March retail sales report will be published. The current estimates from analysts are for a decline of 0.5% and if they are right it would be the first decline in monthly sales in 18 months. The rationale for the decline is pinned to a decline in consumer confidence data, rising gasoline prices, rising food prices and rising commodity prices, such as cotton, increasing apparel costs. Right or wrong the data will give some insight into the consumer spending habits as they face these challenges.
Some analysts remain upbeat concerning the sector and believe the rise in prices has not affected the outlook for spending. Scanning the sector shows optimism in specific components relative to future sales. Abercrombie & Fitch (NYSE:ANF), a specialty retailer, broke from the recent trading range moving up more than 10% as the company revised its outlook for sales and expansion globally. Game Stop (NYSE:GME), an electronic retailer, has enjoyed the positive news relative to sales on 3D games and online retailers (NYSEARCA:FDN) continue to report positive growth.
We continue to rate the sector a hold, but the recent break above resistance shows promise in the individual retail stocks. Watch the outlook for earnings and the sales report next week to provide entry points on stocks such as CVS Caremark (NYSE:CVS), Limited Brands (LTD) and TJ Maxx (NYSE:TJX). The uptrend remains in play and investor sentiment looks more positive than consumer confidence.
Disclosure: Clients of Money Strategies Inc. may or may not have positions in the stocks or etfs mentioned in the article and I may initiate a long position in XRT over the next 72 hours..