EQT Corp (NYSE:EQT) is a diversified energy company focused on natural gas in the Appalachian states. EQT operates as an exploration and development firm, a midstream provider, and a regulated gas utility. Founded in 1891 and formerly known as Equitable Resources, EQT has substantial assets in Kentucky, West Virginia, and Pennsylvania.
Operating earnings for 2010 were $470 million, with production generating 46%, midstream 35%, and regulated utility 18%. Clearly, the company is positioned for growth in production and midstream in a natural gas resource area that will continue to be developed.
The utility business supplies 275,000 customers with regulated natural gas and these customers overlap the company's production and transportation assets. The midstream assets include 10,000 miles of gathering and 970 miles of interstate pipelines along with processing and storage facilities. The production assets include 3.5 million acres and 5.2 Tcfe of proved reserves across three major plays: Marcellus Shale, Huron Shale and CBM (coal bed methane).
EQT offers an interesting exposure to a highly regional, vertically integrated natural gas company with outstanding E&P growth potential.
Operating cash flow this year is anticipated at $750 million with a capital expenditure budget of $970 million. The shortfall is being funded by the sale of some non-core midstream assets, making EQT cap ex fully funded for this year. For an E&P company, this financial advantage is critical.
The majority of cap ex is going to natural gas production with a budget of $690 million. The company plans on drilling 144 wells this year and to invest $240 million and $35 million in midstream and utility operations, respectively.
EQT has a very large acreage position in the Marcellus and Huron plays. The extent of future development costs could be a challenge and offers some concerns about the speed of development. While the reserves are there and EQT has a proven record of successfully drilling, the overhanging issue is creating the financing package to fund additional cap ex growth.
The company has recently been on a natural gas production growth binge with 34% growth in 2010, 30% anticipated this year and 18% anticipated next year. By the end of 2012, production is anticipated at 566 Mmcfe/d. Management has been good at reserve replacement, with a 4th quarter 2010 replacement ratio of 998%.
Production growth has been aided by some very impressive well results. Recently, the company announced 30-day results of a 23 MMcfd well at a cost of $5.5 million. The company has completed seven of these high performance wells, and is upbeat concerning additional projects. EQT operates six of the top 20 producing wells in the Marcellus. Operating margins should be bit higher due to its low royalty base of 12%. EQT also has one of the lowest finding and development costs in the industry at just $0.93 per Mcfe.
Annual reserve replacement has averaged 688% a year since 2005. As of the end of 2010, reserve life of proven reserves was estimated at 35 years. With proven reserves of 5.2 Tcfe along with 2P and 3P combined of an additional 52 Tcfe, it is estimated EQT could have as much as 200 years in reserve life.
Earnings per share in 2010 were $1.59, with $2.18 anticipated this year and $3.00 next. Operating cash flow for these same periods are $4.35, $5.00 to $5.70, and $6.50 to $7.25, respectfully.
EQT is mainly unhedged in its gas production. 43% of 2011 production is hedged at $5.43 and 13% of 2012 at $5.43. Management's unhedged production could be a hidden value when the natural gas market improves.
There are 150 million shares outstanding for a market cap of $7.5 billion. Insiders own 6.9% and institutions own 91%. As of Dec 2010, total liabilities were $4.0 billion with long-term debt of $1.9 billion. The stock pays a $0.88 annual dividend for a 1.8% current yield, but the dividend has not been raised since 2006. A dividend reinvestment/stock purchase plan is available for existing shareholders.
A 3 yr chart with 200 and 50 day ma: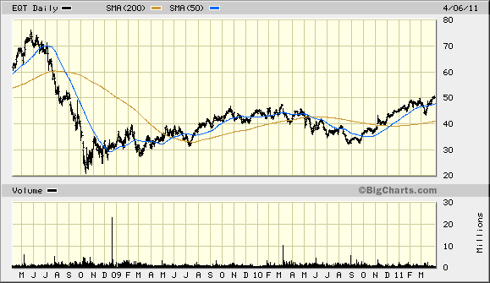 Click to enlarge
(Click to enlarge)
EQT's strongest assets are also its biggest potential problems: how to fund a ramped-up cap ex budget focused on drilling and midstream infrastructure. While the company can afforded almost a billion a year, developing joint ventures or further assets sales will be needed. Management has been reluctant to partner up due to its rich asset base and is seeking sales or higher debt.
At its current price of $50, EQT seems fully valued, specifically for a resource-specific investment. While NAV could be justified at around $60 a share, most value the company at around its current share price. Catalysts to move share prices higher could be additional high-performance wells and movement on clarity for funding of 2012 cap ex and beyond. EQT should be a direct beneficiary of stronger natural gas prices. For every $1 rise in natural gas, NAV could increase by about 30% and ocf could increase by 18%.
More information can be found on its website.
Investors seeking diversified natural gas exposure in the Marcellus with a vertically integrated, mainly unhedged company should review EQT. Keeping this company on your radar screen or starting a small position here and buying on weakness could be advantageous for long-term investors.
As always, investors should conduct their own due diligence, should develop their own understanding of these potential opportunities, and should determine how it may fit their current financial situation.
Disclosure: I have no positions in any stocks mentioned, and no plans to initiate any positions within the next 72 hours.