Anyone wondering whether financial markets in the year 2011 are going to "rhyme" with either 2010 (when inflation was quiet and a mid-year market downturn was resuscitated by the Fed) or 2008 (when soaring energy prices played a major role in the tumult that followed) might want to review what oil prices looked like at this juncture three years ago versus today. Charts courtesy of INO.com.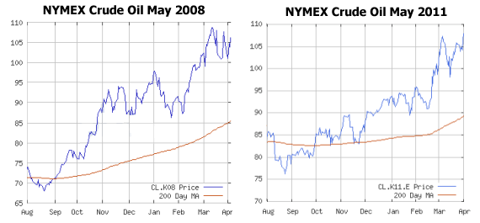 (Click charts to expand)
There is a stunning resemblance in the eight months worth of price data for the May WTI crude oil contract for these two years. The scales are virtually the same. The only real difference is in the price history prior to August of the year before, as reflected in the 200 day moving average. This might be something worth keeping an eye on.