By David Russell
Urban Outfitters (NASDAQ:URBN) got slammed after a bad earnings report last month, but the bulls are looking for it to claw its way back. Our Heat Seeker tracking system detected the purchase of more than 8,900 September 32 calls, most of which priced for $2.45. The open interest at the strike was just 288 contracts, so the trades were clearly opening new positions.
URBN ended the session up 1.96 percent at $31.28. It must climb more than 10 percent by expiration for those calls to turn a profit.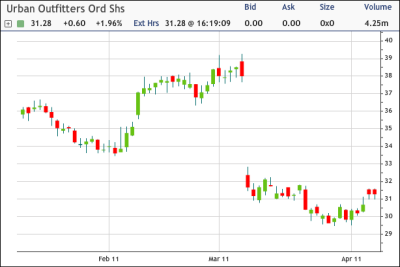 The specialty retailer cratered on March 8, falling from about $38 to $32 after earnings badly missed estimates (see chart). Even more concerning was a sharp drop in margins, which triggered worries about its product mix, sourcing, and exposure to rising commodity prices.
The stock bounced around $29.50 later in the month, slightly above its October low. Since then, the shares have been working their way higher, and yesterday the company received an upgrade to "overweight" from Piper Jaffray.
Often when stocks see large gaps on their charts, technicians look for them eventually to be filled. As a result, some traders may expect URBN to climb back toward about $35 if not higher.
Overall option volume was five times greater than average in the name yesterday, with calls accounting for a bullish 84 percent of the activity.