By David Russell
Meritor (NYSE:MTOR) took a jarring hit last week, and the bears are looking for more downside. Our Depth Charge tracking system detected the purchase of more than 6,000 May 19 puts, most of which priced for $2.50 to $2.60. Volume was more than 50 times open interest in the strike.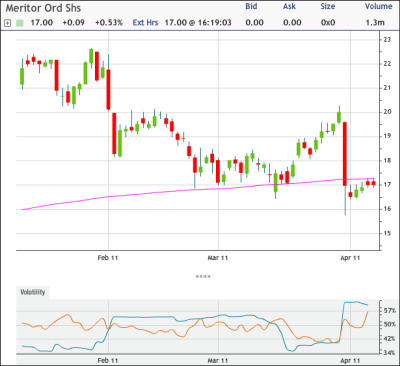 MTOR, which rose 0.47 percent to $16.99 yesterday, has been trying to hang on after a 15 percent plunge last week. That drop came after the truck-part maker slashed its guidance for second quarter, citing higher steel prices. Management also said it would close its European axle business because of weak demand.
The shares have traded below their 200-day moving average since (purple line on chart at right), which some technical analysts may consider a bearish pattern. On Friday, a large strangle position was sold as a trader wagered that the stock will remain trapped in a range.
Overall option volume in MTOR was more than four times greater than average yesterday, with puts outnumbering calls by 27 to 1.