Despite low expectations from analysts, most retailers reported relatively strong results in March, as improvements in the employment picture and consumers' personal finances offset worries about surging food and gas prices.
Retailers were up against extremely tough comparisons to last March since Easter falls three weeks later this year and surging gas prices are causing concerns the spending rebound could be in jeopardy, but results still surpassed muted expectations and overall same-store sales increased for the 19th consecutive month.
Total sales for the 27 retailers we track increased 4.0% from a year ago to $37.3 billion in March, while same-store sales rose 2.5% on top of a 9.2% gain last year – this was the 19th straight gain after 12 consecutive months of declines. For the first three months of 2011, total sales rose 5.8% to $95.4 billion and same-store sales increased 3.8% after a 5.8% rise in the prior-year period.
click for expanded images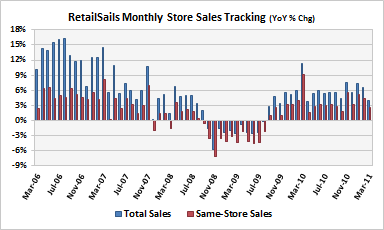 Only 13 out of the 27 retailers posted comparable sales gains for the month, compared to 24 of 27 last March. However, looks are deceiving as most companies beat analyst estimates and many who reported sales declines in March expect double-digit gains in April. Because of the calendar shift and weather-related issues, the combined March-April results will be a much better barometer of performance. On this basis, total sales for the period increased 7.8% in 2010 and same-store sales rose 5.8% after a 3.4% decline in 2009.
Top performers this month included Limited Brands (LTD) (+14% comp) as its Victoria's Secret chain saw comps up 19%, luxury names including Saks (NYSE:SKS) (+11.1%) and Neiman Marcus (Pending:NMG) (+8.8%), Zumiez (NASDAQ:ZUMZ) (+8.9%) and Costco (NASDAQ:COST) (+13%), while laggards included Kohl's (NYSE:KSS) (-6.5%), Target (NYSE:TGT) (-5.5%), The Gap (NYSE:GPS) (-10%) and Cato (NYSE:CATO) (-9%).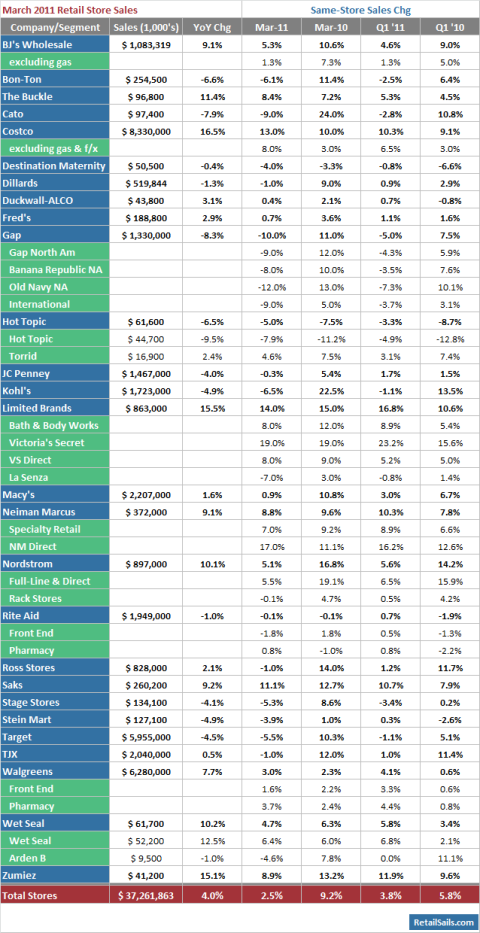 While retailers have so far been able to keep the post-holiday momentum alive, the remainder of the year will be a challenge. Raw material, labor and transportations costs are all rising rapidly and companies will struggle to hold onto recent margin gains as they debate how much of a price increases the consumer is willing to digest.
Consumers are paying more at the pump and the grocery store, which is already starting to eat into discretionary spending, and inflationary pressures will only get worse. Inflation for clothing, food and other products is "going to be serious," Wal-Mart (NYSE:WMT) U.S. CEO Bill Simon said recently in an interview. "We're seeing cost increases starting to come through at a pretty rapid rate."
While consumers haven't yet made significant adjustments in their spending, that could soon change. All three measures of consumer confidence we track have recently plunged on inflationary concerns, and recent surveys suggest consumers are starting to curtail their discretionary purchases.
Discussing the sharp drop in March, University of Michigan Surveys of Consumers chief economist, Richard Curtin said:
The proximate cause of the sharp drop in confidence was the rise in gas and food prices. The more damaging cause, however, was that the fewest consumers in more than a half century expected income increases, and many fewer anticipated gains in their inflation-adjusted incomes. The data clearly indicate that the rate of real consumer spending will diminish, but the data do not indicate a renewed downturn is now on the horizon. Continued job gains are essential as even modest job losses could quickly shift consumers toward retrenchment. For now, consumers find discounts attractive, and remain willing to modestly increase their spending.
Disclosure: I have no positions in any stocks mentioned, and no plans to initiate any positions within the next 72 hours.