By David Russell
Brink's (NYSE:BCO) has reached its highest levels in more than two years, but traders are positioning for a drop. Our Depth Charge tracking system detected a surge of activity in the armored-car company, which usually trades fewer than 100 contracts in a session. More than 40 times that amount changed hands yesterday.
The June 30 puts accounted for more than three-quarters of the volume. Most of the options priced late in the session, first for $0.50, then for $0.55 and then for $0.60 as strong buying drove premiums higher.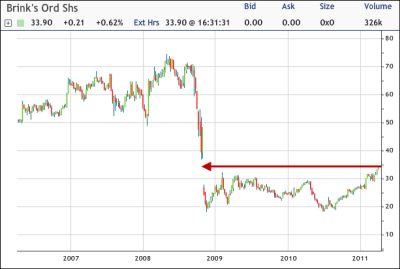 BCO rose 0.62 percent to $33.90. It has rallied 78 percent since the start of July, when it bounced around the same level where it bottomed in late 2008. The stock has now partially filled a bearish gap that occurred in the midst of the financial crisis (see chart). Judging by yesterday's option activity, at least one big investor believes that BCO running out of gas and is at risk of dropping back toward the $30 level.
Our systems also detected the sale of 1,000 June 35 calls for $1.30, another indication that traders think upside is limited.