As we get further and further from the March 11 earthquake and tsunami that devastated Japan, investors are going to be looking for opportunities to benefit. But if you're looking for buying opportunities in Asia, investing in South Korea actually is a much better bet than Japan.
The Asian Development Bank (ADB) in a report yesterday predicted that South Korea's economy will grow 4.6% this year. Seoul's official projection is for 5% growth. "A generally benign global outlook will support exports and healthy private investments, and consumption will underpin growth," said ADB's report, which analyzed economic conditions of 44 Asian countries.
Meanwhile, Japan is still struggling to bounce back from the recent rash of misfortunes it's suffered. News of the Sendai earthquake is disappearing from the front pages of business news publications, and massive stock purchases by the Bank of Japan (BOJ) have the Nikkei 225 rallying. But the situation is not getting better, putting the Tokyo stock market's recovery at risk.
If that's not enough to convince you to look elsewhere for investment opportunities, the accompanying chart illustrates exactly why I would rather invest in South Korea right now. The chart shows the difference between the iShares MSCI South Korea ETF (NYSEARCA:EWY) and the iShares MSCI South Japan ETF (NYSEARCA:EWJ) coming off their 2009 bear-market lows. Seoul stocks are up 190%, compared with a 40% increase for stocks listed in Tokyo. Indeed, South Korea had significantly outclassed Japan even in the two years prior to that country's March 11 crisis.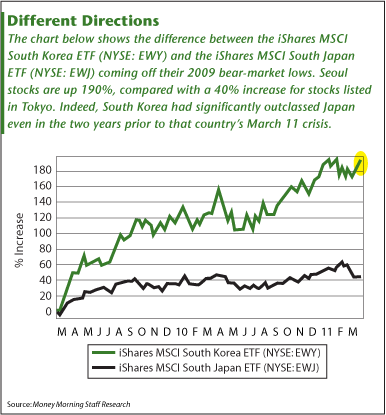 Korea is very much a high-tech economy, and I'd be remiss in not mentioning at least one solid tech-related profit play -- in this case LG Display Co. Ltd. (NYSE:LPL), a leading manufacturer of thin-film liquid crystal displays (LCDs). Although LG Display's shares have rebounded a bit from its year-to-date lows last summer, it's still only trading at about 12 times earnings. Given Korea's high-tech prowess -- and given how important LCDs have become to the global consumer electronics sector -- this is a stock that's worth a closer look.
Also, China will need more steel for its auto manufacturing, and that will benefit POSCO (NYSE:PKX), South Korea's largest steel producer. POSCO recently started building a new plant in the Guangdong Province of southern China to produce galvanized steel sheets for cars. It also made a deal with the Guangdong government to collaborate on projects involving stainless steel production, electric vehicles and green city construction.
Disclosures: None