By Hard Assets Investor

Mike Norman (Norman): Hi, folks, welcome back. It's Mike Norman here on HardAssetsInvestor.com, with my guest, Malcolm Gissen, who is the co-manager of the Encompass Fund. Malcolm, now … your vehicle … you use equities, you invest in companies that mine or produce raw materials. What are some of your favorite stocks, your favorite companies?
Malcolm Gissen, co-manager, Encompass Fund (Gissen): Mike, I should clarify, the fund has a wide variety of companies and sectors represented, but clearly the major focus has been resource companies — metals companies and energy companies of all kinds.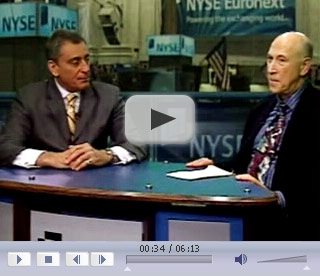 Among the companies that we like, I would mention right now a company called Extorre, symbol XG. As of yesterday [March 9, 2011], it started trading on the New York Stock Exchange.

Norman: What do they do?
Gissen: They're in the gold and silver business in South America. It was a spinoff from another company in which we were invested, called Exeter. Extorre's in Argentina. They have very-high-grade ore. They're likely to get into production very quickly by the end of next year. They're very well located near a lot of infrastructure. They would be a very attractive acquisition target for any major. So we think Extorre, which is now a little over $5, I believe, has very substantial upside.
A company we've been invested in for a number of years, and we've more than tripled our investment, but we still continue to like, is Avalon Rare Metals.
Norman: Rare metals are a very hot area for investors right now. Rare metals, that's a big story driving that, right?
Gissen: Yes. Because the Chinese produce 97 percent of the world's exports, and in the last couple of years, have cut back on their exports. And rare earth elements are needed for any kind of green technology, whether it be windmills or hybrid cars. And the Department of Defense is very concerned because rare earth elements are also needed in a lot of our defense systems.
Norman: Right.
Gissen: Avalon (AVL) is a Canadian company that has the second-largest resource in the world. They're believed to be the next company to have a mill, a processing plant, which is a major concern for the West, because the only mill in the world is in China now. So if the Chinese stopped exporting, the world is going to be in real trouble.
Norman: And what about oil and gas, do you do anything? You talked a lot about metals, how about oil and gas?
Gissen: Yes, we have invested quite a bit in a number of oil and gas companies. A company we like now that's a fascinating company is called GeoPetro, symbol GPR. Stock is now at about 65-70 cents. We invested, I think, at about 45 cents. They have five projects that they call "elephants." One is in Texas, one is in California, one's in Alaska, one's in Alberta and one's in Indonesia.
Norman: What are elephants?
Gissen: Enormous projects. Any one of them would be a company maker. They don't do the drilling. They bring in a partner to drill. Their partner, Linc Energy, an Australian company with $500 million in cash, did some drilling in Alaska in the fall. And it was very promising. So as soon as the ice melts, they'll continue to drill. We think that sometime in the next few months, geo-petro is going to get a real boost because they'll have great results.
Norman: As long as we're talking about oil and gas, what is your outlook on oil prices? Do you see us going back up to $150 a barrel, or heading back down?
Gissen: No, I don't think prices will get as high as $150. But, of course, we don't know the geopolitical risks involved and what might happen, which has been a major factor in driving oil prices recently. We think it could go up to $115, $120.
Natural gas prices have been very low. We think that will continue in the near term. Long term, we think they'll be much higher.
Norman: OK. What else do you have?
Gissen: Uranium, we like uranium. One of the companies we've invested in that we've tripled, we think they got into production in November. We think there's a lot of upside at Uranium Energy Corporation (UEC). They're in Texas, actually, producing right now. They're going to expand their production. A very-well-managed company that's doing in situ, which means you don't affect the environment; it's a lot less expensive. And so UEC is a company that we think people should be invested in.
Norman: Now, we didn't talk very much at all really about agricultural commodities. What's your view on that area?
Gissen: We think that the world has great need for increased production. But land is getting scarcer as there's further development. And we see that in Brazil, we see that China, we see that in the United States. As a result, farmers are going to have to produce more with less. We believe that companies that produce nitrogen, that produce other chemicals that can increase production over the next five to 10 years will do well.
Norman: So you're talking about fertilizer companies, maybe seed companies. How about the genetically modified variety of seed?
Gissen: I think there's lots of opportunity there. We've been big investors in Potash (POT), the company that bar BHP Biliton (BHP) tried to buy.
Norman: What, if anything, would change your mind about the outlook? I know right now you say another five to 10 years of the commodity boom cycle, but what could possibly come along to maybe change your outlook? Not just in the short term, but longer term.
Gissen: If something happened to the markets for these goods. So if the market in China, the market in India was affected, I think that could very strongly have an impact on prices of commodities.
Norman: What if we went into another recession, a global recession?
Gissen: I think most of these commodities are needed. But I think the hard metals, the industrial metals, would have less need because they wouldn't be building all the infrastructures that they're building now.
Norman: Good point. All right, thank you, Malcolm. That's it for now, folks. This is Mike Norman, signing off. We'll see you next time.