Premium Trade of the Day: ASML Holdings ADR (NASDAQ:ASML)

Analysis: It's time for Q2 earnings season. We are preparing ourselves with a deeply analytical report on Q2 that should be out soon. Before we get to that, ASML Holdings looks like the first play of the season. ASML is a semiconductor equipment company that has done fantastically over the past year, and a pullback today has created a major buying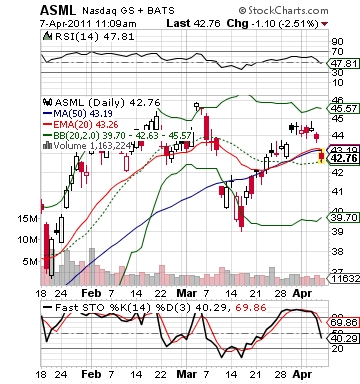 opportunity. The company is expected to see its EPS move from 0.35 to 1.08 as well as an 87% revenue gain YoY. These gains are pretty significant, and we expect this stock to rally for the three days into earnings.

ASML's P/E ratio, at 13 currently, with those gains will drop to 10, putting it well below its competitors. The company's drop over the past two days seems fairly technical as the stock hit a heavy resistance line at 45 and dropped. As the stock nears 42.50, the stock has a major support line right here. Technically, this stock is showing support and looks like a buy, which complements the fundamental catalyst that we are seeing with the earnings coming into ASML.
This company is based in Europe, and a lot of the weakness the stock is seeing is due to its position in Europe. Yet, the company, as it nears earnings, should see some strong rallying. This is a company that is seeing a ton of customers and revenue stream come its way as semiconductors are buying up lithography systems that only a handful of companies produce. One of its top clients is Intel (NASDAQ:INTC) with its large influx of payments to semiconductor equipment to increase its production and meet high demand.

Additionally, semiconductor forecasts continue to be strong for the year. After a record year in 2010, ASML is still expected to see a 23% increase in revenue this year. The company is severely undervalued in its market, and yet, more gains and more earnings are on the way. The company's FPE sits at 10.5. The latest SIA results showed a 13.6% increase in sales for the semiconductor industry from February 2010 to 2011.
With these very positive earnings on the way and no fundamental reason for the drop, we like ASML a lot moving forward and believe this stock has a lot of potential to pop into next week's earnings on Wednesday morning. The stock has rallied into earnings over the past several quarters, and it tends to be a three day rally. So, we would expect the ticking up to start tomorrow.
Competitors like Canon (NYSE:CAJ) are also threatened due to their Japanese location.

Entry: We are looking to get involved at 42.60 - 42.90.

Exit: We are looking to exit the first half at a 3% gain.

Stop Loss: 2% on bottom.

Timeline: Midterm Trade.

Oxen Entry: 42.74.

Disclosure: I am long ASML.