It was announced during the after hours trading session on 04/06/11 that GlaxoSmithKline (NYSE:GSK) and XenoPort, Inc. (NASDAQ:XNPT) received FDA approval for their restless legs syndrome [RLS] product, Horizant (.pdf), after having initially been issued a complete response letter [CRL] for the compound in February of last year.
The company's stock opened the following morning at $11.11 and spiked as high as $11.42 before closing the day at $9.96, up 56% from its previous close of $6.38.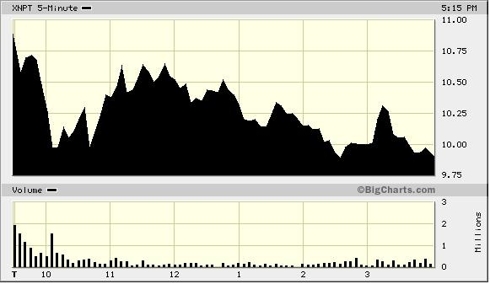 Click to enlarge
click to enlarge
Institutional ownership of Xenoport's stock is remarkably high, accounting for over 90% of the float, while the reported short interest as of 03/15/11 was just 2,624,002 shares. This seems to be a clear indication that there was little doubt Horizant would be approved this time around.
With just 35.26M shares outstanding and over 26M shares changing hands on 03/07/11, it seems likely that some long-term holders partook in a well deserved round of profit taking as new shorts entered with the expectation that XenoPort will suffer the post-approval fate of so many one-drug-biotech-stocks that have come before it and slowly drift downward in price until it can demonstrate its ability to generate positive earnings.
Should investors be concerned about dilution?
The company just closed a 4M share offering in December of 2010; from its most recent 10-K filing:
At December 31, 2010, we had available cash and cash equivalents and short-term investments of $108.6 million. Our cash and investment balances are held in a variety of interest-bearing instruments, including corporate debt securities, investments backed by U.S. government-sponsored agencies, U.S. treasury securities and money market accounts. Cash in excess of immediate requirements is invested with regard to liquidity and capital preservation, and we seek to minimize the potential effects of concentration and degrees of risk.
You must also consider the cash burn rate over the past three years, as detailed in the same filing:
Net cash used in operating activities was $64.5 million, $57.7 million and $45.2 million in the years ended December 31, 2010, 2009 and 2008, respectively. The net cash used in operating activities in 2010 and 2008 primarily reflected our net loss, partially offset by non-cash stock-based compensation. The net cash used in operating activities in 2009 primarily reflected our net loss and, to a lesser extent, changes in operating assets and liabilities, partially offset by non-cash stock-based compensation.
The burn rate is likely to increase now that Horizant has been approved.
On the upside, under XenoPort's 2007 agreement with GSK, they are now eligible for up to $290 million in potential sales milestone payments and royalties on sales outside the US. The company is also entitled to receive tiered, double digit royalty payments on US sales of Horizant, unless XenoPort elects to co-promote Horizant with GSK in the US, in which case the company would participate in net profit sharing with GSK.
The company also has a pipeline to fund: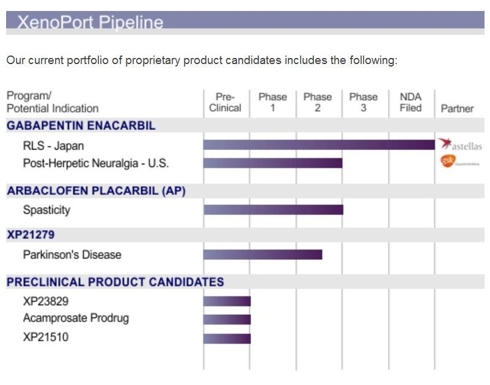 XenoPort issued a proxy statement on 04/07/11, announcing that its annual shareholder meeting will be held on 05/11/11 and, among other items, a new executive compensation program will be voted on.
Some investors have suggested that the company is now a potential candidate for takeover, though that sort of speculation tends to follow any FDA product approval news and, in my opinion, is not reason enough to buy a stock.
Chasing small cap biotechs post-approval can be hazardous to your portfolio. As such, it may be prudent to take the time necessary to seriously evaluate the company's earnings and pipeline potential while the dust settles, and perhaps look for a suitable entry point down the road.
Disclosure: I have no positions in any stocks mentioned, and no plans to initiate any positions within the next 72 hours.