In a previous Seeking Alpha article, I looked at how investors can use LEAPS options to create a somewhat speculative portfolio with two media/entertainment stocks, Disney (NYSE:DIS) and Electronic Arts (ERTS). In this article, I take a different approach, while keeping focus on the same sector. I believe the media/entertainment space provides not only excitement, given the rapid changes impacting the business, but the opportunity for investors to reap short- and long-term profits.
I have two main brokerage accounts. I use one as my trading account, holding primarily short-term investments in it. While I sometimes hang onto something for several months or more in this account, I generally only day- and swing-trade out of it. The other account, set up as an IRA, contains primarily long-term investments; however, I make the occasional short-term trade in it.
I suspect that many investors use a similar approach. While I would not refer to them as my "Vegas" and "Florida" accounts, respectively, I do approach the trading portfolio from a far more speculative standpoint than the retirement one.
I offer the following ideas not as direct recommendations; instead, I urge you to take them as starting points for further research into the individual stocks, trading and investment strategies, and fundamental or technical points behind each. While I do not necessarily own or intend to own all of the positions I discuss, I disclose the positions that I do have or might initiate going forward.
Short-Term Strategy Portfolio
I build this portfolio around the assumption that an investor has $10,000 of cash to invest. You can adjust its structure based on how much cash you have and the availability of margin. It is always a good idea to simulate trades and strategies prior to executing them with real money.
Netflix (NASDAQ:NFLX). I start with Netflix because I believe it represents a sound technical play, plus momentum supports the seemingly bearish technicals. As optionMONSTER points out here on Seeking Alpha, the NFLX 6-month daily shows bearish signs. I could not agree more. It does not set up much better than this. (Chart courtesy of Charles Schwab (NYSE:SCHW) StreetSmart Edge)
[Click all to enlarge]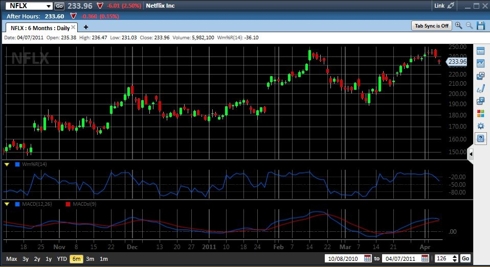 Click to enlarge
As optionMONSTER noted, the chart confirms a double top and subsequent beginnings of a downtrend for NFLX. NFLX closed down 2.5 percent on Thursday at $233.96.
In my trading, I use two primary technical indicators -- Williams %R and MACD. As you can see with little more than a glance at the chart, the Williams %R looks to be headed in the same downward direction it took in mid-February, when NFLX began its last plummet to an intraday low of $188.89 on March 10. The MACD line, in relation to its signal line, appears to be following the same path as well. Generally, I enter a trade after the MACD line crosses its signal line. In ideal setups, this MACD event usually occurs after a Williams %R signal, confirming the MACD signal. At this point, I feel comfortable entering the trade. For a strong overview on Williams %R and MACD, see here and here.
In addition to technicals, I think momentum supports a short play on NFLX, as my recent articles on the company indicate. Instead of shorting NFLX outright, which is practically impossible in a smallish portfolio, I have gone short by going long put options. I have no intention of exercising NFLX puts; rather, I hope to close the position for a profit prior to options expiration day, assuming NFLX declines.
Though I sometimes do it, I don't believe in throwing out particular options as starting points for due diligence. Your level of bearish sentiment should dictate whether you go with in-the-money, at-the-money, or out-of-the-money puts. Because I am quite bearish, I have initiated OTM plays on NFLX May 2011 and January 2012 put options. I expect NFLX to follow a path similar to the one it took between mid-February and mid-March, except I expect the implosion to last for much, if not all, of the year.
In a $10,000 portfolio, I would commit between 25 to 50 percent of available funds to these trades. Again, how you structure it depends on your level of confidence in the play. The same goes for setting stop losses (mental or hard) and price targets, two things you should always do. I expect to be in the May 2011 puts through the month of April and the January 2012 puts for two to six months.
Amazon.com (NASDAQ:AMZN). Amazon.com is beginning to look a lot like Apple (NASDAQ:AAPL). How so? It more than moonlights as a top player in several business sectors. It's quite clear how Amazon fits into the media/entertainment category, given the success of the Kindle, its online streaming service for "Prime" customers, its recent rush to the cloud, and, of course, the girl that brought Amazon to the dance -- sales of media, particularly books and DVDs. And like NFLX, AMZN's technicals have set up perfectly, just in the opposite direction.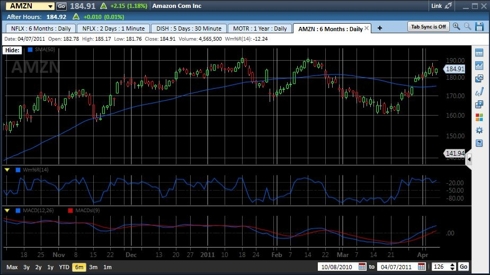 Click to enlarge
Looking at this chart, I am not afraid that I will chase AMZN. After crossing its 50-day simple moving average, AMZN appears poised to seriously retest its 52-week high of $191.60. The MACD, crossed over its signal line and trending upward, looks strong. Williams %R has formed bullishly. When the Williams %R maintains itself in overbought territory (0 to -20), it indicates sustained buying pressure on the stock.
AMZN represents another case where you have momentum and technicals on your side. For the same reason as NFLX, I would play it with options. I am more than comfortable attacking ATM May calls or July $190 calls, assuming you believe AMZN will not only perform well technically in the near-term, but also will deliver a strong earnings report. To get a bit more aggressive, you could buy AMZN April 16 weekly calls on Friday and plan to sell them early next week, if you expect AMZN to approach or pass $190 by then. In any case, I would set relatively tight stops and feel comfortable committing half of my portfolio to AMZN.
Snap Interactive (OTCQB:STVI). I have been watching Snap Interactive for a while. Have no doubt about it, Snap represents the ultra-speculative portion of your short-term portfolio. Down from its recent 52-week high of $4.50, STVI.OB closed at $2.91 on Thursday.
From Snap's most recent annual report:
We develop, own and operate dating and social networking software applications that can be accessed by users on various social networking websites and platforms, such as Facebook, and iPhone users, as well as an online dating website and a location-based social networking application and website. Applications that we have created include AreYouInterested, WhoIsNear, Meet New People and Flirt With Me. Our portfolio of applications is designed to appeal to a broad base of Internet and iPhone users. We switched our leading application AreYouInterested from an advertising-based to a subscription-based revenue model in late 2009, and in 2010, we primarily generated revenue from subscription fees and premium sales on our AreYouInterested Facebook application and our AreYouInterested.com Internet website.

As of March 24, 2011, we had approximately 84,000 active subscribers on AreYouInterested and in excess of 40 million total installations across all of our applications. We do not consider a subscription as "active" if the user has elected to void the subscription's automatic renewal terms. We only count a subscription as active when that subscription has not reached its expiration date and is still eligible to automatically renew.
For my money, Snap represents an excellent albeit speculative play on the already emerged and rapidly growing social media, smart phone, and mobile application markets. The fact that Snap keeps honest books (note, for example, how it records "active subscribers") gives me confidence despite its presence on the OTC market.
The company seems to have successfully transitioned from generating primarily advertising-based revenue in 2009 to deriving a majority of its revenues from subscriptions in 2010. I anticipate further subscription growth in 2011 as Snap's WhoIsNear app takes hold. While I don't put too much stock in technicals for stocks like STVI.OB, it has been trading in a range right around its 50-day simple moving average for some time. It's going to break one way or the other soon.
I would put whatever I have left over from the NFLX and AMZN option plays in STVI.OB, letting it ride for about six months. Using relatively loose stops, I would sell half of my position after six months and hold the rest for the long haul as long as the company appears on track.
Long-Term Strategy Portfolio
I build this portfolio with much less concern over the short-term gyrations of the stock market. The following plays are straightforward, long-term plays in strong companies that will continue to dominate portions of the media/entertainment space going forward. Each stock generates income through both dividends and covered call writing. I would split my money evenly between the following three plays.
Disney. I included Disney as a solid candidate for LEAPS options in the above-referenced article. It also fits perfectly into just about any long-term retirement portfolio.
Disney's decision to allow its ESPN division to stream live programming to Apple's iPod, iPhone, and iPad only reinforces the notion that Disney gets it. I also love that the company has several long-standing and successful revenue streams that not only compliment, but effectively hedge, one another during bearish times. If people aren't spending money at one of Disney's theme parks, they might very well be inside watching or listening to one of its media properties.
While DIS's dividend is not earth-shattering -- according to Yahoo Finance, it's $0.40 a share for less than a 1 percent yield -- you can make a habit of writing covered calls against your shares to generate additional income. For example, DIS May 2011 $43, $44, and $45 call options closed at $0.88, $0.54, and $0.32, respectively. In the case of the $44 calls, you collect a premium of $54, before commissions, for every contract you sell. Each contract gives the call buyer the right, but not the obligation, to purchase 100 shares of DIS from you at $54 on or before the options expiration date.
Time Warner Cable (TWC). Speaking of media companies that "get it." Time Warner's cable division doesn't produce programming, it merely distributes it, but its aspirations lay beyond the boob tube. Unlike some of its more staid competitors, Time Warner Cable ought to survive the global transition taking place in terms of content consumption.
The fact that the company will be around 30 years from now, in addition to its relatively sound dividend and the ability to write covered calls against TWC shares, makes it a good selection for most long-term portfolios. According to Yahoo Finance, TWC pays a dividend of $1.92 per share for a yield of 2.7 percent. In terms of covered call writing, the TWC July $85 and $90 calls closed at $1.10 and $0.45, respectively, on Thursday.
Regal Entertainment Group (NYSE:RGC). Seeking Alpha contributor Geoff Abbott wrote an excellent article on movie theaters that you should read. While he makes a solid case that Cinemark (NYSE:CNK), the number two player in the space by size, trumps Regal, I tend toward RGC for a retirement portfolio. I do this not merely because it's bigger than Cinemark, but because it yields a bit more and has a history of paying special dividends. While options activity in RGC is pretty light, you can still generate a few extra bucks by selling OTM calls several months out. In conjuction with the dividends, this works best if you own quite a few shares.
And I am not afraid that new media will kill the movie theater business. Some things will just never die; I think the movie-going experience is one of them. Abbott makes a cute but wholly legitimate and logical case when he says most guys will strike out fast if they ask a potential mate to join them for a first date in a smelly apartment watching a Netflix DVD or streaming a movie on a widescreen computer monitor. Very shady. For date night or family outings, movies will probably always offer one of the best entertainment value plays around.
Disclosure: I have no positions in any stocks mentioned, but may initiate a short position in NFLX over the next 72 hours.
Additional disclosure: I may initiate long positions, possibly using options, in AMZN, STVI.OB, and DIS over the next 72 hours. I am short NFLX via long positions in NFLX put options.