I often like to peruse stock screens for the individual stock names that are hitting 52-week, multi-year and all-time highs. Often you can gain insights into where the money is flowing.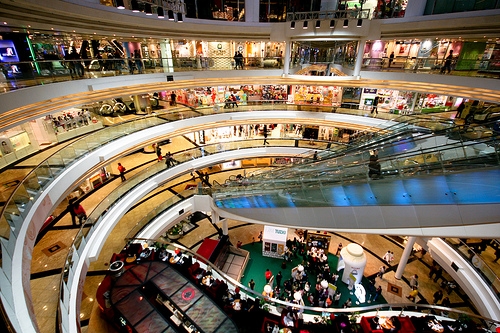 Looking at the new all-time highs list today, the list is populated by many well-known names in the Retail sector. (Coincidentally and to disclose, our premium clients are holding SPDR S&P Retail ETF (XRT) Calls currently.)
The strength in Retail is surprising to many and seems to be based on strong same-store sales results amid low expectations. The rising price of gasoline has also been a negative consideration for this group, which thus far has seen many companies shaking this off and in fact thriving recently.
Among the varied names in this group (or closely related to it) that are outperforming and hit all-time highs today despite Japan quake news are:
Williams-Sonoma (WSM)
Costco (COST)
Bed Bath & Beyond (BBBY)
Limited (LTD)
Buckle (BKE)
Ulta Salon (ULTA)
Fossil (FOSL)
GNC (GNC)
Rent-A-Center (RCII)
Herbalife (HLF)
Vitamin Shoppe (VSI)
Taking a look at the XRT Daily Chart as a nice basket of varied Retail stocks (XRT is very diversified in its holdings, the Top 10 only comprise 20% of its assets), you can see below that the ETF has broken out to new highs recently. It also has a positive "stair-step" type pattern, where advances are followed by healthy sideways consolidation pauses.

XRT Daily Chart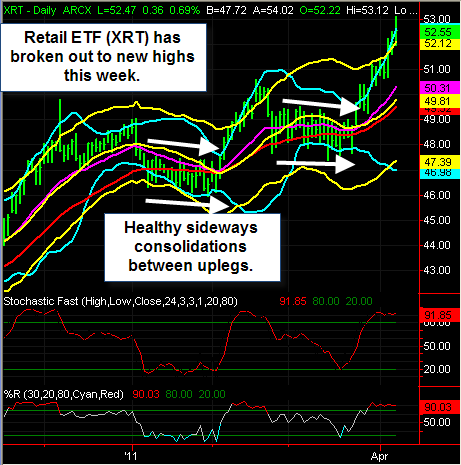 (Click chart to enlarge)
The Bottom Line: Retail stocks in a variety of different fields are outperforming recently, due to better management, inventory and pricing, low expectations, and external news events painting a negative cloud. Generally in our analysis, strong stock performance in the face of low expectations and negative sentiment is a bullish sign that the trend will continue (in this case to the upside) over the near-to-medium term.
Disclosure: I am long XRT. Premium clients are Long XRT Calls.