The question is whether an improving job environment is enough to keep the stock market rallying? Or are there other factors influencing the economy lingering around the perimeter that will now seep into focus?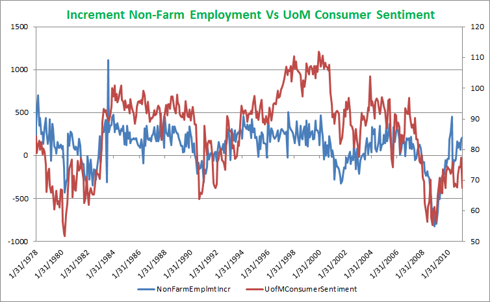 (Click chart to enlarge)
Is it the Chicken or the Egg? As the above chart demonstrates, there is a high correlation between consumer sentiment and jobs' growth.

Yet, consumer confidence has recently taken a "hit" in the face of higher gas prices, a soggy housing market and global political uncertainty. Most importantly, consumers' expectations regarding inflation are rising and this may likely impact the Fed's policy influencing interest rates.
Symetry: For those of us who believe in symmetry, the impact of the August 2010 Jackson Hole Bernanke pronouncement of monetary easing by the Fed signaled the start of a new phase of this upward stock advance. Is it not logical to anticipate that an end to monetary easing will likely have a dampening or an adverse impact on equity valuations?
Looking to "Land" the Economy: There is a lot of clutter on the "runway" that may preclude a soft landing for stocks. While the economy may improve slowly, there is no guarantee that equity valuation will continue to rise. We may be on the door steps of another round of stagflation in the second half of 2011.
I continue to be long the ProShares Short Treasury 20+ (NYSEARCA:TBF) in anticipation of rising inflation. I must admit, this has been a long wait.
Disclosure: I am long TBF.