[Click all to enlarge]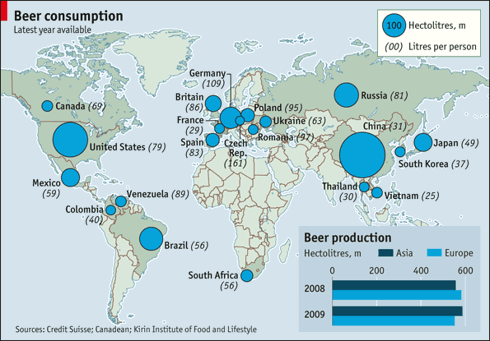 Heineken (HINKY.PK) won the battle for the Mexican brewer FEMSA last year. This acquisition was seen by analysts as a must-do deal for Heineken, because with it, it secured its position on the American continent, both in the North and South. Moreover, the company's emerging markets exposure increased from about 32% to about 40%.
A report has suggested that SABMiller (OTCPK:SBMRY) and Heineken are both considering bidding for Brazil's second-biggest brewer by volume, Primo Schincariol. The report suggests the privately-owned business has been put up for sale for about $2 billion, although both companies have chosen not to comment on the report.
Heineken is already active in Brazil with Cervejarias Kaiser and has a market share between 8 and 9%. An acquisition of Schincariol would be a tremendous opportunity and would cement it as Brazil's second-largest operator (right now, Heineken is no. 4). It could immeditely challenge the dominance of Ambev (OTCPK:AHBIF) and profit hugely from the World Championships Soccer and Olympic Games in the coming years.
Despite the report, I think Heineken has to focus on China. China's beer industry is the largest in the world by production volume. In 2009, China's beer production increased by 4.9 percent to 43 billion liters, up five percent from 41 billion liters in the previous year. However, the five percent increases over the last two years marked a significant slowdown from an average 10 percent growth in the preceding three years. The sluggish production increases in 2008 and 2009 were attributed to the economic slowdown, the Sichuan earthquake and severe winter weather conditions.
An increasing proportion of the Chinese population prefers beer over high alcohol-content drinks. Growth is driven by several factors, including increased income levels, greater advertising of beer by the manufacturers, a preferential shift towards beer by consumers, and fierce competition that kept prices steady. Across all Chinese regions, beer is generally considered as a light, affordable summer alcohol drink and is considered a good accompaniment to light Chinese food. It is also a favored complement to snacks
during social gatherings with friends and family all year round.
The industry's concentration ratio has been increasing in recent years:
● Market share of the top four beer companies grew from 18.9% in 2000 to 54.1% in 2009. The top four beer companies in China are CRB, Tsingtao, AB InBev and Yanjing.
● China's beer industry is still more fragmented than other countries despite the consolidation over the past decade. The top three players only account for 43% of the total market share, compared to an average of 70% for the top 10 largest beer markets. Therefore, China's beer industry consolidation will continue with
active M&As and the gradual phasing-out of the weaker players.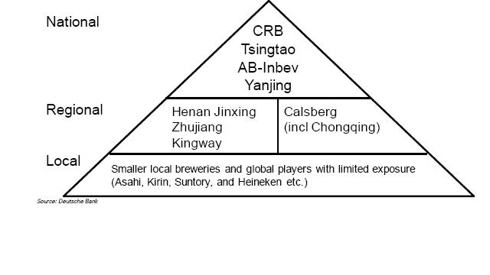 Heineken operates via its joint venture APB (Asia Pacific Breweries) in China. APB operates through its 50%-owned Heineken-APB (China) Pte Ltd (HAPBC) in China. HAPBC is a 50-50 joint venture by APB and its shareholders, Fraser and Neave, Limited and Heineken.
Currently, HAPBC has brewery operations in Shanghai and Hainan; and recently completed the construction of its new brewery in Guangzhou. HAPBC also wholly owns the sales and distribution arm, Heineken Trading (Shanghai) Co. Ltd and holds interests in Kingway Brewery Holdings Ltd and Jiangsu DaFuHao Breweries Co., Ltd. In March it sold its 21% interest in Kingway Brewery Holdings Ltd.
In January Heineken published better than expected 2010 results. The market's developments were in line with the expectations: U.S. and Europe remained challenging while Africa, Asia and Latin America continued to perform very strong. The free operating cash flow increased to EUR 2.2 bln.
Heineken expects volume development in Latin America, Africa and Asia to benefit from ongoing robust economic conditions and marketing and investment programs.
This year I really think Heineken can make another big acquisition in the emerging markets, so the growth story will continue. The stock is trading at a P/E below 13 in 2011, compared to 15 (AB Inbev and SABMiller).
Disclosure: I have no positions in any stocks mentioned, and no plans to initiate any positions within the next 72 hours.