When you hear that a stock or ETF has become the darling on media and financial news and is given a "buy" signal, rarely is it ever a time to take the experts' advice and start accumulating that particular financial instrument. You have to learn to think independently. To quote John Templeton from an interview he had with Tony Robbins, "If you buy what the other analysts buy you will achieve the same results as the other analysts." Frankly you only have to do a little bit of digging to find out that "experts" are truly terrible at being able to forecast anything at all. I read an article describing how Turkey's flame had been extinguished and there was no more upside to be had in the Turkish currency.

So I looked up the chart of the Turkish ETF:
Click to enlarge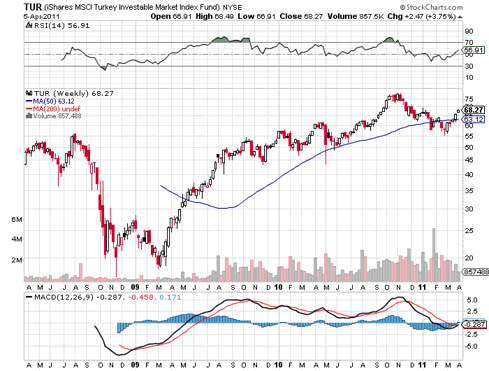 The trend is open to your interpretation. It indicates however that the market says nothing has changed and after a healthy pull back the inflation plays are breaking higher.

At this stage there are multiple plays a trader can make to profit in this market type, especially if you believe that all the markets are interrelated. What happens to the flow of funds in one market does influence what happens in another. You could basically take a chart of most of the commodity driven currencies or the emerging currencies and find that a few key breakouts have occured.

There is now a clear and definitive break out of the long contraction in the emerging currencies as evidenced by CEW:
Click to enlarge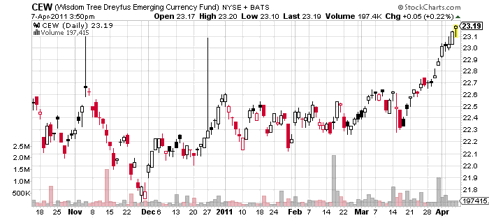 The rise in the emerging currencies means many things to many traders. As an intermarket trader, however, I believe that the most significant thing to take away is the inflation hedges have broken out of similar contractions and continue to head higher on U.S. dollar weakness. With massive printing of money, the floods of liquidity tend to seek out some form of yield greater than that of a U.S. treasury bond. Even though Bernanke may think that the money will somehow flow into housing and job creation, the flow of funds don't have to do that at all. I've demonstrated in previous articles that other countries may not continue to support U.S. debt forever, and if they so choose to part ways with the U.S. dollar there will be massive inflationary ramifications. Today money tends to flow into emerging market bonds and currencies because they give far better return with less associated risk of default. I have heard the arguments and opinions on the U.S. "not being able to default," however that argument is getting weaker and weaker.
Click to enlarge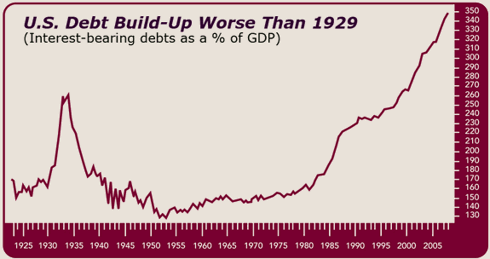 So instead of money flowing into the dismal returns of the U.S. dollar and U.S. long term bonds, money is flowing into commodities, emerging currencies and "Junk" bonds.
Click to enlarge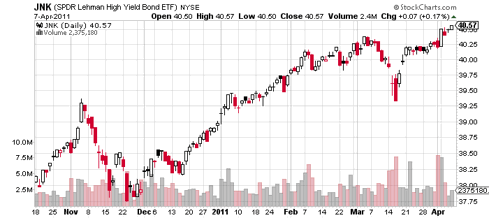 Make no mistake, most of these higher yielding currencies have bad reputations because of what a rating agency says. The same agencies gave AAA ratings to companies and banks that are very familiar to those individuals who lost fortunes because of this rating. Personally I don't buy into the advice of a rating agency.

Higher yielding currencies are trending up regardless and so are all the related asset classes. Rare earth metals and Molycorp (MCP) continue to move higher as well:
Click to enlarge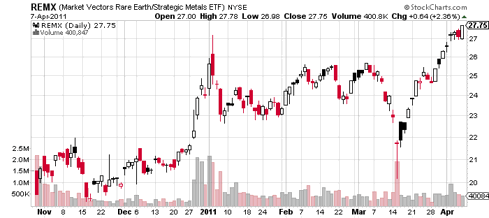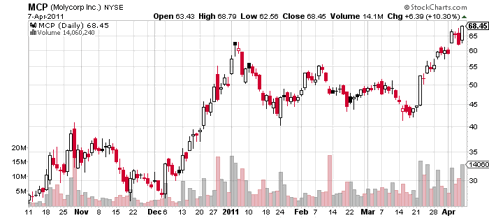 The classic inflation hedges in silver and gold have also broken out. Everwhere you turn the market is demonstrating that the inflation plays will continue to power ahead while fixed income continues to under-perform. These markets are saying there is still upside despite the contrary commentary that has been going on since last year.

Someone once commented on whether I had 'lost my mind' in my previous posts. Well perhaps the markets and myself have gone crazy. Regardless, when the market demonstrates that it wants to move higher, I don't try to argue the trend of the markets. I follow the trend no matter how crazy it appears. I continue to ride the trends in DBC, MCP and SLV until the market says otherwise.

If you manage risk well, think independently and hold on to the positions that offer the greatest potential upside, you will thrive in the abundant inflationary environment.

Disclosure: I am long DBC, SLV, MCP.