The other day I was sharing my thoughts with subscribers to my new blog, My Own Analyst, about how some downtrodden Mega Caps were looking like they may finally be turning. In the course of highlighting seven that were within 15% of their 52-week lows, one name surprised me: Pepsico (NYSE:PEP). I recall 18 months or so ago participating in a debate during an investment committee meeting at one of my clients, and we opted to go with Coca-Cola (NYSE:KO) over PEP for its higher international exposure, primarily. We also were somewhat concerned over the snack food exposure at PEP. Take a look at how the two stocks have diverged so dramatically since Q3:
Click to enlarge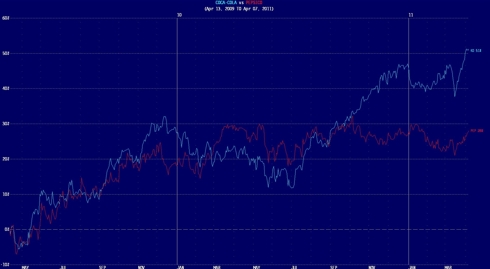 While I am no expert on all of the nuances of these two mature companies, one factor that I believe accounts for the vast majority of this divergence is the weakness of the dollar. A secondary factor has been the input cost inflation that has dented the profit outlook near-term for PEP. Over the past six months, the 2011 EPS consensus estimate for KO has increased about 3%, while the estimate for PEP has declined by about 3%.
Here are some overall parameters for each of the two companies: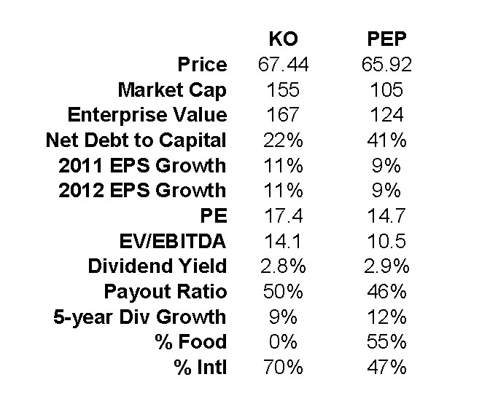 Taking a look at valuation, the two charts below are a 20-year dividend history and a 5-year PE history:
Click to enlarge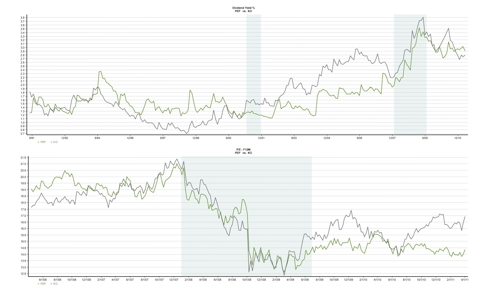 Typically for the past decade, investors have accepted a lower yield for PEP, but that is no longer the case. In terms of PE ratio, this is about the widest spread we have seen in the past five years. The current multiple isn't too far frm the lowest levels of the downturn.
It appears clear to me that the recent weakening of the dollar and rise in commodity prices has created a fairly substantial valuation disparity between these two conservative companies. Unless you think that these trends are likely to persist, it makes sense for conservative investors to take the slightly higher dividend yield and to take the sharply lower PE and EV/EBITDA ratios.
Disclosure: I have no positions in any stocks mentioned, and no plans to initiate any positions within the next 72 hours.