By David Russell
CIT Group (NYSE:CIT) has been drifting lower for two months, and now investors think it's near support. Our tracking systems detected the sale of about 10,000 April 41 puts for $0.50 against open interest of 315 contracts. The trade accounted for almost all the options activity in the small-business lender so far today.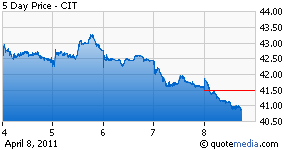 CIT fell 1.3 percent to $40.96 in afternoon trading and has now returned to its lowest price since early December. The stock has been falling since mid-February, when earnings missed forecasts and relocation costs took a bite out of profits. The latest negative catalyst came on Wednesday, when Barclays downgraded the shares to "equal weight" from "overweight."
Today's put selling reflects a belief that downside will be limited going forward, and coincides with the shares attempting to hold support at their 200-day moving average.
Investors often write protection on stocks they like but don't want to expend capital buying. The strategy lets them earn income if the shares hold their ground, and compels them to buy the stock at the strike price if it falls below that level.
The trader also stands to benefit from the accelerating pace of time decay that will occur over the next week as April expiration approaches.
Overall option volume in CIT is four times greater than average so far today.