Why the fascination with a gold bubble? I still don't know. Perhaps there are financial incentives for some authors and media talk show hosts. After all, a lot of these people don't actually trade or invest their own money into the markets. They are paid to express an opinion and the public takes their word as good as "gold." Now the contrarian in me causes me to question whether gold has indeed run its course, inflation adjusted or not. The market does not have to bow down and agree with our reasoning. Therefore it is wiser to view what the market is actually doing and structure a process that puts you in the place with the greatest potential while managing your risk well. Right now the market believes that hard assets are the key to securing wealth or generating a return on investment, regardless of whether or not gold is a "real" investment.
At times like this I am prone to ask the more simple questions.
What happens when you have record stimulus as evidenced in this chart:
Click to enlarge charts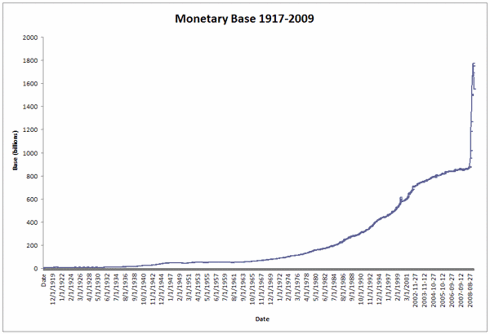 Then back it up with some more stimulus: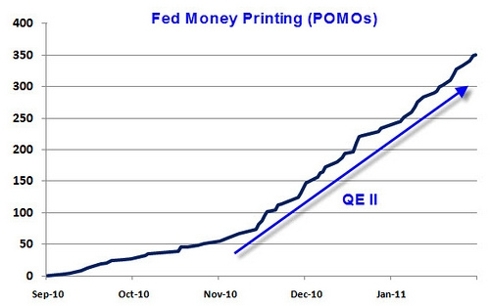 Then skew the M2 and CPI calculations so that money supply and inflation seem very mild in comparison to the "rapid unprecedented rise in gold" and other commodities?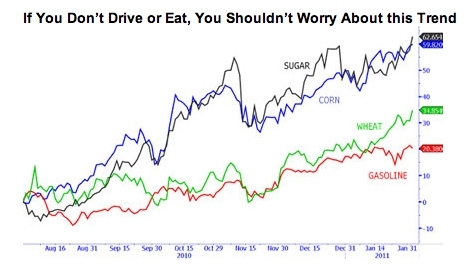 I tend to think that gold and other commodities are not showing massive bubble-like qualities. If anything it appears that there was a healthy pull back and the primary trends are still intact, moving higher. There appears to be more upside yet to come in gold and commodities as China, India and other emerging nations are showing that their currencies continue to power upward in purchasing power:
Click to enlarge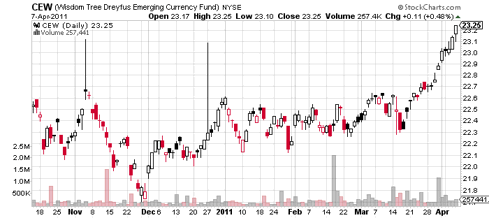 I've noted that there is a contrary argument pushing for the idea that as soon as interest rates are raised the U.S. dollar will pick itself back up, and gold will take a nose dive. This argument has been made since 2009. I have yet to see the flow of funds moving into investments that reflect that view. I believe all markets are interrelated and thus the market will instruct you when the tides have changed. Take a look at the inflation protected bonds against U.S. 30 year treasuries:
Click to enlarge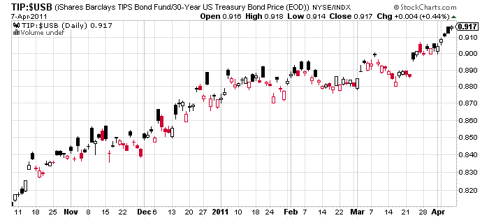 Inflation expectations are hitting bonds hard, however we have yet to see a true primary bear market in U.S. treasuries. In my opinion, a top in gold will be confirmed by a bottom in U.S. long term bonds and the U.S. dollar. Until the market says otherwise, until the banks have started lending again, until QE2 ends and there is no possibility of QE3, until there is a top in interest rates, until China is done accumulating gold and has pegged the yuan to gold (rather than the U.S. dollar), there is still a great possibility that gold is not in a bubble in any sense. Expect upside, manage risk and continue to hold your positions if you own this precious metal.
Disclosure: I am long DBC, GDX, SLV, MCP.