By David Sterman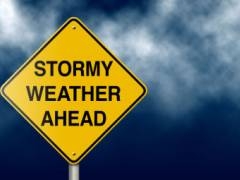 "Beat and Raise." The pattern of beating estimates and raising forward guidance has been the key theme in each earnings season of the past two years. This time will be different. The "beat" part will likely hold as companies and the analysts that follow them continue to play the game of low expectations that then get exceeded. The "raise" part? That just got much trickier.

Companies raise guidance when they have a lot of certainty about what the coming months will bring. Right now, few can say with certainty about how the wide range of domestic and global events will play out. Here's a checklist of the issues these companies face. Later on, I'll look at the potential impact on specific sectors.
Yet real positives are also emerging that will lead some companies and industries to express even more confidence, including...

These positive and negative forces on the economy are bound to create a schizophrenic earnings season.

Companies that benefit from a weak dollar, a stronger U.S. consumer, or that have ample exposure to small- and medium-sized businesses could offer up very bullish sales and profit forecasts. This includes companies such as Deere (NYSE:DE), Kohl's (NYSE:KSS), lenders such as Wells Fargo (NYSE:WFC) and IT equipment vendors such as Ingram Micro (NYSE:IM).

Companies that feel the stress of rising oil prices, higher material costs, a weakened Japanese consumer or reduced government spending include FedEx (NYSE:FDX), Whirlpool (NYSE:WHR), Saks (NYSE:SKS), and Computer Sciences (NYSE:CSC).
These aren't formal predictions of which companies will boost guidance and which companies will lower guidance. Instead, it's a road map for the factors that may drive stocks as earnings season gets under way next week. But you will want to watch these stocks. Make no mistake: stocks will only keep rallying as long as analysts continue to boost their profit forecasts. If the cycle of "beat and raise" appears to be winding down, then the market may finally have a real excuse for profit-taking.
Disclosure: Neither David Sterman nor StreetAuthority, LLC hold positions in any securities mentioned in this article.