It is time again for quarterly earnings for the market starting on Monday, April 11. The market has a lot to digest from Q1, as there were a number of factors that could weigh on markets as well as create opportunities for other companies. From the crisis in Japan to higher oil prices to a slowdown in YoY growth levels due to tapering growth from the recession, this quarter presents investors with a lot of questions and concerns.
We believe that the best way to approach this quarter as well as all other quarters is to look for opportunities that combine both high growth levels with undervaluation.
Our approach to determine the best investments for quarterly earnings is to combine both a growth assessment ranking score with a value ranking score and take the best scores. Each score assesses each company's fundamental value in growth and as a value investment given a number of indicators and ratios.
We believe that it is important to combine both because some companies looking at amazing quarterly growth are heavily overvalued or have already priced in their earnings. On the other hand, many undervalued companies are undervalued because they lack the growth capabilities to have significant impacts on their valuation.
The key to this quarter for us was to look at companies that had insignificant Japanese exposure since we cannot determine how the situation there will influence future guidance and Q1 earnings. Additionally, we attempted look at companies that would not be impacted significantly by higher oil prices.
Our top three industries (regional financials, oil and gas, and agricultural) have the best growth to value capabilities and these three industries will not be as adversely affected by the Japanese and oil situations or will be positively impacted by higher oil.
The following report offers our Top Five Picks for Q1, Top Five Large-Cap Picks, Top Five Mid-Cap Picks, Top Five Small-Cap Picks, Top Pick for Each Industry, Top Five Largest Growth Companies, and the Five Companies Slated to Perform Worst.
It is important to remember that these picks are ideas about stock performance into earnings and as the stocks appear at the present. Many of these picks will perform well before their earnings selections, and these ideas are not earnings trades. Rather, these are companies that can perform well during earnings season as a whole.
Click to enlarge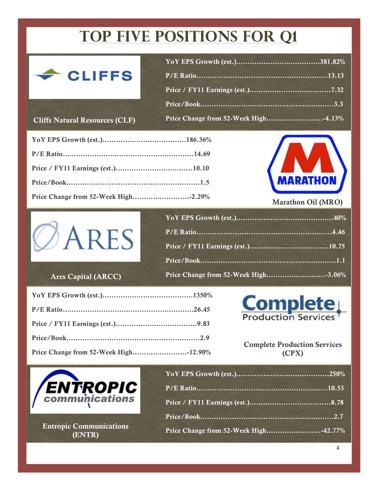 Top 5 Picks for Earnings Season

1. Cliffs Natural Resources (NYSE:CLF) -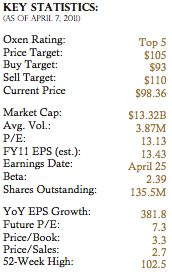 Cliffs Natural Resources is a mining and natural resources company that produces iron ore and coal. The company is one of our top picks for earnings seasons as the company is expecting to see over 380% growth in EPS and over 100% growth in sales.
The iron ore and coal sector is one of the strongest sectors in the market right now with iron ore prices nearly tripling since early 2009. With steel demand at high levels, CLF looks poised for another positive year. Demand is so high that CLF has had to drastically increase production to keep pace.
Additionally, the company made a large deal by acquiring Consolidated Thompson Iron Mines. This deal is key to the margins for CLF and future price increases because one of the largest customers of Consolidated is Wuhan, a Chinese steel manufacturer. Iron ore sold in China is at spot prices, which allows CLF to take advantage of increasing prices as well as increasing demand. Current deals with companies are at discounted prices for such large quantities and CLF misses out on the large swings in prices.
With this deal, rising demand, rising iron ore prices, and significant earnings and revenue growth, the company is looking at a future P/E ratio at just above 7. The company's current P/E ratio puts the company in the middle of its industry, but a drop to 7 is well below industry averages. Only way for that P/E ratio to move back to normal is to see the price of CLF's stock rise to $150 - $160 per share. We'll take a lot less in the near-term.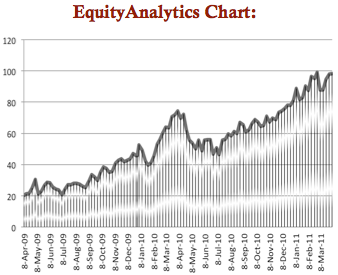 2. Marathon Oil (NYSE:MRO) -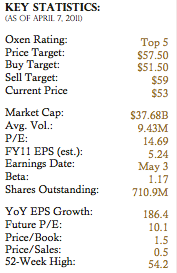 One of the hottest industries of Q1 is going to be energy, primarily oil companies. From producers to drillers to integrated companies, the large price increases as well as consistent non-elastic demand for oil is driving growth to this industry. The only problem for the industry is that a lot of the companies have made such drastic moves.
MRO is no different, as the stock has moved just under 30% in the last two and a half months. What is really great about MRO is that this stock has solid growth and value. The company's P/B and P/S sales ratios are below competitors at 1.5 and 0.5.
Additionally, the company is going to see one of the largest current P/E to future P/E drops. Unlike its competitors, MRO is going to be increasing its EPS by over 100%. Other energy companies of such size are not seeing that type of increase in earnings.
The company is smaller than a lot of other integrated companies, but its valuations appear underneath competition besides the P/E ratio, which is inflated due to significant earnings increases that are on the way. The company's P/CF is near 6 while the industry is above 8.
Overall, if you want to play the hottest sector out there – MRO is the value trade that still can give you upside.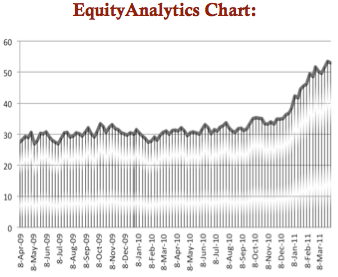 3. Ares Capital (NASDAQ:ARCC) -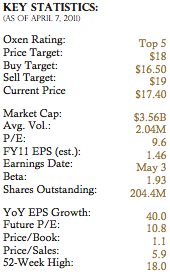 One industry that seems to perform well in any market condition is private equity and diversified investments. One of the truly outstanding value plays out there is in Ares Capital. This private firm that does most of its work with mezzanine debt, LBOs, and recapitalization has the lowest P/E ratio by far when compared to its competitors.


At 4.3, the company has a lot of value upside as they are expecting growth of EPS by 40% in Q1 as well as a 130% increase in revenue. The company commented in its last quarter that the first half of 2011 would be another strong half year for LBOs and debt financing. The great thing about private equity and diversified firms or BDCs is that they churn out a lot of profits and have very strong balance sheets.


The company has seen a strong upward trend in its price, but on any pullback, this stock looks like one of the strongest value investments for earnings season. The company put together a very solid end of 2010 and is looking stronger than ever.


One of the problems with private equity companies is that they are harder to follow and track what they are doing, but this company is combining strong growth in this quarter with very low valuation. Upside looks significant even if it is cryptic.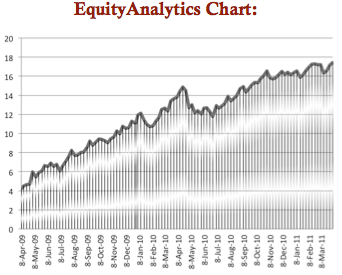 4. Complete Production Services (NYSE:CPX) -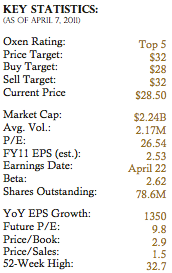 While Marathon Oil may be an integrated with upside, Complete Production may be the oil company with the most upside overall.
CPX has dropped off its highs and settled at a great support line above its moving averages and an upward channel bottom line. This movement comes as CPX is about to increase EPS from -0.04 to 0.50 and grow revenue nearly 60%. Despite a 26 P/E ratio, a swing to profits in Q1 and gains in 2011 will drop the company's future P/E to below 10.
Therefore, that means that the price of the stock definitely needs to start to make up for a significant gain in earnings. Its competitors like Key Energy (NYSE:
KEY
), Basic Energy (NYSE:
BAS
) and Baker Hughes (NYSE:
BHI
) all have future P/E ratios well above this level, and CPX looks like it will soon be far outside the normal levels for oil/gas drilling.
Exploration companies are seeing significant increases in demand at these levels because higher prices mean oil companies want to put more supply on the market to take advantage of the higher price. CPX is well positioned not only to see gains in Q1, but throughout the year. They are estimated to increase revenue over 35% and more than double EPS for the full year.
This is a tremendous mid-cap value for a company with low shares and great growth prospects.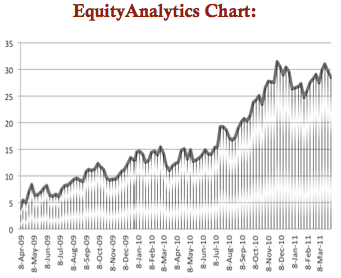 5. Entropic Communications (NASDAQ:ENTR) -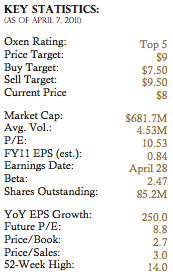 Entropic Communications looks to be our favorite small-cap stock to make significant moves during the next several weeks. ENTR works in the semiconductor industry with mostly home entertainment for telecom, home entertainment, televisions, and Internet access. The company is well positioned in continually growing markets that need a lot of chips.
The company is growing tremendously as it was only found 10 years ago. They are looking for 250% growth in EPS for Q1 and over a 40% increase in sales for the entire year. The company, unlike our other four, has not been performing as well over the past month. The company has dropped over 40% from its 52-week high, but it has formed a very nice bottom at $8 per share. The company is looking at a pretty significant P/E drop from 10.5 to 8.8 with the next quarterly earnings.
The company's P/E, currently, sits well below competitors. The company creates strong free cash flow, has no debt, and overall looks very strong. This appears to be a company ready for a major breakout with strong growth coming in and no overvaluation at all.
Entropic may just be the best trade of Q1 earnings out there, but a lot of movement may not come until after earnings as this stock does not tend to garner a lot of attention.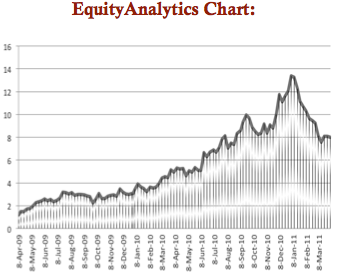 Click to enlarge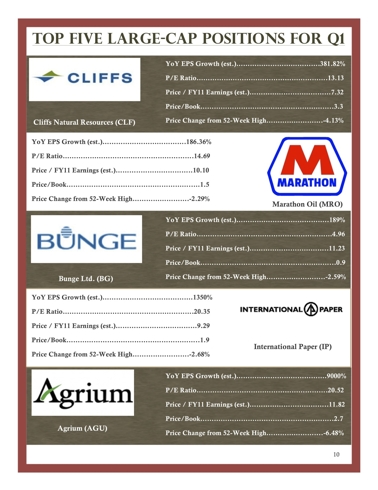 Briefings on large caps:
CLF – $92 is ultimate goal but we will definitely give it a hard look at a pullback to $95. The company reports in over two weeks, so we have time to see a pullback or pick it up on further breakout.
MRO – $51 is a nice buying area, and we will look to pick it up on a 4-5% pullback.
BG – $71.51 looks to be the perfect buying point, but the stock looks like it has 3% upside in the near-term ... in the middle of a rally to the $75 top. Picking up the stock here is not a bad place.
IP – We definitely need a pullback to about $28-$30 before wanting to enter this one simply because of market take on IP.
AGU – The stock looks like a very solid buy right now at this level. Right on moving averages, and we will most likely look to pick it up into the close if we get a deal in the government. Otherwise, we will check back on Monday.

Disclosure: I have no positions in any stocks mentioned, but may initiate a long position in CLF, AGU, BG, ARCC, ENTR, MRO, CPX, IP over the next 72 hours.