Japan has recently been hit with a series of natural and man-made disasters. A violent earthquake and a raging tsunami were followed soon by explosions at its Fukushima nuclear power plant – all this within a week less than 30 days ago. This too shall pass and Japan will re-emerge both psychologically and from an economic perspective over time.
But how have the insurance stocks been affected by these disasters?
In light of this crisis in Japan during the week of March 11th and a similar crisis in New Zealand on February 22nd, we revisited the article we wrote on March 7th "5 Profitable Insurance Stocks with Bullish Ratings" to assess the natural disasters' impact on these companies.
What we found is astounding – after a short market-driven pullback, these companies have rallied back and just this week, 3 of the 5, American Financial Group (NYSE:AFG), Everest Re Group (NYSE:RE) and WellPoint (WLP) made new two year highs. The other 2 with more exposure to Japan, Axis Capital Holdings (NYSE:AXS) and The Navigators Group (NASDAQ:NAVG), pulled back more sharply, but are trading above their price in the blog.
This week we shift our attention to 4 other large cap insurance companies with bullish or neutral ratings, to assess their potential exposure to Japan and determine their investment attractiveness. After careful study, we suggest 2 of these companies are good candidates to add to your portfolio on any weakness, while the other 2 should be on your watch list until the dust has cleared and the true extent of their Japanese losses are known.
Our rating is based on a 20-factor model incorporating Financial Metrics, Earnings Performance, Price/Volume activity and Expert Opinions to determine a stock's potential over the next 3-6 months.
Buy on Weakness: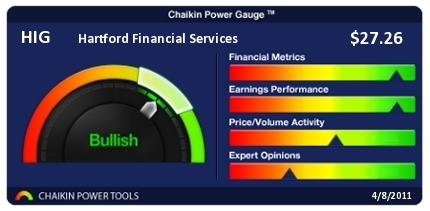 Hartford Financial Services Group Inc (NYSE:HIG): $27.26
A solid balance sheet with very strong Business Value*, a low P/S ratio of 0.56 and a low P/B ratio of 0.63 lead to a very bullish Financial Metric rating. Management's decision in early 2009 to suspend sales in Japan has significantly reduced the damage it would have incurred, although the effect of the 500,000 plus clients and approximately $30 billion dollars of assets under management that the company said it had to service in Japan at that time is unknown.
Consistent, strong earnings and a low P/E ratio of 0.51 on projected 2011 earnings have led to increased analyst confidence and further contributed to a bullish power gauge rating. The company's excellent liquidity position and management's efficient handling of its finances resulting in the payoff of the government bailout money last year has prompted the rating agencies to raise their outlook on the company's future.
A recent dividend increase is further evidence that management is committed to increasing shareholder value. Despite rallying 11% since bottoming out on March 16, Shares are 10% off their 2-year highs reached in early February; we believe this to be temporary and HIG should continue its upward trend toward its 2-year high of 30.46.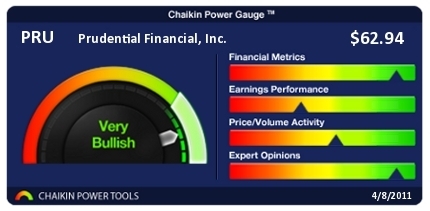 Prudential Financial Inc (NYSE:PRU): $62.94
Prudential's bullish Financial Metric rating is driven by a healthy ROE, strong Business Value* and a low P/B ratio of 0.96. Earnings for the 4th quarter easily beat analyst estimates and the company has been consistently gaining U.S. market share from smaller rivals since 2008.
Analysts are bullish on the company's performance and have revised their 2011 earnings estimates upwards leading to a very bullish Earnings Performance metric. Positive money flow activity, a strong Volume Trend and a low P/E ratio on projected 2011 earnings round up our very bullish rating. Shares have gained 9% since March 16 beating all major averages yet are over 5% off their 2-year highs reached in February. We believe the rally that has started after the disaster driven pullbacks is real and will take PRU to higher highs in 2011.
Watch these Stocks: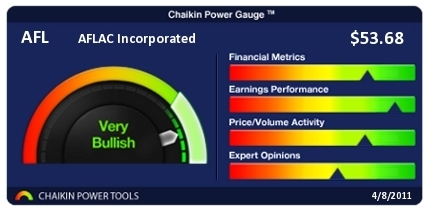 Aflac Inc (NYSE:AFL): $53.68
According to recent reports, Aflac does 75% of its business in Japan and CEO Dan Amos suggested that the company will face quite a few claims as a result of the Japan earthquake disaster. Fundamentals for Aflac are solid, however. The company has posted consistent earnings growth and that, coupled with a low P/E ratio on projected 2011 earnings, (although those estimates are subject to downward revision) contributes to a very bullish Earnings Performance metric.
A high ROE, a strong Business Value* and a very strong Volume Trend bolster our bullish rating. In a show of confidence, management maintained plans to buy back stock despite the current claims it will be facing in Japan. The company, awarded the world's most ethical company award by Ethisphere Institute, had its image tarnished by the voice of its duck, Gilbert Gottfried's tasteless jokes on twitter about the Japan disaster but was quick to show its integrity by firing Mr. Gottfried.
An 8% rally since March 16th has not proven enough for Aflac as it struggles to reach its 2-year high of 59.54 made a week before the New Zealand earthquake in late February. Although we like the company's long term prospects, the current uncertainty warrants cautious optimism. Therefore, we suggest you add Aflac to your watchlist and wait for management assurance going forward before adding it to your portfolio.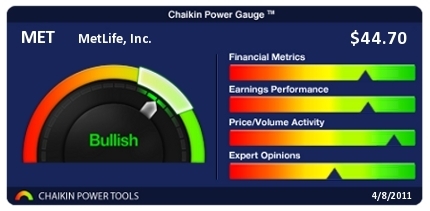 MetLife Inc. (NYSE:MET): $44.70
After rising approximately 20% in December, Metlife has been range bound since, trading between $42 and $48, currently at $45. A low P/B ratio, strong Business Value* and a low P/E ratio on projected 2011 earnings suggest that shares are undervalued at current levels. The company has been in business for almost 150 years and has proved that it can survive many storms.
Analysts are bullish about future prospects and positive money flow activity suggests increased investor interest in the company's shares. The company's purchase of ALICO from AIG last year to boost its presence in Japan has increased its exposure there and the recent earthquake should have an adverse effect, albeit small, on the company's near-term earnings. However, this is a very small portion of the company's overall portfolio so the impact, which is yet unknown, should be manageable.
The company reports its first quarter 2011 earnings on May 5th. Although we are bullish on the company's long term prospects, the current earnings uncertainty prompts caution. Wait until May 5th, watch and pay close attention to the earnings call before initiating any position.
* Business Value - the most heavily weighted factor in our 20 factor gauge rating, Business Value measures free cash flow per share on a relative basis vs. 3000 stocks and is similar to EV/FCF calculations.
For more in-depth analysis on these stocks, please click here.
Disclosure: I have no positions in any stocks mentioned, and no plans to initiate any positions within the next 72 hours.