Investors enamored of China's consumer growth story have bid up many Chinese consumer stocks, especially the Chinese food stocks. For example, Tingyi Holding Corp (OTCPK:TCYMY) and Want Want China Holdings (OTCPK:WWNTY) are two leading Chinese food processing and retail plays that trade at lofty valuations with trailing P/E around 30. However, these food stocks, in particular, are caught between a rock and a hard place. One the one hand, input costs are rising steeply because of agricultural commodity price inflation. On the other hand, the government is pressuring these companies not to raise prices on the processed goods like noodles and rice snacks.
Many recent media articles have drawn attention to government price curbs on food products manufacturers including foreign ones like Unilever (NYSE:UL). There are reports from WSJ and from China Daily that multinationals like Unilever PLC are being asked by the National Development and Reform Commission (NDRC) to postpone planned price hikes. Unilever had planned to raise prices on consumer items such as shampoo and laundry detergent to offset higher input commodity costs, but postponed the increases after meeting with NDRC officials. Tingyi, one of China's biggest sellers of instant noodles, also delayed plans to raise prices after a meeting with NDRC. The WSJ article notes that panicked Chinese shoppers cleared supermarket shelves of soap, laundry detergent and shampoo following state-media reports that detergent makers planned price increases.
The Global X China Consumer ETF (NYSEARCA:CHIQ) can be used as a proxy to study the effects of inflation pressures and government restrictions on share prices. Granted, food companies like Want Want and Tingyi comprise only about a third of CHIQ. Nevertheless, the same kinds of twin pressures (input cost pressures and price caps) are being felt by many other consumer products companies as well. While food products makers are the most visible targets of government efforts to curb inflation through price caps, most other consumer companies and retailers are also under the gun. The government has sent a clear message that they expect all consumer companies to toe the line when it comes to fighting inflation. With the government increasing interest rates and curtailing bank loans, the consumers are probably going to slow down a bit anyways. All this does not bode well for the stocks represented in CHIQ since many of them trade at premium valuations to the rest of the Chinese stock market.
In the following chart, I compare CHIQ with the SPDR S&P China ETF (NYSEARCA:GXC) which is a reasonable proxy for the broader Chinese stock market. CHIQ was leading GXC in the Fall of 2010, but has been lagging this year. This is evidence of the margin pressures taking a toll on China consumer stocks in general. If this trend continues, CHIQ will become attractive once it becomes sufficiently cheap compared to other sectors. The long-term China consumer story is intact. In the short-term these stocks may continue to lag other sectors, given their run-up last year, and the headwinds they face in the form of commodity inflation and government price caps.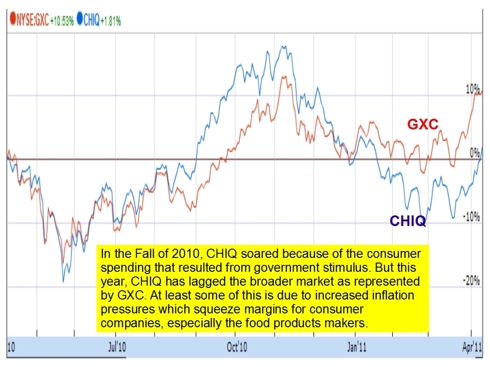 Click to enlarge
(Click to enlarge)
Disclosure: I am long CHIQ, GXC, TCYMF.PK.