Several days ago I wrote about the three basic asset classes needed in every portfolio. The three mentioned are: U.S. equities, developed international markets, and emerging markets. While VTI, VEU, and VWO cover these three asset classes, they are insufficient when putting together an adequate portfolio and here is the analysis showing why.
I'm working off a small laptop so the screen shot below is reduced in size, but I think readers can see the projected return is 8.9% and the projected uncertainty is 19.3%. These percentages give rise to a Return/Uncertainty ratio of 0.46 or quite low. We want to see this value exceed 0.60 if at all possible. Not visible in this screen shot is the low 18% for Diversification Metric. Our DM goal is 40% or higher, even with the current high market value. Even though these three ETFs cover the world market, they are insufficient. We need to add additional asset classes in order to build a well-diversified portfolio.
Click to slightly enlarge images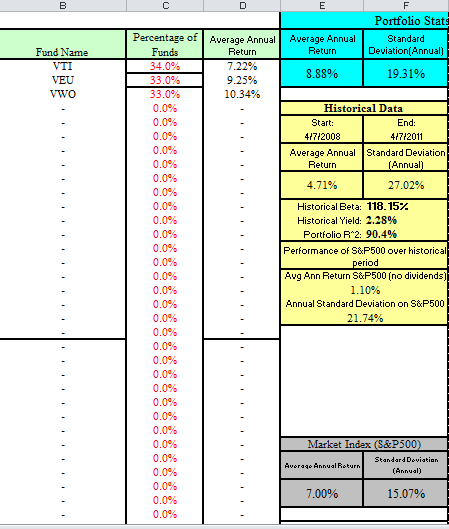 We use multiple ETFs to cover the entire U.S. market. We do this so we can skew or tilt the portfolio toward value and smaller companies. The VTI ETF, while useful in a portfolio, concentrates the investments too much toward large-cap companies. We make use of the Fama-French research and this has served the older portfolios quite well.
In addition to the three asset classes mentioned above, we also want to include bonds, REITs, etc.
What if we add one more asset class, a treasury ETF to the basic portfolio? How will this addition improve the Return/Uncertainty ratio and the Diversification Metric? Keep in mind these are only general guideline projections so accept them with a good dose of skepticism. The R/U ratio is up to 0.55 and the Diversification Metric rose a modest 4% points. If one income oriented ETF can make this level of improvement, imagine what we can do with the variety of ETFs.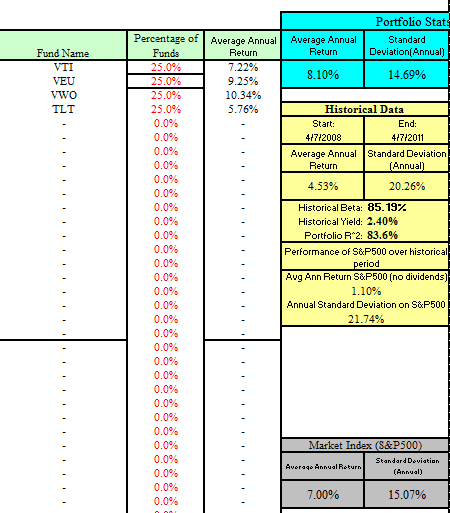 By adding TLT to the basic three ETFs, we observe significant changes in the projected outlook. Now consider adding REITs, commodities, other bond or income ETFs, international REITs, etc. With effort it is possible to elevate the diversity metric as well as the Return/Uncertainty ratio. These are basic goals as we strive to build better portfolios.
What happens if a fifth ETF is added to the portfolio. In addition to U.S. equities, developed international markets, emerging markets, and bonds/income, we add REITs (VNQ). Can we increase projected return and diversification without sacrificing uncertainty or risk? Below is the screen shot of a five asset class portfolio.
One expects the addition of another asset class to improve projected return and reduce projected volatility. This is not the case if adding only REITs to the four asset classes. Yes, the projected return rose from 8.1% to 9.02%, but there was a sacrifice. Projected uncertainty (SD) also increased from 14.7% to 17% causing the Return/Uncertainty ratio to drop from 0.55 to 0.53. In addition, the Diversification Metric dropped one percentage point. While these are not major changes, the uncertainty in particular, is moving the the wrong direction.
While we include REITs in every portfolio, it is necessary to balance the negative effects by other asset classes or alter the percentage allocated to the different classes. In these examples, I allocated identical percentages to make a point.