Investors love to find a bargain. A couple of methods that buyers use to look for cheap stocks are to compare metrics and ratios of similar companies, or to scan for low PEG ratios that imply a company may be undervalued when compared to its future growth potential.
One of the most risky methods to find cheap stocks is to sift through companies trading near their 52 week lows.
Before we go any further I must warn you: looking at stocks that have been sold off to near their annual lows can be a dark and scary place for investors to tread. If you like to 'trade the trend' or prefer buying high-momentum winners, then you may want to turn back now. Still reading? Don't say I didn't warn you.

*Note: Cheap will be used as a reference, not to absolute share value such as penny stocks or to market cap such as nano- , micro-, or small cap, but instead it will refer to shares being relatively low when compared to trailing 52 weeks of data.
Looking at Shares Trading Near 52 Week Lows
As we look at companies trading near their annual lows, we want to broadly look at:
Support levels
A look to volume and trend
Some fundamental metrics
Here are 3 stocks that jumped out at me and all three offer dividends.
Campbell Soup (NYSE:CPB)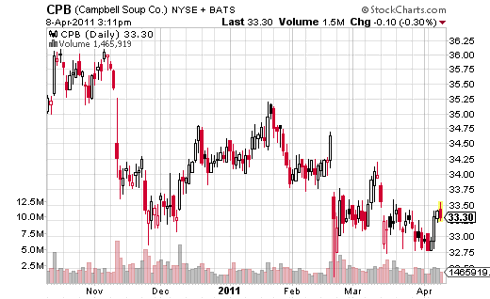 Click to enlarge

Campbell soup has a beta of only 0.25. Low beta means that this stock's price movements are not highly correlated with the broad market, or at least it is doing so at muted levels. The 52 week price range is from $32.66 - $37.59. Current price is around the $33.50 range.
Looking back a couple of years, this stock is sitting close to the $33 price support. I like that the stock is trading close to this base. Even though the stock is trading near 52 week lows, it sounds worse than it really is, since the last year proved to be a shallow consolidation. In 2009 prices were near $23 and went for a ride up to $34. Since then, it has been slow trading, which is evident from the low beta.
Volume has made a nice sustained pop over the last week of trading, the 14 day trend (tracked by DMI) is almost ready to go green, and the trend might even turn bullish by the time of article publication.
Are there any fundamentals or ratios to quickly note? I like the 3.5% dividend yield with a conservative 48% payout ratio. Campbell Soup is making sure that shareholders get increasing dividends over time. Over the past 7 years the payout ratio has ping-ponged between 28 – 48%, but the actual dividend climbed every year by roughly 10% annually when looking back over the last 3 – 5 years. This is slightly higher than the other growth ratios though, such as sales at net income.
One beef I have is that while the company's assets are worth $19.94 per share, its liabilities are worth $17.25 per share. This provides little equity. Instead of selling new financing notes while simultaneously repurchasing shares, I would love to see Campbell pay down on debt-- or at least borrow less and use some of that cash that is going to repurchasing shares. Even if that opportunity is gone, I would like to see the company use cash for debt purposes if there are any extra funds going forward.
Bottom Line: I like Campbell's dividend strategy, but overall growth is moderately tepid and I wish it would improve liquidity and leverage.
Target (NYSE:TGT)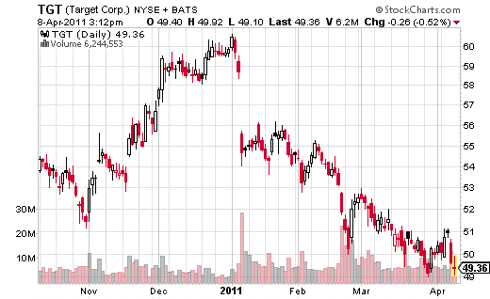 Click to enlarge

Target is a large merchandise store with a 52 week price range of $48.23 - $60.97. Current share price is just under $50 and slightly above the $49 support level. Net volume (using On Balance Volume) continues to track lower as does the price trend (using 14 day DMI).
Over the past couple of years Target has improved most margins from operating, net, and gross profit. Return on assets and equity has climbed slightly too. Sales growth is up in the single digits, and earnings growth have popped this last year. Dividends have climbed close to 20% per year when averaging over the past 3-5 years. However, with a fairly low yield of 2% and a payout ratio of only 23%, having large dividend growth is easier, since you can bump up payout ratios to make it increase faster than sustainable sales-based earnings growth.
With a nice 12% long-term earnings growth forecast and a solid history of dividend growth, this makes Target a good pick despite some challenges looking forward.
Cisco Systems (NASDAQ:CSCO)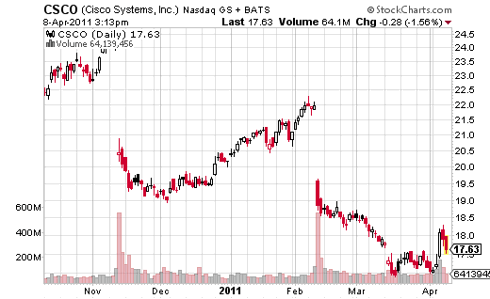 Click to enlarge

Cisco Systems designs, manufactures, and sells IP-based networking and other products. It recently announced a very small dividend that amounts to an underwhelming 1.4%. Its share prices have ranged from $27.74 - $16.97 over the past 52 weeks, with the latest price being around $17.50. Is this a good buy at these low levels?
CSCO is trading at very low PE levels of 13.3 trailing and 10 forward. The next 5 years are expected to see growth over 10% per year. Not a real high-growth story, but it appears fairly valued with PEG ratios including dividends. The company has a decent and increasing book value per share that is worth almost half of the share price. It has experienced increasing sales between quarters, although it has turned negative over the past two. Free cash flow is high, with price to FCF sitting at 10.6 while the industry average is 17. What's the problem here?
Over the past few months the earnings continue to be revised downward. To temper that, we are still expecting double digit growth, but I'd like to see the revisions switch upwards. The feeling I get from investors is, "Are you a growth company or a dividend value stock? If you are a growth stock, use your cash and assets to seek new opportunities. Your margins have slid over the years. Make things happen! Or if you are going to be a value stock, we will push your prices even lower to non-growth levels and you can pay out much of that free cash flow to us in dividends. You want to do neither? Well, I'm not sure who wants to buy this then…"
Cisco has a lot going for it and could provide much for shareholders in the way of dividends if the company so chose, or it could aggressively seek new growth opportunities if any exist. I just wish the company would make up its mind about which option is on the table and then signal this to investors. (If you love high growth stocks without a mess of traders buzzing around, check out this small stock with all the right CAN SLIM moves.)
Be Very Cautious with New Lows Here
One really big caution is in order. China is being pounded with fraud accusations right now and this is creating seemingly low valuations. But you should be aware that until the dust clears this is a very dangerous place to tread unless you are absolutely sure you have performed due diligence. I've thought more than a few times that certain China stocks were safe due to having a large and prestigious auditor. Nonetheless, some of these got pounded.
Here are a couple of China plays that are making new lows.
Puda Coal (NYSEMKT:PUDA) – Fraud accusations that say you cannot trust 2009 and 2010 reports. I'd stay away for now despite low prices.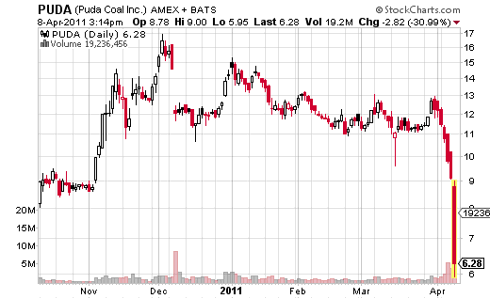 Click to enlarge
Lihua International (NASDAQ:LIWA)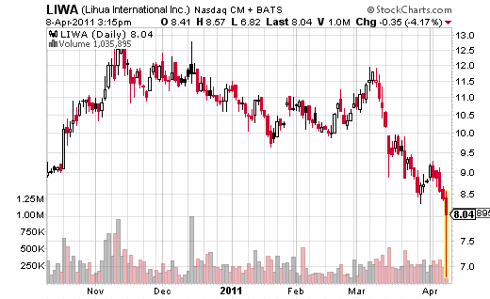 Click to enlarge

Very high return on equity (30.8) and return on assets (25.8). A profit margin that is 3x better than the industry makes this lowly stock a sure play…right? It is trading at incredibly low multiples when looking at price to cash flow, price to earnings, and price to FCF. Shares today had a wild range of $6.82 - $8.57. As of the time I wrote this on Friday, something big is up and the volume is already 4-5x greater than normal and the day is far from over. I'd wait and see what is going on. There have simply been too many scandals lately to close your eyes and jump aboard a China play as it dumps on crazy volume.

If you want to see some other cheap stocks under $10 with popping power, check out this article.
Disclosure: I have no positions in any stocks mentioned, and no plans to initiate any positions within the next 72 hours.