Eaton Vance's Tax-Advantaged Global Dividend Opportunities Fund (NYSE:ETO) has been far and away one of the best performing equity-based high-yielding Closed-End Funds (CEFs) not just from the market lows in early 2009 but also since inception from April of 2004. In fact, ETO's current 2-year high NAV price of $24.39 is so significantly above its inception NAV of $19.10 once again that its current NAV yield is now down to 5.74%, lower than its inception yield of 6.28%.
I believe that even if ETO's primary source of NAV growth has come from pure portfolio appreciation more so than increased investment income from dividends and interest, the portfolio appreciation still warrants a dividend increase since ETO's market price will have a difficult time appreciating much more once the current yield, now at 6.3%, gets closer to 6%.
I believe a 15%-25% increase in the annual dividend, perhaps in gradual installments like Eaton Vance has done in the past, will bring ETO's yield more in line with Eaton Vance's other two leveraged equity-based high-yielding CEFs; both of which yield in the 7.25% to 8.1% range currently. I cannot think of a better reward for a fund that clearly deserves it.

First the tale of the tape:

Eaton Vance Tax-Advantaged Global Dividend Opportunities fund (ETO)

Inception Date:

April 30, 2004
Inception NAV:

$19.10
Inception Yield:

6.28%

Current NAV 4/6/2011:

$24.39

Current NAV Yield: 5.74%
Current Price 4/6/2011:

$22.23


Current Price Yield:

6.3%

Dividend Pay Cycle:

Monthly
Premium/Discount:

-8.86%

Current Net Assets:

$354M
Current Leveraged Assets:

$466M
Current Leveraged %:

24%
ETO is one of three Eaton Vance leveraged, equity-based, high-yielding CEFs offering tax-advantaged dividends to investors, the other two funds being the Tax-Advantaged Global Dividend Income Fund (NYSE:ETG) and the Tax-Advantaged Dividend Income Fund (NYSE:EVT). If you have read my previous articles on Seeking Alpha, then you know that a leveraged strategy is one of three primary strategies that equity-based, high-yielding CEFs utilize to generate high dividend and interest income that the fund passes on to investors as high-yielding, tax-advantaged dividends. Tax-advantaged means the fund seeks to distribute a high level of dividend income that qualifies for favorable federal income tax treatment.

Leveraged CEFs generally own a portfolio of domestic or global, large cap yield-oriented stocks as well as a percentage of fixed-income securities that just increases the amount of income from the leveraged positions. The fixed-income portion helps diversify the portfolio and bring some stability to a strategy that is inherently volatile due to its leverage. Even with this balanced portfolio however, leveraged CEFs can grow their NAVs faster than their correlated pure equity indexes during a bull market cycle but will see their NAV depreciate at a quicker pace in a bear market cycle. Interest rates and interest rate direction can also have an effect on leveraged funds due to their fixed income securities.

In the case of ETO, 98% of the net assets are invested in global stocks, 22.3% are invested in preferred stocks and 7.5% are invested in corporate bonds. Percentages add up to over 100% due to the leverage. The fund's top 10 holdings and sectors are shown below, which I only list for information purposes since frankly, in an up- market cycle such as we've seen, the leverage becomes the primary driver for performance more so than the selection of holdings, which are mostly well-known large cap global names. The preferred stock holdings have also been a significant contributor to the fund's performance over the last two years as well. Click to enlarge:




Click to enlarge


Over the past fiscal year through October, 2010, ETO has been able to solidly outperform its benchmark averages. Though comparisons with non-leveraged benchmark averages is difficult, in ETO's most recent annual report dated October 30, 2010, Eaton Vance writes:
For the fiscal year ending October 31, 2010, the Fund's return at Net Asset Value outperformed that of its benchmark, the MSCI World Index (the Index), as well as the average return of its Lipper Global Funds peer group.

Going back even further, ETO looks even more impressive. Since the market low of March 9, 2009, ETO's NAV has had a total return of 132% and since inception 89.2%. These percentages include dividends added back, but not reinvested. These are among the best of all equity based CE's and yet ETO's market price has been even better.
Since the market lows, ETO's market price has risen 150%, far outperforming the S&P 500 which has in essence doubled since the market lows. These percentage returns shown below (click to enlarge), do NOT include dividends added back which would have made ETO's outperformance on a market price basis even more impressive. This is what the power of leverage can do even with a balanced portfolio.


I am predicting a dividend raise from $0.1167 to around $0.13-$0.14 per share as early as the next declaration--around the third week of April or possibly during the May declaration. This would partially return the dividend level from a 35% cut that occurred on December 22, 2008 during the market fallout. ETO is on a monthly-pay dividend cycle which is also attractive. I would certainly expect a raise by the end of the year if the market continues its upward momentum.
The reason why I am predicting a dividend raise mid-year is that 3 out of the 7 dividend raises Eaton Vance announced for these funds during the 2004 to 2007 up-market cycle were during the March to April time frame, so this would not be without precedent. Click to enlarge: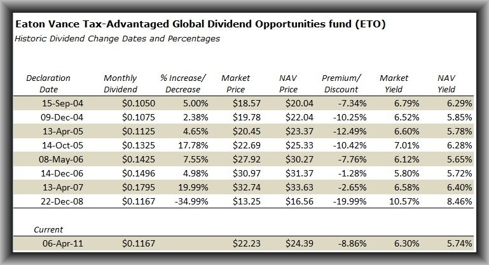 Click to enlarge

Eaton Vance's usual declaration style would be to raise dividends on all three of their leveraged funds ETO, ETG and EVT at the same time, but that might not be the case this go-around due to the wide discrepancy in NAV levels as well as the wide difference in yields. ETG would be the least likely to receive an increase due to its lower NAV price and higher current yield at 8.1%, well above its target inception yield of 6.47%. Even though ETO's current NAV yield of 5.74% is not that much lower than its inception yield of 6.28%, it should be noted that Eaton Vance went through a series of quick smaller dividend raises, 2 per year during 2004 to 2006 so we could see another start to a dividend raise cycle even if it starts with a small percent increase.

Eaton Vance has taken a lot of flak over the past several months due to a second round of dividend cuts on their option-income funds in December and a poor performance ranking from a major financial news publication for all of their funds in February. The fact that Eaton Vance has more option-income funds than any other fund family, eight at last count, may have contributed to this poor ranking so I believe Eaton Vance will try and re-focus attention on some of their funds that are outperforming by raising the dividend on their leveraged CEFs, starting with ETO.
Eaton Vance's three leveraged equity-based funds have had some of the best performances of any closed-end, ETF or mutual fund over the past few years, so it should not be a surprise to see the start of dividend raises. We should find out by late next week.

Disclosure: I am long ETO, ETG.