When was the last time an analyst had a 'sell' recommendation on AAPL? Can't remember? Neither can I. But recently we have seen a few analysts and respected bloggers beginning to think the unthinkable - could AAPL's formidable track record be about to hit a blip?
All of this started with JMP Securities analyst Alex Gauna downgrading AAPL to Market Perform. Shocking, misguided, or possibly brave? JMP may have gone out on a limb to hit the headlines, and in that sense they certainly succeeded, but whatever you think about the legitimacy of that infamous downgrade it has prompted a flurry of speculation about AAPL's short-term health. With almost universally bullish sentiment surrounding the company, investors would be wise to take this opportunity to reflect.
There has been furious speculation about the condition of Apple's supply chain in light of the earthquake and tsunami in Japan. Just how much is this disrupting build targets for the iPad 2 and iPhone? Apple is allegedly absorbing the costs of the quake to maintain short-term supply, and most analysts are confident that Q2 is in the bag and that numbers due for release on April 20 will not be affected. After all, we have had the Verizon (NYSE:VZ) iPhone launch AND the iPad 2 launch in the same quarter. Surely, that guarantees a blockbuster?
Two main consensus points of caution on Q2 numbers are:
(1) Reports of a fairly lacklustre Verizon iPhone debut. There were no lines on launch day, clearly taking Apple by surprise. No sales numbers have since officially been released. Plus, BTIG Research analyst Walter Piecyk published a note claiming that the HTC Thunderbolt is now outselling the iPhone. Separately, Boy Genius issued a report early on that reported that sales numbers for the new iPhone were lower than expected. And ConceivablyTech furthermore reports that UPS was upset after it set up a special shipping program for the Verizon iPhone that turned out to be overkill, with Verizon never matching its "forecasted shipping numbers."
(2) We don't know how much stock Apple had for the iPad 2 launch, and only a few days of sales are baked into the Q2 numbers. Yes, we saw stock-outs in all countries where it was released, but with reports indicating limited stock outside of the major Apple stores, we could be in for a disappointing number. Apple was quick to announce iPad 1 sales figures, but not this time. The potential of the device to break records is not in dispute, but increasingly bullish analyst estimates possibly should be. On the flip-side, this is countered by a report from Digitimes that claims 2.4m – 2.6m iPad 2 units shipped in March alone. Of course, we don't know how much the expected launch of iPad 2 affected potential iPad 1 buyers during the quarter.
Apple has guided Q2 to $4.90 EPS on revenue of $22 billion. In Q1 they beat by over a buck, but how about this time? The two top amateur Apple analyst estimates for Q2 are below:


Click to enlarge
Previous form suggests it is therefore highly likely Apple will post another great quarter. Personally, despite the historical accuracy of the above two analysts, I feel Apple will beat fairly handsomely, but not by as much as Q1. There is a real chance this quarter could be the first in which the amateurs slightly over-egg their numbers. On his blog, Tello himself writes under "Fiscal 2Q 2011 Final Estimates" that "It could be that this time I've bumped my estimates too high while WS analyst consensus for 2012 is right".
But what about Q3?
If only things were as simple as setting expectations and then beating them. The market is likely to be just as interested in the forecast given for Q3, as they are in the actual Q2 numbers. And it is here, I feel, that we are most at risk of a 'miss', if this is possible (considering no formal guidance has been issued by the company themselves).
With the Q3 forecast we will know just how much any supply chain related issues are hurting Apple. This could be through actual supply constraints leading to loss of expected Q3 revenue, or (and more likely in my opinion), margin pressure through increased costs passed on by suppliers. A recent Appleinsider article 'Apple reportedly absorbing increased costs from supply disruption in Japan' suggests that this is indeed correct, and therefore we could see Apple guiding to a disappointing low margin number in Q3.
In addition to margin pressure, there has been speculation that the iPhone 5 may be delayed, and may even miss fiscal 2011. With the iPhone accounting for around 50% of AAPL stock price, and considering the huge pent-up demand for every launch, any delay would certainly have a significant impact on Q3 numbers.
To Conclude
So for investors, what to do with all this uncertainty? Rocco Pendola's excellent article 'Why I'm selling Apple' is one example of the caution developing out there in the blogosphere. On the other side are those sticking with their bullish view. Morgan Stanley's Katy Huberty recently published a note outlining the attractive risk/reward, with 57% upside in her bull case, 19% upside in the most likely scenario, and just 22% potential downside: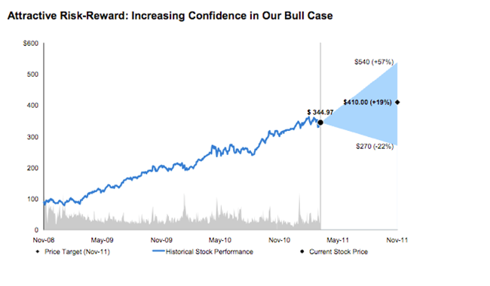 Click to enlarge
While all this sounds very convincing, history tends to suggest that professional analysts are the first to be caught out by a sudden change in sentiment towards a stock. Technical analysts are currently very bearish on the AAPL chart. Apple's reliance on iPhone earnings as a growth driver is of increasing concern in light of Android's continuing surge in new market share figures: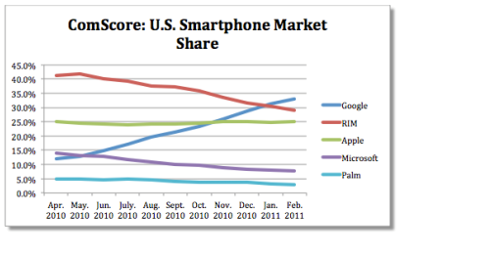 Click to enlarge
How long before the Google (NASDAQ:GOOG) surge begins to affect that green line, or will that all be absorbed by RIM's (RIMM) falling share? Henry Blodget has gone so far as to make the astonishing claim that based on this data, iPhone share is "dead in the water and has now fallen way behind Android".
Dark clouds may be on the horizon - soon Apple will also have a resurgent Nokia (NYSE:NOK) to contend with, as apparently, development of Windows 7 phones has already begun. This could see a powerful double-squeeze on the iPhone market share. But, even sooner is the surprise Nasdaq re-balancing, which many are predicting will likely pressure AAPL shares in the run-up to 2 May.
I am not following Rocco Pendola's drastic step of cutting my entire AAPL position on the basis of all this speculation. That seems like an over-reaction, and I still firmly believe AAPL's long-term growth prospects are intact. But there is certainly a strong argument for a degree of short-term caution here. Investors sitting on large profits may do well to top-slice their holdings and sit on some cash going into earnings.
For many, the old stock market adage that there is nothing wrong with taking profits hasn't applied to AAPL in recent years. The gains have been stellar. But blindly keeping faith is foolish. Locking in some gains now allows investors to sit-out the next month of uncertainty and keep powder dry to re-buy on any dip. This is smart investing. If AAPL does take a tumble, it is way too early to rule out a return to form later in the year. A blockbuster Q4 on the back of iPhone 5 – you bet.
Disclosure: I am long AAPL.
Additional disclosure: I have recently top-sliced my holdings, but maintain a substantial number of AAPL shares.