The magnitude of the earthquake and tsunami in Japan that triggered the explosion in the Fukushima nuclear power plant forced the world to sit up and take notice of the horrifying catastrophe that radiation can subject an entire nation to. The 8.9 magnitude earthquake that rocked the nation caused "loss of power" to the nuclear reactors thus causing a meltdown of the fuel rods and subsequent release of toxic radiation. Japan has now raised its nuclear alert level to five and large scale evacuation efforts are in progress. Thursday's aftershock that had a 7.1 magnitude caused the S&P500 to fall by .15%.
News of the March quake did not affect the S&P500 at first, but concerns over the nuclear crisis worsening sent the index to its lowest level since December. The S&P500 slumped by about 3.6% in three days and Japanese stocks were in the red. Japan's Nikkei index tanked by 17.5% in three days. Bellwether companies like Hitachi (HIT) and Sony (NYSE:SNE) took a beating and had double-digit losses in a matter of days. With Japan being a big player in the U.S. Treasury market, there is anticipation of a huge sell-off as the Japanese government rallies to finance the huge cost of reconstruction and revival of the Japanese economy.
A big loser in the midst of this crisis has been uranium stocks. The massive earthquake and the ensuing tsunami shut down 11 out of 53 nuclear power plants in Japan, sending uranium stocks in a downward spiral. Concerns over the future of Japan's nuclear plants resulted in all uranium stocks taking a beating and many stocks losing over 30% of their value.
The "Apple of uranium stocks," Cameco Corp (NYSE:CCJ), the world's largest publicly traded uranium miner, tumbled from $38 a share to nearly $29 a share. Many other uranium stocks lost 35%-40% of their value in the matter of one week.
click to enlarge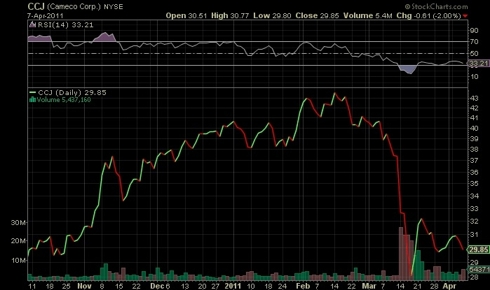 Chart courtesy of StockCharts.com
Even though this sector faces huge volatility, I am bullish on uranium stocks. This is an opportunity to buy uranium stocks when they are trading low and are undervalued. Over 15% of the electricity generated in the U.S. comes from nuclear energy and it is a big energy resource in developing countries, especially India and China. With the largest and second largest populations on the globe, the demand for energy is ever increasing in both these countries.
The disaster in Japan sent shockwaves throughout the world, but it's highly unlikely that countries will stop tapping into nuclear energy as a source of energy. The growing population of the world needs more electricity than what is being currently produced and as India, China and other emerging markets get more and more wealthy, their consumption demands will continue to rise. Both India and China have nuclear projects lined up over the next 20 years and what happened in Japan is in no way about to deter them. Existing power plants around the world need uranium.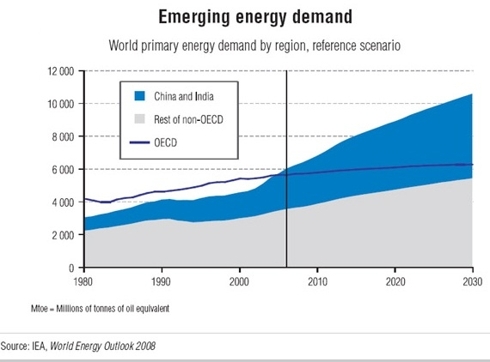 OECD - Organization for Economic Cooperation and Development
We are not yet at that stage where we can completely rely on solar and wind to help generate electricity that can sustain huge countries and their populations. Solar and wind farms require a huge amount of investment and infrastructure and are nowhere close to fulfilling the world's energy needs. The other sources would be natural gas and geothermal energy, but in the case of the latter, it is highly concentrated in some regions of the world and scarce elsewhere.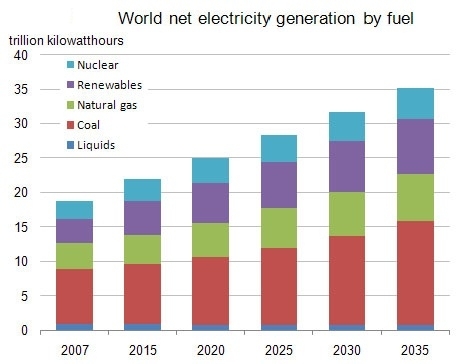 Source: U.S. Energy Information Administration(EIA)
The world needs uranium and I don't see this trend changing in the near future. I believe Cameco to be a good buy as the company has strong growth prospects. When compared to the mining industry, Cameco is fundamentally strong with high profit margins and revenue growth of over 20%. Cameco has a Price to Book ratio of 2.3. This is much lower when compared to competitors like BHP Billiton Limited (NYSE: BHP), which has a Price to Book ratio of 4.4.
The stock is undervalued and is something a long term investor should consider adding to his portfolio. Most of the selling of uranium stocks by investors is driven by panic rather than the long-term fundamentals of the company. This could potentially be the single best opportunity to buy and hold uranium stocks.
Disclosure: I have no positions in any stocks mentioned, and no plans to initiate any positions within the next 72 hours.