Notwithstanding our sympathy for those who have suffered tragically as a result of the earthquake, tsunami, and nuclear radiation in Japan, the event has profound long-term implications for natural gas, the most attractive alternative fuel.
Trading in futures has begun to validate the strategic change. The latest quote for U.S. delivery of natural gas for the next six years at $5.57 a million btu has crossed above its 40-week average for the first time in the 15 months since December 2009 (see chart below Natural Gas Six-Year Futures Strip). Diminished confidence in nuclear power also helps confirm the price uptrend already underway in oil. Immediately, Japan has contracted for more cargos of both natural gas and oil to fuel the generation of power to replace the lost nuclear contribution.
All of the income and small cap stocks in our coverage benefit from higher natural gas and oil price. Buy recommendations with strong representation in natural gas include small caps Cimarex (NYSE:XEC), Birchcliff (OTCPK:BIREF), Petrohawk (NYSE:HK) and Range Resources (NYSE:RRC) as well as income payers Dorchester Minerals (NASDAQ:DMLP), San Juan Basin Royalty Trust (NYSE:SJT) and Hugoton Royalty Trust (NYSE:HGT).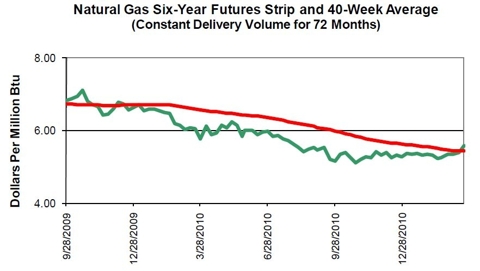 The article was originally published on March 18, 2011