"Someday we'll look back on this and it will all seem funny..."

-Bruce Springsteen, Rosalita
We're not only living through a paradigm shift vis-a-vis how we consume and share "content," we're observing strange days indeed at Netflix (NASDAQ:NFLX). Walk through a brief overview of recent developments before we get to the latest news.
Spending spree Netflix adds cushion to yet another content provider's bottom line, as it continues to execute its seemingly unsustainable business model.
Google (NASDAQ:GOOG) prepares to show off its firepower via YouTube by taking Netflix on headfirst. Hopefully, Google's (GOOG) earnings report this week will shed some light on its strategy.
Netflix refuses to comment on the departure of its longtime VP of Investor Relations, the woman who might actually be the brainchild of the company's faux earnings calls.
Given Netflix's less-than-stellar history of communicating with investors, it comes as no surprise that we have yet to hear anything from the company about the VP of IR's exit or get introduced to her apparent replacement. And if it weren't for the SEC, we would probably not have gotten wind of this other piece of curious news that, for some reason, went under the radar late last week: Fidelity is further reducing its stake in NFLX.
According to an SEC filing that hit Friday afternoon, Fidelity Investments will trim its NFLX holding down to 1,431,145 shares or 2.7 percent of shares outstanding. That's down from more than 4 million shares and over 8 percent of the o/s, as of February 2011, and greater than 5 million shares and about 9.6 percent of the o/s in October 2010. In February 2010, Fidelity held 8,612,350 NFLX shares, which equated to nearly 16 percent of the o/s. Obviously, Fidelity has been consistently reducing its stake, over the last 6 to 12 months or so.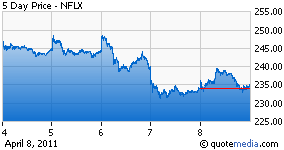 As with many things Netflix, we're left to speculate as to what's going on, given the company's trademark silence. I doubt this move by Fidelity has anything to do with the recent NASDAQ 100 shuffle, as NFLX makes up a relatively small portion of the index. I don't think it's linked to any regularly scheduled portfolio rebalancing at Fidelity. In a review of (way too many) SEC filings, my sore eyes tell me that Fidelity has either increased or stood relatively pat with respect to its holdings in other big name stocks, including Apple (NASDAQ:AAPL) and Chipotle Mexican Grill (NYSE:CMG).
For instance, a February 14th, 2011, filing by Chipotle shows that Fidelity holds the same number of shares in the company -- 4,033,817 or 13 percent of the o/s -- as it did at the end of December 2010. A filing on the same date by Apple reveals that Fidelity increased its stake in AAPL by 1,630,861 shares between the end of December, 2010, and mid-February.
I can only go over so many SEC filings, but I do not see a recent trend of Fidelity drastically decreasing its position in NASDAQ 100 companies such as Netflix.* In my estimation, this, combined with the other things I have written about, cannot be a good sign. If other institutions follow Fidelity's lead, the merits of Netflix's business model won't matter much. Such an exodus could literally implode the stock. As of the end of the December 2010, institutions and mutual funds control about 90 percent of the NFLX float, with Morgan Stanley (NYSE:MS) now at the top of the list after Fidelity's decision to run.
In the meantime, CEO Reed Hastings must have made a New Year's resolution to exercise his options and dump NFLX shares. It's become a weekly habit to the tune of 5,000 shares each time, bringing in well over a million bucks with each transaction. I fully realize that this might be part of his compensation deal. I don't even have a problem, in theory, with him doing this. If I could make myself a millionaire all over again each week, I would do the same. That said, it's worth mentioning in the overall context here. Plus, it appears that nobody on the inside has purchased shares for as far as the eye can see.
Netflix reports earnings a little bit later than originally scheduled. They orchestrate their call on April 25th. Hopefully, they'll change their format and permit analysts and investors to ask actual live questions of Hastings and CFO David Wells without the executives having the luxury of responding with what feels like a pre-prepared Hollywood script.
Disclosure: I am short NFLX via long positions in NFLX puts.