Yahoo (NASDAQ:YHOO), once a leading internet search engine, has lost a lot of luster to competitor Google (NASDAQ:GOOG). Another competitor, Microsoft (NASDAQ:MSFT), considered buying YHOO for $44.6 billion (approximately $31 a share) back in 2008, but founder Jerry Yang fought off a hostile takeover bid. Since then, the stock has spiraled downward, currently selling for a market cap of $21.96 billion.
(click to enlarge chart)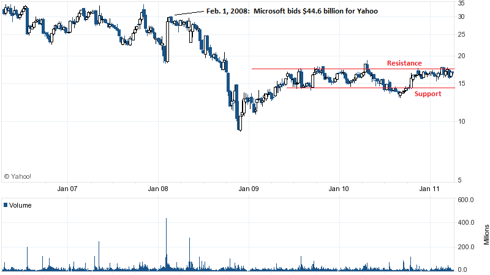 As shown from the chart, the stock has been hovering in a trading range of $14 to $17 for the last two years. Volume has stayed about the same over the two years. But is YHOO undervalued?
Microsoft wouldn't have proposed a buyout twice if it didn't see potential for YHOO, which remains second to GOOG in the advertising and search space, but is near #1 in unique online visitors. The company is more than just a search site, providing everything from news, sports, finance, and photo sharing through its Flickr service. And YHOO owns 40% of Chinese internet company Alibaba.com. YHOO's price-to-sales ratio is about half that of GOOG's.
But more interestingly, short sellers have been covering recently. According to Bloomberg, short interest in the stock declined by 16.4 million from February 28th to March 15th. Do short sellers see that the stock will rise in the coming months?
Lastly, YHOO reports on the 19th. Consensus is for earnings of $0.16 EPS on $1.06 billion revenue. This is a sharp decrease from average revenue of $1.5 billion in the 1st quarters of 2009 and 2010. It is also a sharp decrease from earnings of $0.22 per share in the same quarter last year. Any surprise should cause the stock to break through resistance and start to head higher.
Disclosure: I have no positions in any stocks mentioned, and no plans to initiate any positions within the next 72 hours.