Recently, Chinese small cap stocks have been assaulted from all sides with allegations of fraudulent and deceitful business practices. Rino International (OTC:RINO) was the first guilty party, but some attributed that to simple statistics; there are frauds in the United States as well.
More recently, China MediaExpress (OTCPK:CCME) came under scrutiny and despite a Big 4 auditor and investments from large market players, it seems the company will also be revealed as a sham. These two combined have shown that even Big 4 audits, investment from marquee firms and "legitimate" on the ground research can't uncover fraud in every case. This week, two players of the Chinese short game have released independent reports on two different stocks. The latest targets are Duoyuan Global Water and Puda Coal.
Duoyuan Global Water (DGW)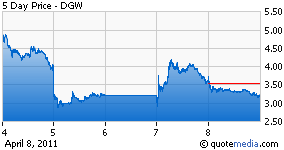 Duoyuan was trading at $6.03 as recently as a week ago, but a report from infamous short Muddy Waters LLC has been deemed credible enough by investors to warrant a drop of almost 50% in stock price. Head of research Carson Block has been spot on about both RINO and CCME, so it has gotten to the point that his reports can't be brushed off as blind luck.
The basic premise of the report is as follows:
DGW overstates its revenues by over 100 times.

After viewing a PRC audit report on DGW that substantiated their theses, MW claims that DGW replaced its audit report with a forged one that was less incriminating.

Errors in the audit indicates that DGW's auditor is sloppy and unreliable.

Guilt by association with sister company DYP, which has had numerous problems including auditor dismissals.
These claims are substantiated in the report with detailed accounts of factory activity (or lack thereof) and descriptions of a "paid to be present" work force that seems eerily reminiscent of stories from CCME headquarters. The full report can be found here, and is definitely worth a read for the interested investor.
Puda Coal Inc. (NYSEMKT:PUDA)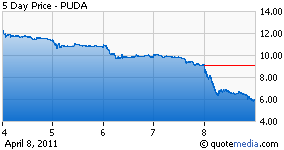 Puda Coal is a new target, and the beneficiary of this negative attention is Alfred Little. Alfred has released numerous negative reports. His targets have included China New Borun (NYSE:BORN), China MediaExpress (OTCPK:CCME), Rino (OTC:RINO) after the fact, China Green Agriculture (NYSE:CGA) and China Integrated Energy (OTCPK:CBEH). So, Little has also had some success spotting frauds. His most recent report can be read here, and basically asserts some pretty devious activity by the Chairman, Ming Zhao. The basic points Alfred lays out are as follows:
The Chairman transferred ownership of the company to himself without shareholder approval.

He then sold half the company, and pledged the other half to a private equity fund.

Mr. Zhao allegedly then leveraged the company many times over at a high interest rate to finance the development of more mines, in a move that was decidedly detrimental to stakeholders.
The dates of these transfers are from 9/3/2009, so it begs the question: why wait until now to make these assertions? Is the environment simply ripe for the shorting? Was more diligence necessary? Also interesting in this situation is the fact that DEER has recently pursued legal action against Mr. Little for his purportedly false reports on the stock. It is worth noting that similar class action was taken against shorters for their reports on CCME. It looks like the shorts turned out right on that one... So, is Mr. Little still a reputable source for potential frauds or has he simply sensed that the time is ripe for the shorting?

Puda Coal has responded with a promise to address these allegations, but that response will come after the stock has already shed 35% of its value in a single day and about 50% over the preceding week. Time will tell whether Alfred Little has spotted another fraud or simply released a short hit.
Conclusions
Now is not the time for the meek in terms of Chinese investments. A friend said to me recently that he considered the Far East a new Wild West in terms of investing. I have to say the moniker is appropriate; there are more and more signs pointing in the direction of fraudulent and malicious behavior than ever before.

Unfortunately, some legitimate companies will suffer the consequences of those that do break the rules. Until research firms with the resources and ability to do legitimate, on-the-ground research step up to the plate, there is no remedy for this. It is up to the disciplined investor to take these risks into consideration when investing in China. Good luck.
Disclaimer: The author holds no positions in stocks mentioned and does not plan to initiate positions within 120 hours of the posting of this article. This article is to be used for educational, research and informational purposes only and does not constitute investment advice. There are no guarantees, expressed or implied, of future positive returns in regards to the subject matter contained herein. Understand the risks inherent in investing before making the decision to invest or consult an investment professional for more information. Reasonable due diligence has been performed in regards to the information in this article. However, the author expressly disclaims any liability for accidental omissions of information or errors in fact.

Disclosure: I have no positions in any stocks mentioned, and no plans to initiate any positions within the next 72 hours.