"There are no limits under this agreement as to what the company can do in travel search"

-- Google spokesman Adam Kovacevich.
On Friday, the U.S. Dept of Injustice "allowed" Google (Nasdaq: GOOG) to proceed with their $700 million purchase of ITA Software for its travel reservation capability. This event marks a key turning point for companies competing in the online reservations niche.
With Google's vast resources, the competitive forces it unleashes in the online reservation sector should ultimately help decrease the cost of online reservations -- not increase them -- as is often the concern among those fond of wielding the antitrust laws.
Why is it that the entrenched incumbents including Expedia, Kayak, and Microsoft are the first to complain that the Google/ITA hookup will result in less competition, when, in fact, a Google entrance into the niche adds competition for them? Could it be they simply don't want competition and pricing pressure in their niche?
This is especially odd considering that Microsoft was relentlessly harassed by the US DOJ in the 1990s for giving away their Internet Explorer browser for free.
Google: The Ultimate Aggregator
"Aggregator" is the buzzword of choice for the various online companies that gather information from fragmented marketplaces into a single portal to make life easier for everyone.
A classic example is the online airline & hotel reservations niche in which Priceline (Nasdaq: PCLN), Travelzoo (Nasdaq: TZOO) and Expedia (Nasdaq: EXPE) "aggregate" pricing and availability from the various airlines & hotels onto one website so travelers have all the information they need to make complex decisions.
Other examples are Groupon (privately held), which is a coupon & local deals aggregator and OpenTable (Nasdaq: OPEN) is a restaurant reservations aggregator.
With Google's reach into all the world's data and its recent push into the reservations space, it has indeed become the ultimate aggregator.
Hidden Costs of Online Reservations
Most consumers naively think there is no cost when reservations for Flights/Hotels/Events/Restaurants are done online via such aggregators.
That's because the reservation transaction cost is paid by the airlines, hotels, or restaurants. The customer doen't usually even see the charge.
Companies like Priceline and Travelzoo get a fee for each reservation they make, as does Ticketmaster. And OpenTable charges each restaurant a surprisingly high $1.00 per seated diner for reservations made through their website.
Changes in technology relationships that reduce the overhead of these "hidden reservation costs" ultimately help the consumer. The Google/ITA combination is one such change that will, no doubt, help accomplish that goal.
Restaurant and Events Bookings Too?
Unknown to many is the fact that ITA Software has functionality that can be used for restaurant and event bookings.
ITA Software says for travel destination pages, companies "can combine bookable tours, attractions and events; free activities and events; restaurant bookings and reviews, bookable ground transportation services; airport guides; weather reports; travel guide content, and other information sources" to increase customer loyalty and attract commissions for ancillary services.
So in its purchase of ITA, Google now has that capability in-house.
Compared to complicated airline flight reservations, for Google to now offer a restaurant reservation system is much less complex (e.g. "How many diners? What time?).
The U.S. Department of Injustice
The US Dept of Injustice (pun intended) thinks meddling with the free markets in the Google/ITA deal is actually "helpful" to online customers.
But in reality, we all want the largest and most dominant search engine to aggregate the most information at our fingertips. We want a monopoly for search engines, because, by definition, a monopolistic search engine is the best search engine because it has the most information -- provided it's coupled with a good search algorithm.
If you don't agree, think back to the time when search engines were new in the 1990s and we had so many to choose from that would yield wildly different search results (Excite! Altavista, Yahoo, Dogpile, Mindspring, etc.). And, just as an aside, did you know Google was actually called "Backrub" in 1996 before it was called Google?
For as much time and taxpayer dollars that the US DOJ has spent on antitrust enforcement, there are so few recent cases where highly successful companies like Microsoft or Intel have used their relative monopolies to raise prices for consumers. On the contrary, technology prices have consistently declined and functionality has gone up dramatically over time and the consumer has benefited.
Likewise, Google's presence in reservations will hopefully improve market efficiencies for users of online reservations systems and thus, prices will be incrementally lower.
Ripe for Competition
A good example illustrating where there are market inefficiencies begging for lower costs is the relative monopoly OpenTable currently enjoys on restaurant reservations, with a generous $1.00 per seated diner fee paid by the restaurant (plus setup and ongoing monthly fees).
A Google entrance into the restaurant reservations business would be likely, given that they've essentially bought most of what's needed for restaurant reservation capability as a part of the ITA Software acquisition.
Ask yourself "if Google now has restaurant location and referral social websites and now has a comprehensive reservation capability, why wouldn't they get into online restaurant reservations?"
What would be an especially compelling offering is if Google struck a synergistic relationship with the National Restaurant Association which has an extensive U.S. restaurant table inventory database (just what Google needs). Furthermore, the NRA's charter is to help restaurants improve their profitability. They recently stated:
it is more important than ever to offer value-added services that help our members boost profitability.
A Google Reservations presence would bring about much-needed pricing pressure in the online restaurant reservations niche (OpenTable, UrbanSpoon, RezBook) – and thereby bring lower prices to consumers because restaurants will have less overhead that they must pass on to consumers.
Considering that the commonly-cited average restaurant profit margin is about 5%, a typical restaurant only makes about $1.00 profit on every $20 meal. If each restaurant can save the $1.00 online reservation fee per diner via a free or nearly-free online reservation system by Google or any other provider, then there is great incentive for restaurants to quickly gravitate to the lowest-cost reservations system that has the most eyeballs.
Who has the most eyeballs? Google, of course.
Google's eyeballs would be easily funneled from their Google Places and Google Hotpot to actually make a restaurant reservation.
Here's a Youtube video courtesy of Google Hotpot explaining how it works. Note the emphasis on restaurants.
And here's an image from Google Hotpot showing, guess what? Diners at a restaurant table: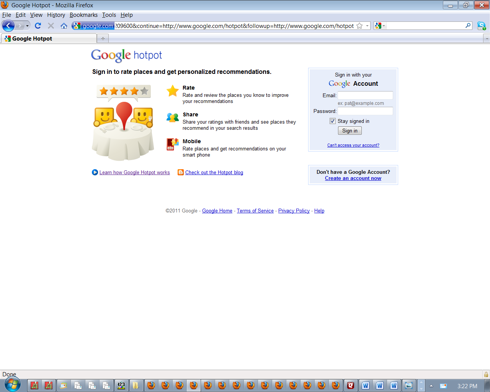 And here's an article in which Google Hotpot has an interesting pilot program in place in Portland Oregon and Austin Texas:
Google, says Jeff Aguero, a product marketing manager for Hotpot, foresees that as more consumers have NFC-enabled phones that can talk to the tags, users will increasingly be able to tap such a phone against a tag on a business' door or window, and thereby access information about that establishment before determining whether to enter or, in the case of a restaurant, make dinner reservations.
In summary, it's pretty clear where Google is headed with this, especially when combined with ITA's sophisticated online reservation capabilities.
Speculative Interest
Currently there has been a flurry of speculative interest in the so-called "aggregators" such as Travelzoo, Groupon, OpenTable.
Travelzoo's shares have literally doubled in the last 5 weeks: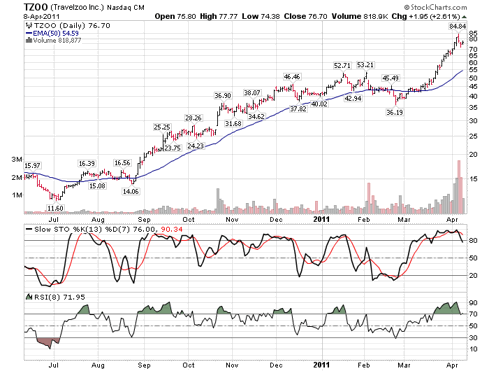 And OpenTable's shares are up 400% in just over a year, trading at a trailing PE of 187: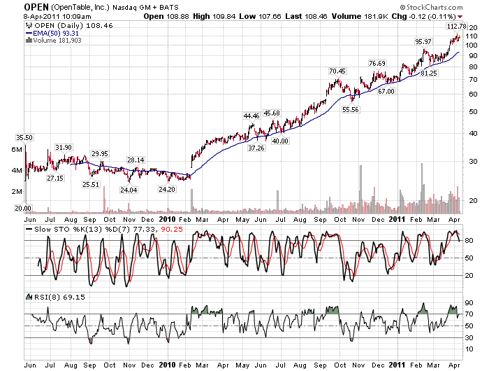 It's self-evident that things are evolving quite rapidly as we can see by share price behavior of the market participants.
As for privately-held Groupon's forthcoming IPO, it is said to range between $15-25 Billion and they have strong income and dominant market share in the "local deals" space.
With Google having a stronger presence in these markets, it's unclear if there is enough total revenue to support current frothy share valuations, given that Google will eventually grab a sizable share of the pie too.
It will be interesting to see how the forthcoming shakeout in the online reservation aggregation niches play out now that Google has the green light to go.
Unlike what the DOJ would have you believe, competition and benign "quasi-monopolies" -- like Google -- are good for consumers.
Disclosure: The author makes no warrant for the accuracy of the content herein other than the links provided to traditional online sources of information for verification purposes. Additionally, investors shall not take any comments stated herein as advice to buy or sell any equities and if investors do so, they acknowledge that they have done their own proper due diligence and proceed at their own risk. I have no positions in any stocks mentioned, but may initiate a short position in TZOO, OPEN over the next 72 hours.