Although I don't have a position in Netflix (NASDAQ:NFLX), I have been watching how the options have been trading in advance of the company's next earnings announcement on April 25.
First, here's a look at the implied volatility (IV) for options on NFLX just before previous earnings announcements based on data from ivolatility.com.
The pink lines show IV for the options closest to expiration with the other lines representing IV for longer-term options. The blue arrows correspond to the earnings announcement date.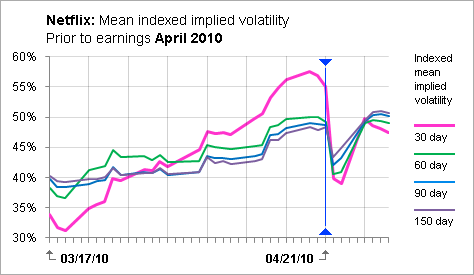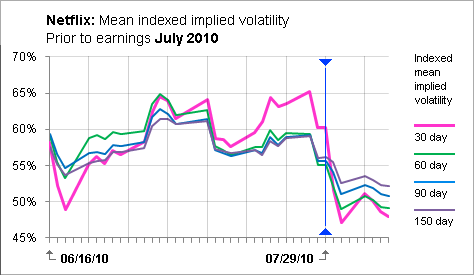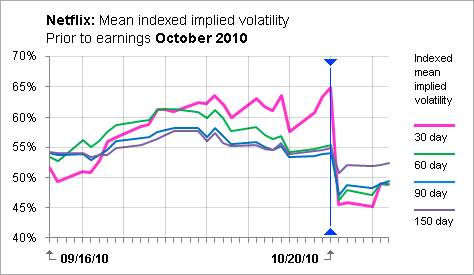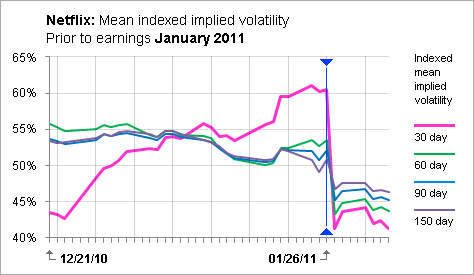 As you can see, volatility for options with around 30 days to expiration began to carry a much higher relative premium than options with a longer shelf life as the announcement date grew closer and closer.
After earnings, IV generally fell – especially for those shorter-term options. This is not an unusual pattern, but it can offer opportunities to use options to establish a position while limiting risk.
Let's say you wanted to be short NFLX, but you're not so bold as to actually short the stock. You might, however, have the opportunity to buy longer-term put options (say for June or September) at relatively low premiums, then sell shorter-dated put options (perhaps the May expiration) against them to lower the overall premium paid to reduce your risk.
If you're long NFLX, or want to be long, you could think about selling near term puts or selling call options against some or all of your stock if the short-term IV climbs as it did just before previous earnings announcements.
As for this earnings season? Here's a chart with a similar time frame as the ones above as of the close on Friday, April 8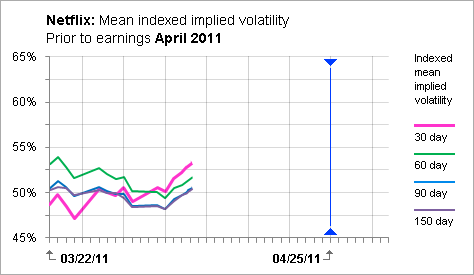 The 30-day IV seems to be just beginning its climb above the longer-term IV. The pattern may not play out as it has in past earnings seasons, but if it does, it appears likely that volatility will reach a short-term high in the next week or so.
One caution however: The April 25 earnings announcement comes on a Monday when previous releases were made in the middle of the week. The intervening weekend could have some impact in how options traders set up their positions.
Disclosure: I have no positions in any stocks mentioned, and no plans to initiate any positions within the next 72 hours.