Each week I publish stocks to watch for the upcoming week as potential momentum trades. The stocks below all have a 50k minimum average daily share volume and traded at a 52 week high on strong volume, with a minimum of 2 times relative volume on Friday, April 8th. In addition, stocks were required to close Friday higher than the open price.
Last week's list in aggregate returned an average of .45%, including dividends and the previous week returned 6.74%.
Gold, commodities and chemical companies constitute a substantial portion of this week's list of 27 stocks and ETFs. With gold and commodities continuing a strong upward move last week, these individual companies may be able to sustain momentum in the short-term. GLD (SPDR Gold Shares ETF) and GDX (Market Vectors Gold Miners ETF) reached an all-time high last week as displayed below.
click to enlarge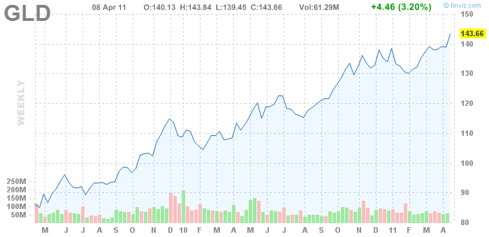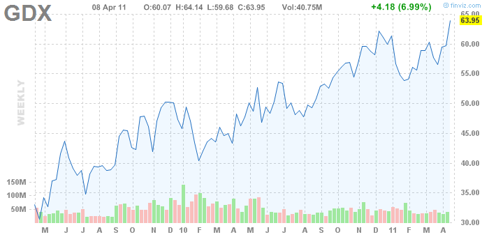 One alternative to purchasing an index ETF such as GLD or GDX would be to invest in individual companies within strong industries. While this could lead to potentially higher returns, investors should expect higher volatility and risk versus investing in an index ETF.
This week's list of high volume, positive price momentum precious metal stocks include AUY, CGC, KBX, and PAAS.
The following list is tracked real-time on the right hand side of my blog, along with the historical performance of previous week's lists:
Data and Chart Source: Finviz
| | | | | | |
| --- | --- | --- | --- | --- | --- |
| Ticker | Company | Industry | 52-Week High | Change from Open | Relative Volume |
| (NYSE:AUY) | Yamana Gold, Inc. | Gold | 0.68% | 0.76% | 2.17 |
| (NYSE:BAS) | Basic Energy Services, Inc. | Oil & Gas Equipment & Services | 0.31% | 1.96% | 3.48 |
| (CGC-OLD) | Capital Gold Corp. | Gold | 1.71% | 1.08% | 2.24 |
| (NYSEARCA:CORN) | Teucrium Corn | Exchange Traded Fund | -0.06% | 0.94% | 2.15 |
| (NYSE:DCA) | DCA Total Return Fund | Closed-End Fund - Equity | 1.05% | 0.78% | 3.02 |
| (NYSEARCA:DYY) | PowerShares DB Commodity Dble Long ETN | Exchange Traded Fund | 4.75% | 2.78% | 3.75 |
| (NYSE:EXPR) | Express Inc. | Apparel Stores | 0.00% | 2.19% | 2.5 |
| (NYSE:FTK) | Flotek Industries Inc. | Specialty Chemicals | 3.37% | 8.12% | 2.38 |
| (GGC) | Georgia Gulf Corp. | Synthetics | -0.59% | 0.52% | 2.58 |
| (NASDAQ:GNOM) | Complete Genomics, Inc. | Biotechnology | 3.04% | 4.88% | 2.75 |
| (NYSE:GY) | GenCorp Inc. | Aerospace/Defense - Major Diversified | 2.23% | 9.37% | 4.04 |
| (NYSE:HGR) | Hanger Orthopedic Group Inc. | Specialized Health Services | -0.11% | 1.49% | 2.8 |
| (NASDAQ:HNSN) | Hansen Medical, Inc. | Medical Appliances & Equipment | 0.71% | 12.25% | 4.29 |
| (NYSE:IDT) | IDT Corporation | Diversified Communication Services | -0.92% | 6.02% | 2.62 |
| (NASDAQ:IMGN) | Immunogen Inc. | Biotechnology | 0.75% | 0.75% | 3.7 |
| (NYSE:KAR) | KAR Auction Services, Inc. | Auto Dealerships | -0.95% | 0.30% | 2.19 |
| (KBX) | Kimber Resources Inc. | Gold | 3.65% | 1.54% | 6.1 |
| (NASDAQ:KEYN) | Keynote Systems Inc. | Internet Software & Services | 1.28% | 2.49% | 2.03 |
| (LTD) | Limited Brands, Inc. | Apparel Stores | 3.02% | 3.36% | 2.5 |
| (NYSE:MX) | MagnaChip Semiconductor | Semiconductor - Specialized | 1.03% | 6.57% | 5.01 |
| (NYSEARCA:NUGT) | Direxion Daily Gold Miners Bull 2X Shrs | Exchange Traded Fund | 0.75% | 1.00% | 2.24 |
| (NASDAQ:PAAS) | Pan American Silver Corp. | Silver | 0.83% | 5.96% | 2.91 |
| (NYSE:PII) | Polaris Industries, Inc. | Recreational Vehicles | 2.41% | 2.80% | 2.04 |
| (NASDAQ:PRMW) | Primo Water Corporation | Beverages - Soft Drinks | 7.07% | 10.76% | 5.2 |
| (NASDAQ:SMOD) | SMART Modular Technologies (WWH) Inc. | Semiconductor - Integrated Circuits | -3.20% | 2.79% | 2.27 |
| (NASDAQ:SYMX) | Synthesis Energy Systems, Inc. | Specialty Chemicals | 4.17% | 16.07% | 5.11 |
| (NASDAQ:TPCG) | TPC Group Inc | Chemicals - Major Diversified | -0.24% | 1.16% | 2.05 |