I've been surprised how far crude oil has come up since the Egyptian crisis. Mubarak's resignation initially seemed to quell the surge in oil prices, but the current prices are simply not justified on an intrinsic supply and demand equilibrium. Demand is not going to justify $112/bbl crude for very long. Without Middle East headlines hyped by CNN, oil was sub $90/bbl in February, and has appreciated around 30% since. The U.S. dollar index shows that the greenback has become weaker since oil started its run, but those numbers point to an approximate 3.5% decline.
The crisis in Libya has run on for quite a while, with oil continuously breaking resistance levels. Clearly being a supply side issue, the removal of Libya from the list of oil supplies during its revolution has a minor effect on the actual supply demand equilibrium due to the increase in production from Saudi Arabia. In addition, there aren't signs that other major producers like Venezuela and Canada will have disruptions in their supply either.
Gaddafi has finally decided to call a ceasefire after weeks of civil war. While this probably is far from the end of the Libyan crisis, it is certainly an improvement in the situation and this is beginning to be reflected in oil spot prices. Oil has dropped 1.16% to $111.48/bbl as of the time of writing this article, and I feel that this is only the beginning of the oil correction. Although the oil bulls can still use the antsy atmosphere in the Middle East, general energy demands and inflation to promote their case, I feel that the bandwagon has become a bit too full.
Below I have the chart for Powershares' leveraged short ETN for crude oil, which is a risky but potentially very profitable way to bet on a drop in oil prices. Technicals show that this morning it has tested the top of its 20-2 bollinger band (on a 15-minute interval chart), which suggests that these shares are ready to reverse direction. In addition, the RSI is once again testing 60 on this chart, suggesting that the bears are beginning to eye oil again. Another option is to simply short the ipath oil fund (OIL), but for those who don't like putting out short lines this might be the best alternative.
Click to enlarge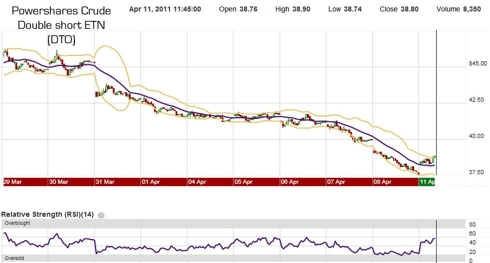 If you want to take up on this contrarian trade, another way to do it is to buy airline stocks. I feel that Delta (DAL) has been hit most drastically by the parabolic rise in oil prices and will surge upon an oil correction. It is also one of the largest holdings of hedge fund manager George Soros, and trades at an unbelievably low forward P/E of 4.9. RSI has broken 60 for the first time in quite a few days and signals a return of buyers into this depressed equity.
Click to enlarge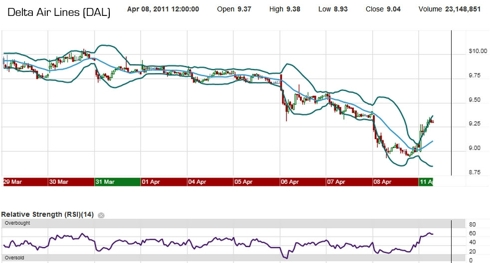 While oil does have justification for higher prices than in January, the current prices are unsustainable due to the lack of increase in demand, and the return to normalcy in oil supply after political unrest settles worldwide. So in summary, profit from dropping oil with long positions in DAL or DTO, or short the ipath OIL fund.