Let's keep things in perspective. Take a look at the 4-year comp sales run rates in March 2011 for the following monthly sales reporters.
What Buckle (NYSE:BKE) management has done is simply remarkable. What's most interesting is that the company's EBIT margin has remained north of 20% for the past 3 years. Amazing.
On the other hand, Gap (NYSE:GPS) continues to underperform from a top-line perspective. CEO Glenn Murphy arrived in August 2007 and has done a great job from a bottom-line perspective. But, his top-line performance has been atrocious.
4-Year Comp Store Sales Run Rate Ranking – March 2011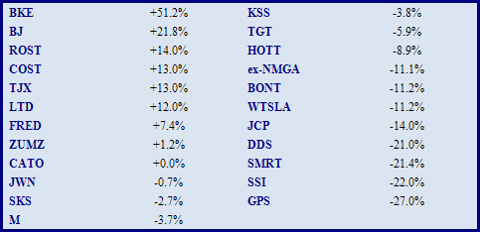 Click to enlarge


Disclosure: I have no positions in any stocks mentioned, and no plans to initiate any positions within the next 72 hours.