Based in Edina, Regis Corporation (NYSE:RGS) recently reported its third quarter 2011 revenues of $581 million, down 1.1% year over year in a pre-earnings announcement and also below the Zacks Consensus Sales Estimate of $586 million.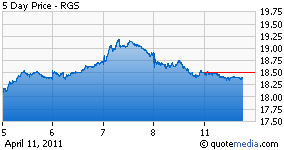 The same-store sales for the third quarter plummeted 2.3% year over year. Moreover, this rate of decline was higher than the year-ago quarter drop of 1.8% as well as first and second quarter drop of 1.5% and 1.3%, respectively, implying a significant plunge in the quarter's same-store sales. The decline was due to inclement weather condition in the month of January and calendar shift of Easter holiday from March to April this year, resulting in a slowdown in customer visits.
Domestic same-store sales plunged 2.6% year over year while International same-store sales decreased 2.0%. However, Hair restoration same-store sales upped 1.3% in the quarter.
Results remained weak in the company's relatively higher-priced, mall-based Regis Salon division but value salon concepts experienced stronger sales due to a shift in consumer behavior amid the economic uncertainty.
Supercuts (located in strip centers; around $17 average ticket) posted a 0.2% rise in comparable store sales while higher-end Regis salons (87% located in malls; around $41 average ticket) posted a decline of 3.2%. SmartStyle salons, which are located exclusively in Wal-Mart Stores Inc's. (NYSE:WMT), Supercenters and MasterCuts (around $21 average ticket) also recorded decreases of 2.3% and 3.9%, respectively, in comparable store sales.
Outlook

The shift in Easter holiday negatively impacted third-quarter same-store sales by 30 basis points (bps) and management expects the fourth quarter comparable store sales to benefit by the same amount due to the Easter holiday on April 24, 2011.
For fiscal 2011, Regis intends to focus on top-line growth and expects same-store sales to improve, with the second half of the year expected to be stronger than the first half of the year.
Although sales declined in the quarter owing to wavering consumer behavior, management remains committed to restructuring and cost-cutting plans through overhead reduction as well as shut-down of underperforming stores, cut-back in bonuses, profit sharing and enhancement in brand image through charitable donations. We believe all these initiatives should result in higher margin and earnings.
The company is slated to release its third quarter earnings on April 27, 2011. The Zacks Consensus Estimate for third quarter earnings is pegged at 32 cents, representing an annualized negative growth of 12.16%.
Regis currently retains a Zacks #4 Rank, which translates into a short-term Sell rating. We are also maintaining our long-term Underperform recommendation on the stock.
However, one of Regis' close competitors, Ulta Salon, Cosmetics & Fragrance Inc. (NASDAQ:ULTA), recently reported its fourth quarter earnings results, where revenue increased 19.5% year over year to $473.7 million, on the back of higher comps, which escalated 10.4% from 6.2% reported in the prior-year quarter. Ulta currently retains a Zacks #1 Rank, which translates into a short-term Strong Buy rating.