The national anthem calls Indonesia great. Some call Indonesia Asia's next growth story (after China and India). And there is good reason.
One reason: Indonesia is the third largest democracy, according to the Economist. Another reason: it is home to 245 million (the fourth largest population). It is the 16th largest economy (according to the CIA World Factbook). And in 2009, Indonesia joined the G20.
Indonesia's economy grew 6.9% in the fourth quarter, year-on-year, the fastest pace in six years. And that "resilient economic performance" was one of the reasons that S&P upgraded the country's credit rating to the highest level since the Asian credit crisis in 1997. The country's debt is now one level below investment grade (with equivalent rankings from Moody's and Fitch Ratings). And S&P's "positive" outlook has implications: if the country achieves an investment grade rating it will increase capital inflows as it opens the way for more funds to invest there.
But the real vote of confidence came from Saudi Arabia. Saudi Aramco, the world's largest oil exporter, will expand into Indonesia.
But Indonesia has problems. The day the government reported their GDP reading, religious violence killed three people. And the next day three churches were burned to the ground by an angry mob. Extremism is an unfortunate part of the fabric of life, and according to estimates religious violence increased 50% last year (with over 100 attacks in 2010).
And then there's inflation. Some are concerned … the Indonesian government is not. Inflation slowed to 6.65% last month (back in September 2008 consumer prices rose 12.4%).
The bottom line: for all of its potential, Indonesia is worth keeping an eye on. The Market Vectors Indonesia Index ETF (NYSEARCA:IDX) has been on a tear recently, reestablishing a positive trend over the past couple of weeks. And it has performed well recently, based on relative strength within an emerging market portfolio.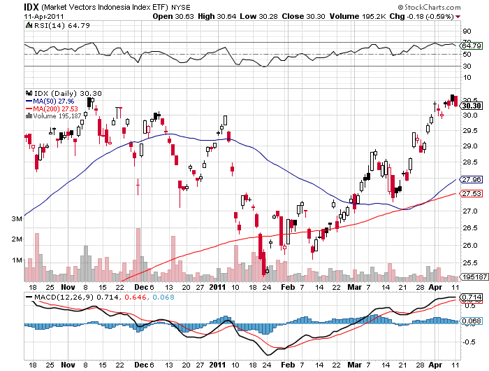 Disclosure: I have no positions in any stocks mentioned, and no plans to initiate any positions within the next 72 hours.