Buys

First Solar (NASDAQ:FSLR) - The solar market has been sold off moving into an Italian announcement in which the country will be placing tariffs on the solar industry. Most of the solar companies have sold off by 5%-10% across the sector in just the past trading week. These stocks, as a whole, are really starting to look like they are approaching nice buying levels. JA Solar (NASDAQ:JASO), Trina Solar (NYSE:TSL) and First Solar are some of our favorites. First Solar tends to bounce well off of channel support levels, and its next support level looks to be around 143. Any more dip signals a definite buy. Good news out of Italy means this stock has a lot of upside, and overall, we believe this stock has little more downside risk unless Italy really surprises with more severe cuts. As this picture fleshes out, FSLR may be a tremendous buy.

Target - $143.

Click to enlarge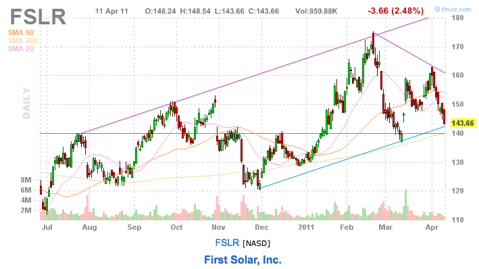 Click to enlarge
Ford (NYSE:F) - The automobile sector has been killed from both higher oil prices and the stock hitting a technical top. Yet, with oil prices dropping, Ford appears to be nearing a bottom. The stock looks like a great buy at 14.50, and it should bounce off those levels. The stock has given up the gains it got after Ford reported tremendous auto sales for the month of March, and the stock should be bouncing off those levels. If oil continues down, F looks solid. Additionally, the technical trade is signaling a significant buy now.

Target - $14.50.

Click to enlarge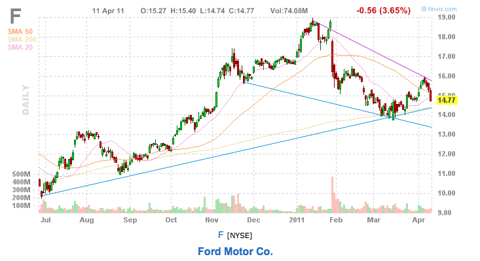 Click to enlarge
Johnson Controls (NYSE:JCI) - The company is in the same boat as Ford and other automotive companies. They have been dropping as oil has been rising. Yet, the company has not had anything tremendously negative coming across the news docket. The stock still looks like it may have a bit of downside before technical support. A drop below 39.50, though, should be signaling a buy. The company is expected to improve EPS from 0.43 to 0.55 with a P/E that has dropped below 18. They are in the middle with that valuation, but the company has dropped for six straight sessions. A large up day would be a great day to start to reposition into JCI.
Target - $39.

Click to enlarge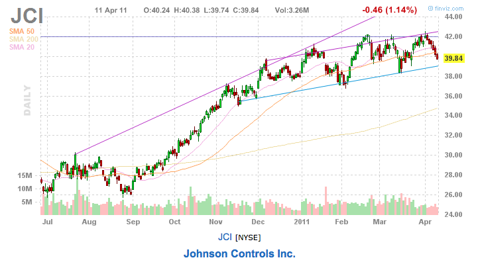 Click to enlarge
Ruth's Hospitality (NASDAQ:RUTH) - A purely technical trade with some fundamentals can take place in Ruth's Hospitality (RUTH). The company has been negatively affected by beef prices as with other beef-related companies. The company has nice support on its 20 and 50-day MAs as well as a channel support line at 4.85. The stock is trading right at 4.95 and has given up all of its recent gains. Yet, the beef sector continues to get hit by higher input prices. We believe a drop below $4.90 signals a trade. From the technical standpoint that will be a nice support level. Relief in beef prices would also give some buying signals. Watch both of those for a pickup.

Target - Below $4.90.

Click to enlarge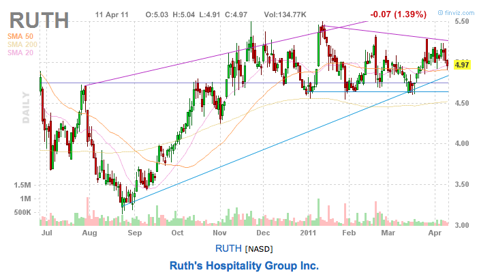 Click to enlarge
Fifth Third Bank (NASDAQ:FITB) - The regional financial was our most highly rated financial during earnings season as the company has tremendous growth (400%+) growth in EPS that will significantly drop its P/E share. The only concern we have with FITB is that we are not sure how the market is going to react to financial earnings. Energy and commodities seem pretty safe, but financials are looking at tremendous earnings growth. Yet, they are not going to see that top-notch organic revenue growth. Investors will be looking to see how these companies are dealing with mortgages as well as investment arms. Fifth Third looks like a tremendous buy if we see any strength in financials as a value trade.

Target - Looks right in target right now, but need to see market backing the entire sector before we want to pull the trigger.

Click to enlarge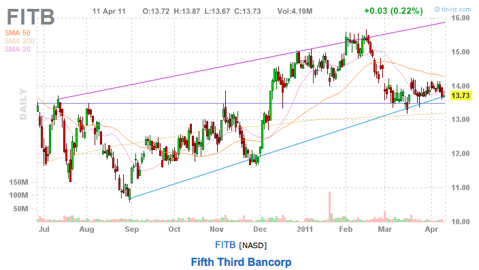 Click to enlarge
Sells

Chipotle Mexican Grill (NYSE:CMG) - Beef prices are rising tremendously, and CMG remains strong. The company has to play some catch up at some point with its competitors that are getting hurt by rising prices. The company still does not seem to play into reality, but a 48 P/E ratio sits well above competitors and the company is only expecting to see about 20% in P/E growth. Future P/E is supposed to drop to 32, but that still sits well above the competition. We have a PT on CMG at $193, and we expect the company will most likely start to move that direction. Technically, we are at a breaking point. A down day tomorrow will push the stock below a key support level at $268 with its next support around $262. We see the stock break that level, and we are looking at a strong Short.

Target - Shorting at $268.

Click to enlarge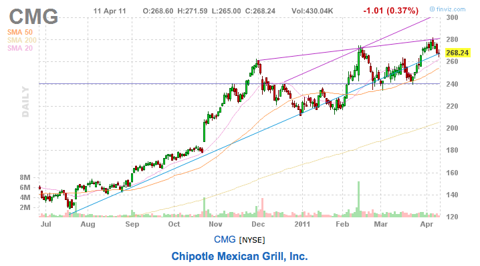 Click to enlarge

Disclosure: I have no positions in any stocks mentioned, but may initiate a long position in FSLR, FITB, JCI, F, RUTH over the next 72 hours.