In 2009, Glencore sold $2.2bn worth of convertible bonds, setting the wheels in motion for a future stock exchange listing. This stock exchange listing now appears only a few weeks away, judging by various media reports and statements by chief executive Ivan Glasenberg.
The listing prospectus will certainly reveal more interesting aspects of this impressive enterprise, and lots of ink will probably be shed in the coming weeks regarding various aspects of Glencore's operations.
As an integrated commodity trader and merchant bank, Glencore has equity stakes in many listed companies, of which I want to provide an overview in this article. As far as I could discover, Glencore's listed equity stakes are worth more than $32.5bn at today's market prices
A major part of Glencore's value certainly resides in the trading operations and network, its highly skilled people and political connections, as well as fully-owned private companies (mines, smelters, processing plants, agricultural land, elevators, etc). However, we won't know more details on these investments until the listing – so let's focus on the listed investments first.
Below is a table listing the twelve listed companies in which it is known that Glencore has a major equity position, sorted by market capitalization (click to enlarge):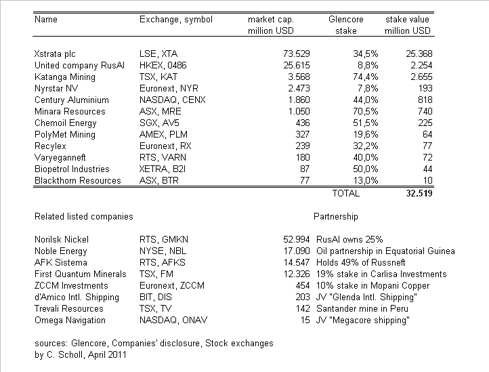 Glencore's largest holding is by far its well-known controlling stake in the mining giant XStrata plc (XSRAX.PK). Glencore's 34.5% stake is currently worth about $25.4bn. XStrata is one of the largest mining companies in the world, along with the likes of BHP Billiton (NYSE:BHP) or Rio Tinto (NYSE:RIO), and is probably well-known to all readers. Glencore's two other important holdings are probably much less known.
Glencore has a nearly 9% stake in RusAl, headed by Russian billionaire Oleg Deripaska. The stake was obtained after Glencore merged its Aluminium operations with RusAl and SUAL in 2007. The new "united company RusAl" recently floated its shares in Hong Kong, a step that Glencore is also reported to be eyeing, next to a London listing. The stake in RusAl is currently worth about $2.3bn.
Glencore's second-largest equity holding is a $2.7bn, 74.4% stake in the Canadian mining company Katanga Mining (OTCPK:KATFF). The company owns and operates copper and cobalt mines and concentrators in the Katanga province of the DRC (democratic republic of the Congo). The company was originally formed by Congolese and Belgian investors around George Forrest, but ran into financing problems after the 2008 crisis which depressed copper prices. Glencore stepped in and provided loans which ultimately gave them control over the company.
Next to its stake in RusAl, Glencore also owns 44% (worth $818m) of NASDAQ-listed aluminium company Century Aluminium (NASDAQ:CENX). Glencore floated the shares in 1996 and reduced its stake.
In Europe, Glencore holds nearly 8% of the $2.5bn Zinc and Lead smelter Nyrstar, a stake worth nearly $200m. Nyrstar was created in 2007 as a spin-off of Belgian metals company Umicore (OTCPK:UMICF), which combined its zinc smelters with the smelting assets of troubled Zinifex (now OZ minerals (OTCPK:OZMLF)). Glencore notified its stake in February 2009.
The fifth-largest investment is a 70.5% stake in Australian-listed Minara Resources (OTC:MREJF), worth $740m. Minara is one of Australia's major mining companies, active mainly in the Nickel and Cobalt space. Together, Glencore (40%) and Minara (60%) also own the Murrin Murrin Nickel/Cobalt refinery.
Glencore very recently took a stake in Polymet Mining (NYSEMKT:PLM) that amounts to nearly 20% on a diluted basis. PolyMet is poised to begin mining Copper, Nickel, Cobalt, Platinum, Palladium and Gold in Minnesota's Duluth Complex.
Glencore also owns a 32.2% stake in the French metal recycling company Recylex (formerly Metaleurop), which is worth about $77m. This stake was acquired in 1996 after the reorganisation of german Preussag (now TUI AG). Recylex is specialized in the recycling of zinc and lead (used batteries) and specialty metals (including Antimony, Gallium, Germanium, Cadmium, Tellurium and Indium).
Glencore reportedly bought a nearly 5%, $200m stake in indonesian coal miner PT Bumi Resources, but there are no details known about this stake, so I did not include it in the table. BT Bumi has a current market capitalization of $7.8bn, which would put the value of a 5% stake at $390m.
Chemoil Energy (OTC:CLRGF) is a company listed in Singapore which is one of the marine fuel industry's leading physical suppliers. Glencore's 51.5% stake is worth about $225m and also strategically valuable in light of Glencore's extensive oil trading operation.
The oil component brings me to the next item on the list, which is also one of the most intriguing. Glencore holds a minority shareholding of 40%-49% in subsidiaries of Russian oil company Russneft. The subsidiaries are Varyeganneft, Ulyanovskneft and Nafta-Ulyanovsk. The only listed company is Varyeganneft, whose ordinary shares give it a market capitalization of around $180m (there are additional preferred shares worth around $38m). The shareholding patterns are very opaque. I chose the lower 40% number to calculate the value of Glencore's stake.
The ownership pattern of the parent company is also diffuse, it has been reported that Glencore controlled at some point 49% of Russneft shares as a collateral for a loan to the company, which seems to have been restructured meanwhile. There are media reports pointing to a merger between Bashneft and Russneft orchestrated by the holding AFK Sistema (OTC:JSFCF), which owns 49% of Russneft. Founder Mikhail Gutseriyev probably still retains his 49%, and 2% are said to be held by Sberbank (SBRBF.PK) as collateral for loans.
The current relationship between Russneft and Slavneft-Megionneftegaz is also unclear. Glencore partner Oleg Deripaska used to be interested in Russneft. There is potentially a lot of value for Glencore in the stakes in Russneft's subsidiaries. Glencore has good connections in Russia, especially in the metal space.
The last items on the list are a controlling stake of 50% plus one share in Biopetrol Industries AG, obtained in a restructuring of the biodiesel company in December 2009, and a very recently purchased (.pdf) 13% stake in Australian gold and zinc explorer Blackthorn resources.
This concludes the review of the listed companies where Glencore has a direct equity interest. I am not sure whether this list is exhaustive, but I believe I did not miss a major participation. The value of these investments goes far beyond the simple financial worth of the shares. Most of these investments have strategic value for the company as it enables to source commodities for its trading operations, often at very attractive prices. Glencore often has take-off agreements in place with its investees, a common financing model in the commodity space.
In general, Glencore's investments were very shrewd. The company preyed on great assets at times when the respective companies were facing difficulties, while Glencore saw the long-term opportunity. Next to its undisputed trading skills, Glencore certainly knows how to make huge returns investing in companies. By entering into trade agreements with the investees, Glencore also has the possibility to realize extra benefits even if the investment might take a turn for the worse.
To wrap up this overview of Glencore's satellites on the stock market, I would like to mention a few more listed companies related to Glencore. First comes another Russian mining giant ($53bn market cap.), Norilsk Nickel (OTCPK:NILSY), in which RusAl owns a 25% stake. Glencore apparently bid for an 8% stake in Norilsk, but lost out to competitor Trafigura. Glencore is also actively exploring for oil off the shores of West Africa, and subsidiary Glencore Exploration has entered a partnership with Noble Energy (NYSE:NBL) to extract oil off the coast of Equatorial Guinea (Block "O").
Next to its African investments via Katanga Mining, Glencore also has a large interest in a copper mining operation in Zambia, the Mopani Copper mine. Mopani is 90% owned by Carlisa Investments, an 80/20 JV between Glencore and Canadian miner First Quantum Minerals (OTCPK:FQVLF). The remaining 10% of Mopani are owned by ZCCM investments, a Zambian company listed in Paris.
Glencore subsidiary Los Quenuales and the Canadian miner Trevali Resources (OTCQX:TREVF) entered into an agreement (.pdf) last year to exploit the Santander Zinc-Lead-Silver Mine in Peru.
Next to the extraction and processing of commodities, Glencore is also interested in the transportation of its merchandise. While reportedly only owning one ship (but chartering huge numbers from other shippers for its transport needs), it has entered into joint-ventures with two smaller shipping companies, Omega Navigation (ONAV) and d'Amico International Shipping (listed in Milan). The JV's for product and chemical tankers are named "Megacore Shipping" and "Glenda International Shipping".
I am eagerly awaiting more details on Glencore's investments and strategy once it will file its prospectus, as well as the pricing for its initial public offering. Glencore's IPO might also put the spotlight on smaller companies ("mini-Glencores") pursuing a similar business model, like Terra Nova Royalty (NYSEARCA:TTT), APAC Resources (HK:1104) or Sandstorm Metals & Energy (OTCPK:STTYF).
Disclosure: I am long TTT and also own shares of Katanga Mining and Sandstorm Metals & Energy.