AMPAL (American Israeli Corporation) was formed in 1942 to invest in israeli corporations. The stock trades on the NASDAQ under the symbol AMPL. As of this date, it is trading at about $1.72. The company is controlled by the Maiman family who control approximately 61.5% of the voting power of the Class A shares. 6.46% of the Class A shares are owned by Clal Finance and Clal Insurance companies which are in turn controlled by Israel Discount Bank, which seems intimately involved in financing the underlying holdings of Ampal. Since 1947, Ampal has had an exemption from the SEC for filing as an investment company. In reality it is a closed-end undiversified investment company.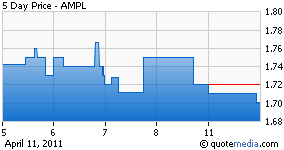 Ampal's primary asset is Gadot Chemical Tankers and Terminals, which is wholly owned. This company was established in 1958 and is successful. Gadot had been trading on the Tel Aviv Stock Exchange but was taken private by Ampal in 2008. Gadot is involved in the sale and marketing of chemicals and raw materials as well as in shipping, the management of ships and the logistics of transportation. Although difficult to tell, Gadot seems to be growing rapidly but operating at a loss.
Ampal's second largest investment is in EMG which is the owner, developer and operator of the gas pipeline which supplies gas from the El Arish pipeline in Sinai to Ashkelon, from where it is distributed. Most of the gas is delivered pursuant to long term supply contracts. Ampal effectively owns approximately 16.8% of EMG.
Ampal has lost money in 4 of the past 5 years and acknowledges that they seek asset appreciation and not income. As Ampal is majority controlled, it does not have a majority of independent directors or a compensation committee. The asset value of Ampal is never disclosed by management and it has paid a dividend to shareholders only once and that was in 1995. Needless to say, the market for its shares is not liquid.
As best as I can gather, Ampal sells for one half of its real value, which I roughly estimate to be about $3.50 - $4.00 a share. So far, the outside shareholders have received little benefit of Ampal's success and it appears that management does not intend to change its policies. Eventually, a corporate event can occur which would release some of the asset appreciation to outside investors, but when that would happen, no one knows. Management is aging.
I have no opinion about Ampal, other than at $1.72 it appears cheap. They seem to know what they are doing and have made interesting investments. They also have the support of Israel Discount Bank for financing. The big question is whether all this will ever benefit its outside shareholders.
Disclosure: I am long AMPL.