As an offshoot to some of my articles which focus on ETFs, I thought it might be worth running a screen on all stocks within the S&P 500 to identify those which are the furthest away from their respective 20 day moving averages.
The purpose of doing this is to try to identify breakout candidates, or certain themes which may persist in the near-term. Such a list also provides insight into those areas of the market experiencing investor "surprise" which often manifests itself in extreme moves up or down in a short period of time. Take a look at the top 10 stocks below.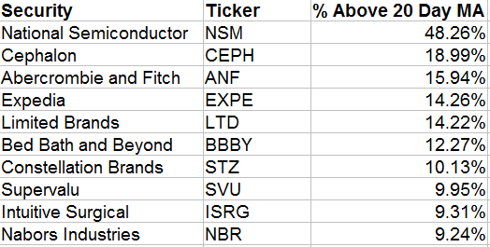 Click to enlarge

National Semiconductor (NSM) and Cephalon (NASDAQ:CEPH) should come as no surprise given recent takeover news which caused those companies to have strong upward revaluation. Abercrombie and Fitch (NYSE:ANF) is also seen as a takeover target by some investors, and the company has recently expressed a bullish outlook.
Perhaps the most interesting aspect about the above list, however, is that 6 of the 10 most extreme stocks relative to the S&P 500 are in the Consumer Discretionary sector. While each company has its own growth story, its interesting to see such price reactions in the face of an unrelenting rise in commodity prices, and the likelihood of paying significantly higher gas prices in the very near term.

The strength of the average stock within the retailer space in particular has been impressive. Take a look below at the price ratio of the SPDR S&P Retail Index ETF (NYSEARCA:XRT) to the S&P 500 (NYSEARCA:IVV). As a reminder, a rising price ratio means the numerator/XRT is outperforming (up more/down less) the denominator.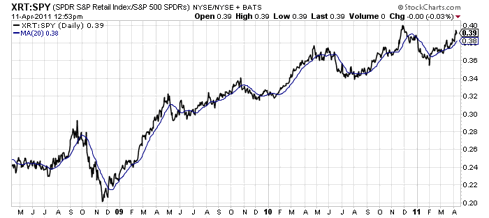 Click to enlarge
The ratio bottomed out in February, and looks like it wants to challenge the all-time highs set back in late November. Momentum players are likely taking notice of this recent price action, ignoring the potential negative impact commodity prices will likely have on consumers. For the time being though, go consumer go.


Disclosure: I have no positions in any stocks mentioned, and no plans to initiate any positions within the next 72 hours. Pension Partners, LLC, and/or its clients may hold positions in securities mentioned in this article at time of writing.