In terms of relevant tech/Internet behemoths, three major players exist: Google (NASDAQ:GOOG), Apple (NASDAQ:AAPL), and Amazon.com (NASDAQ:AMZN). Each extends its reach beyond tech and Internet circles, making an impact in everything from gadgets and mobile to consumer products and retail. This article focuses on Apple and Amazon, assessing the differences and similarities in the companies' approaches to dominating markets.
Amazon: Everything to Everyone
On Monday, Amazon introduced its new $114, ad- and special offer-supported Kindle, intended to "make sure that anyone who wants a Kindle can afford one," according to company CEO Jeff Bezos. This quote only supports the notion that Amazon attempts to be everything to everyone. Not that there's anything wrong with that. In some ways, it sounds a lot like Bezos is running a non-profit as opposed to a multi-billion dollar juggernaut.
This new Kindle comes in at $25 less than the standard Kindle and $75 less than the Kindle 3G. If you go the less expensive route, you'll have to deal with special offers from Amazon -- ranging from half-price gift cards to deals on Amazon MP3s -- and advertising from the likes of Proctor & Gamble (NYSE:PG), Visa (NYSE:V), and JP Morgan Chase's (NYSE:JPM), Amazon Visa credit card.
Hold the phone. Amazon's not a tax-exempt (no pun pretended!) charitable organization after all. I can put two-and-two together with the best of them. Amazon's real intent here is to take Kindle bargain hunters to the cleaners without even kissing them. It's a brilliant disguise. Sure you'll save between $25 and $75 going with the "cheaper" Kindle, but at the same time you'll get lured into spending more. The genius of Bezos does not stop there.
Consider the types of offers Amazon says $114 Kindle owners can expect:
A $10 Amazon gift card for $20. This tactic represents one of the biggest sucker deals in retail. It's sort of like your computer telling you that you need to add $12.18 worth of merchandise to your cart to qualify for "free" shipping. The offer -- a mere psychological game -- attempts to get you to buy more than you otherwise would.
$1 for an album in the Amazon MP3 store. Another genius move. This is just Bezos's way of leveraging one part of the platform to benefit another. In this case, giving away a cheap LP introduces you or gives you greater exposure to Amazon's Cloud Drive. And make no mistake, for now, it is Amazon's Cloud.
Some of the initial advertisers taking part in this new Kindle venture might be getting close to a free ride. If not, Bezos truly is a genius on par with Steve Jobs. Amazon only wins if consumers take the bait and buy some Olay from Proctor & Gamble or sign up for an Amazon-branded Visa card.
Amazon does nothing that will impact just one part of its business. Like Apple, Amazon has a platform and each piece of it compliments or makes logical connections with others. It's all about creating a one-stop shop and customer loyalty. At Amazon, you can pick up Pop Tarts while shopping for textbooks, best sellers, and a satellite radio receiver. You can store your music collection, download more tunes, and stream movies. And you do all of this under the type of competitively- and low-priced model Walmart (NYSE:WMT) invented.
While Apple does not have business lines that can operate to this extent, it's equally as impressive. We all know about Apple's halo effect, whereby a user of one of its devices gets hooked and buys a different one. From a standpoint of number of offers, Apple will never be everything to everyone like Amazon seems to be; however, Apple appears to be in the early stages of ingratiating itself with a wider customer base. In this regard, it could move from being more of a somewhat exclusive brand to making available everything it produces to everyone, or at least close to it.
Should Apple Offer Low-Priced Alternatives?
It has a short history of doing so. Apple has managed to get an iPod into the hands of just about everyone. The device, as long as size does not matter to you, is hardly cost-prohibitive. The iPod Shuffle runs a measly $49 at the Apple Store. This is a far cry from the $149 to $179 Nano, the $249 Classic iPod, and the $229 to $399 Touch, which does just about everything an iPhone does except make calls. While Apple does not separate things out by type, we know that they sold $3.4 billion worth of iPods in the first quarter of 2011, or nearly 19.5 million iPods, according to the company's latest quarterly report.
In its other areas Apple has not quite offered what I would call a low-priced alternative. While iPad 2 costs less than the inferior tablets offered by many of Apple's imitators, the $499 to $829 iPad 2 price tags present a barrier to entry for many consumers. The same goes for the $199 and $299 versions of iPhone 4. Granted, you can get an iPhone 3G(NYSE:S) for $49, but you also have to qualify for mobile service, pay the associated fees, and you get a subpar product, relatively speaking, in the process. And generally, you're not going to get your hands on a Mac for less than $1,000.
While I view the iPod Shuffle as somewhat parallel with Amazon's $114 Kindle, I have to say, Amazon should get a ton more bang for their buck by offering a low-priced alternative. It remains to be seen if they can generate as much revenue from a cheaper Kindle as Apple does from the Shuffle -- we'll never really know, and I doubt they will -- but they'll likely make up for it in other areas of their business.
There's been lots of talk about whether or not Apple will create an iPhone for the masses. It's almost a given they will do so using prepaid plans in China, but will this, or something similar, occur in North America and Europe? It's a good argument that the iPad essentially amounts to a less expensive Mac, but I wonder if Apple has plans to release something more affordable to either product line. I am torn as to whether or not Apple should open itself about the less-than-middle income masses.
Apple rarely discounts its products. It's widely believed that they do not want to dilute their products' images. The thinking is that if you make something attainable to most people it loses a bit of its social cache. Like Mercedes and other "premium" brands, there's some sense to the notion that Apple should want people who cannot readily afford them striving to obtain the company's products. While still a cultural icon, the iPod certainly no longer holds the same type of allure as an iPhone, iPad, or Mac. Certainly, the utility and increasing brilliance of each device has something to do with this, but I think mass availability plays a role as well.
If Apple opts to go on the relative cheap with future iPhones, iPads, and Macs, I would hope they do the best they can to rip a page out of Amazon's playbook. Despite my left-handed sociopolitical leanings, I cannot help but admire Bezos's bleeding heart ploy. Talk about pulling the wool over the unsuspecting consumer's eyes. It's tough to top Steve Jobs for imagination and aggressive innovation, but Bezos might have done it at least a couple times over the last several months.
Ideally, a lower-priced iPhone, iPad, or Mac would, on the surface, give the strapped consumer who cannot otherwise afford an Apple product other than a Shuffle a break. For it to be worth further eroding Apple's social cache, however, it would have to include an Amazon-like hook that will almost definitely drive business to an existing or brand new Apple business line.
As far as the stocks go, I still don't think it's the time to buy AAPL. In fact, I think, to take profits, it's a near-term sell. AAPL continued to display weakness on Monday, athough it failed to breach $330. If it does, and sustains considerably below that level, I would wait for further weakness prior to buying back in. From a technical standpoint a drop below $330 could turn AAPL's chart into a complete mess. At least, as of Monday, it's showing pretty strong support over the last several weeks.
(Charts courtesy of Schwab's StreetSmartEdge)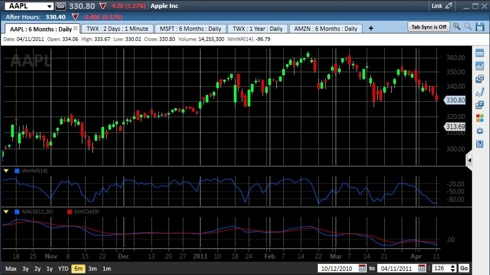 Click to enlarge
(Click to enlarge)
AMZN, on the other hand, has seen considerable strength, even holding its own on Monday, thanks, most likely, to the company's recent aggressive moves. I can only think that investors love the Kindle annoucement, partially for the reasons I outline in this article. As this level, depsite some caution for an earnings blip due to continued relatively high cap ex, I would be a buyer of AMZN shares. I still think they have some upside.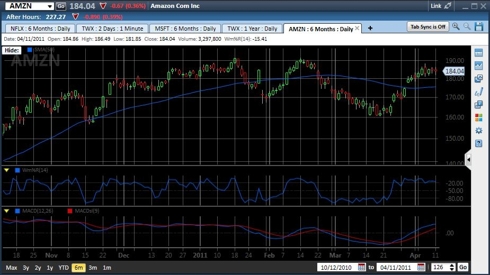 Click to enlarge
(Click to enlarge)
Disclosure: I have no positions in any stocks mentioned, but may initiate a long position in AMZN over the next 72 hours.