During the course of this year, my main recommendation has been long SunPower (SPWRA) and long solar in general. However, at least until the cleantech sector matures, it is likely that it will continue to be greatly affected by periods of over-hype followed by excessive negativity. Consequently, it continues to pay to take a traderly approach to locking in good profits and maneuvering around the bumps in the road.
From that perspective, as I mentioned last week, I have now taken profits in the last of my SunPower position. I think that the outlook for solar remains good. However, the outperformance of SunPower has probably once again gone too far and I am now buying some of the underperformers in the sector, looking for some catch up.
SunPower's Outperformance this Year
[Click to enlarge]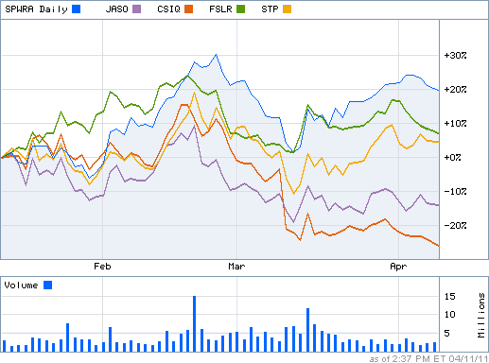 As the chart above shows, SunPower has been a leading performer in the solar sector this year, outperforming for example both solar bellwether First Solar (NASDAQ:FSLR) and Chinese market leader Suntech Power (NYSE:STP) over the past three months. Moreover, SunPower has notched up some sizeable performance gains relative to market laggards JA Solar (NASDAQ:JASO) and Canadian Solar (NASDAQ:CSIQ) in particular.
I have been particularly focused on SunPower given that the company has been perfectly positioned to benefit from a dramatic rise in US utility-scale solar. However, even in the context of this strong medium-term supportive trend, I have found it pays to take a traderly attitude to the rapid shifts in the market's enthusiasm for cleantech stocks. Particularly:
In early January I recommended going long SunPower, which at the time was an underperformer, as a solid core position.
By mid-February with SunPower at its highs for the year and up around 35% year-to-date, it seemed reasonable to take profits.
By Mid-March SunPower was 20% off its highs and perfectly positioned to go long again.
From a similar perspective, I have now once again taken profits on SunPower's outperformance and think it is now time to look for some catch up from some of the sector's more neglected players.
Conveniently, prices in the solar sector have ticked down in the past few days, providing some interesting entry points. So which stocks are worth looking at?
The following chart covers the most popular plays in the solar sector in no particular order of preference:
Market Cap ($bn)
PE
Ratio (NYSE:TTM)
PEG Ratio
SunPower
SPWRA
1.44
10.6
0.4
First Solar
FSLR
13.32
19.2
0.8
JA Solar
JASO
1.12
4.4
0.3
LDK Solar
LDK
1.73
5.3
0.2
Trina Solar
TSL
1.95
7.0
0.4
Suntech Power
STP
1.58
7.0
0.6
Yingli Green Energy
YGE
1.82
9.0
0.4
Hanwha SolarOne
HSOL
0.57
4.9
0.3
Canadian Solar
CSIQ
0.47
9.1
0.5
MEMC Electronic Materials
WFR
2.87
82.1
5.5
Renesola
SOL
0.8
5.0
0.3
Two points are worth noting regarding earnings and PE ratios in the solar sector. Firstly, PE ratios for Chinese stocks have generally been historically low versus PE ratios for non-Chinese solar players. As the table above also shows, the same is obviously true for their respective PEG ratios. Partially, this reflects the greater degree of confidence that investors can have with regard to proper disclosure and shareholder protection in the US, for example. However, it is probably also true that some of these Chinese players may well be accorded higher PE ratios in the period ahead.
Secondly, earnings in the solar sector had something close to a blistering year in 2010. Following this performance, analysts seem to be generally expecting a flatter path for earnings in the sector as a whole for 2011. However, a number of recent developments may prove them wrong. Particularly, in the aftermath of the tsunami in Japan and the resultant higher level of perceived risks related to nuclear, investment in solar at the utility level looks likely to be a major beneficiary, as I have discussed previously with regard to Japan itself. Moreover, other countries are likely to respond similarly. In particular, President Obama's recent Blueprint For A Secure Energy Future clearly shows the direction in which policy is going.
Moreover, of note particularly for the undervalued Chinese solar players, there have been some indications that the Chinese authorities may also upgrade their already hefty plans for solar power following the developments in Japan. The official Chinese Securities Journal recently reported that China may double its target for total photovoltaic power capacity from 5 GW to 10GW by 2015. In this environment, a case can be put together for buying most of the Chinese players on low PE and PEG ratios.
However, with these broad positive trends likely to lift the sector as a whole, I think it is time to bet on some catch up from the stocks which the market has treated less enthusiastically in the past few months. For me, JA Solar and Canadian Solar are now well worth looking at. Both stocks are down year to date, despite the better environment for solar.
JA Solar is down 4.8% year to date at $6.59. However, this underperformance is largely unwarranted. With a market cap of just over $1bn it is now a significant player with serious capacity and profitability. With the company's PE ratio at only 4.4, there is plenty of room for multiple expansion to drive the stock price higher.
Meanwhile, there have been some good reasons behind the sell-off experienced by Canadian Solar. I will write more about the company in detail in the period ahead. However, for now the stock is currently down 16.7% year to date. Against buoyant general demand in the sector, it looks like the worst has been priced in for Canadian Solar -- and it may recover sharply from here.
Having divested from SunPower last week, I am now looking to use the near-term weakness in the JA Solar and Canadian Solar to build position in these stocks. As upgraded government plans for solar investment become increasingly apparent, the solar sector as a whole should benefit strongly, and these two underperformers may well experience some catch-up.
Disclosure: I am long JASO, CSIQ.