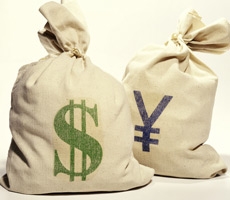 As the fortunes of world economies rise and fall and central banks decide when to raise interest rates, traders may capitalize on currency movements with exchange traded funds (ETFs). Within the close circle of currency traders, the so-called carry trade is back on.
Carry trades are performed by borrowing a low-yield currency and investing in currencies that have higher yields, write Geoffrey Rogow and Rebecca Howard for The Wall Street Journal.
Last Thursday, the European Central Bank hiked a key interest rate for the first time since 2008. Consequently, the euro hit a 11-month high against the low-yield yen and U.S. dollar.
As currency traders are becoming more comfortable with the Japanese yen's current ceiling, traders are borrowing more of the low-yielding yen and converting it back to the Australian dollar. Kurt Magnus, executive director of FX Sales at Nomura in Sydney, commented that "the yen is being sold in the search of yield because equity markets are stable."
Western Union Business Solutions corporate dealing manager Chris Hunter also stated that "the downtrend is here to stay for a while so the potential for further gains is well and truly there for the yield currencies."
The two funds below use strategies similar to the carry trade:
PowerShares DB G10 Currency Harvest (NYSEArca: DBV)
iPath Optimized Currency Carry ETN (NYSEArca: ICI)
For more information on world currencies, visit our currency ETFs category.
CurrencyShares Japanese Yen Trust
Read the disclaimer; Tom Lydon is a board member of Rydex|SGI.
Max Chen contributed to this article.