MOVING THE MARKET
On Friday the Peruvian government rejected the license for Southern Copper's (NYSE:SCCO) much anticipated Tia Maria project. This has caused a ripple effect with SCCO heading lower on Monday along with copper futures, ETFs and other copper miners.
Wall Street Pit states the following:
Tía Maria is a $930mn project that would produce 120kt of copper when operational. It is located in Islay, in the Arequipa state of Peru. The project has faced strong opposition from local communities, and violent protests broke out recently after a UN-commissioned report was leaked signaling deficiencies in the environmental impact study submitted by Southern Copper.
UBS has cut projections for SCCO and Morgan Stanley has dropped Tia Maria from SCCO estimates. While it is unlikely Southern Copper will attempt to renew the licensing procedure since the original was met with strong local opposition, the company does not appear ready to assume a full loss on the project. Expectations would be for some type of sale or exchange of assets over the medium term.
Nonetheless, SCCO is seeing some strong selling this morning down 2.28% as of 10:30 EDT, which is spilling over to COPX and JJU.
While the news looks to have caused a pause in the resumption of the larger advance in copper I don't see it putting much of a damper on upside momentum. In fact in the longer term, the loss of the Tia Maria project will put additional demand on other miners and likely contribute to the rally.
TECHNICAL ANALYSIS
Technically - copper looks to have completed a small correction last week. Although support was penetrated by about a point - the 422 area basically held and contained the selling. The pattern off of that low has built strong upward momentum and quickly pushed back above 450 before pausing to absorb the SCCO news. Near term I would look for support at 438 down to 436.85 to contain additional selling. A break below 433, though, would begin to turn the near term picture more negative and suggest a possible retest of the 421 area. A break back above 452.50 should signal the rally is back underway and upward acceleration is highly likely to carry prices above 465.75 before the next larger correction would be expected.
Copper futures, while not overbought, will quickly move into that zone -- the Bollinger Bands provide quick support and resistance levels and a break on either side would likely produce some strong follow through.
Short term, copper prices have upside momentum and while the news is not positive for SCCO in the short to medium term, the rally should not be held back.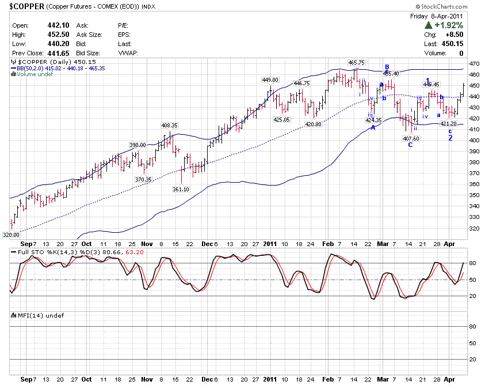 Click to enlarge
(Click to enlarge)
Disclosure: I have no positions in any stocks mentioned, and no plans to initiate any positions within the next 72 hours.