This past week witnessed a continuation of recent price trends in commodities, with the Goldman Sachs Commodity Index (GSCI) rising to a new post-recovery high (chart posted below). The reasons for commodities' seemingly never-ending price rise are well-documented: easy monetary policy coupled with economic recovery.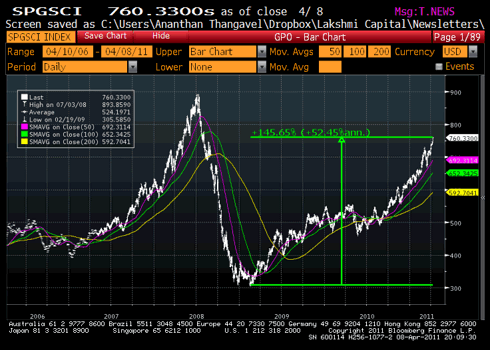 (Click charts to expand)
Competitive currency debasement amongst seemingly every economy in the world is fueling investors' flight towards hard assets. However, it is very important to note that investment demand is not the only factor fueling commodity prices higher; industrial demand for commodities has been robust. Shown below is a chart of the CRB Raw Industrials Index. This is an important index to monitor because it includes many commodities such as tallow, rosin, and zinc, which do not trade on futures exchanges, as well as more traditional commodities like copper scrap and cotton. Since this index includes many non-tradable commodities, it is more indicative of true industrial demand rather than the whims of speculators and investors.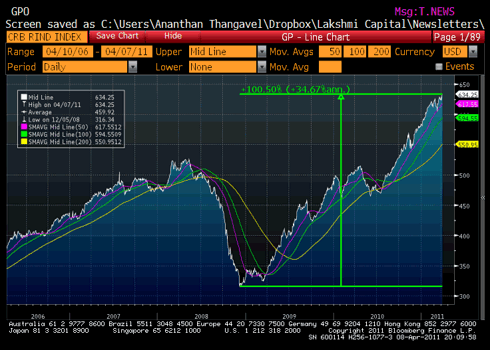 As can be seen from the chart, demand for commodities has increased 100% since the depths of 2008. Also, as shown by the 30-year chart below, the Raw Industrial Index continues to make new all-time highs, reflecting the view that industrial demand for commodities has never been higher. Emerging market industrial demands as well as recovery in developed economies seem to be fueling the rally.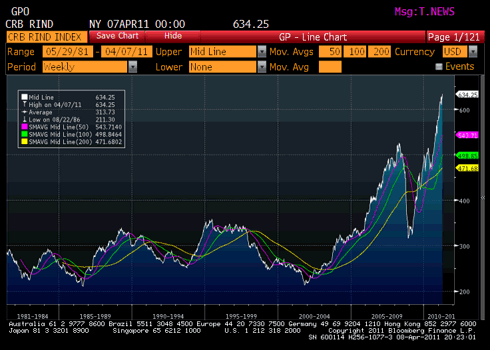 Disclosure: I have no positions in any stocks mentioned, and no plans to initiate any positions within the next 72 hours.
Additional Disclosure: All information included herein is the opinion of the firm and should not be considered investment advice. Past performance is not necessarily indicative of future results.