Income seekers have to perk up when they encounter a 10.7% yield from shares of a company that's consistently profitable (with a return on equity near 20%). It also has no involvement at all with sub-prime mortgages, or even any kind of mortgages or loans, specifically. That's the case with Cellcom Israel (NYSE:CEL), which was one of the stocks that came to light through the "Prudent Yield Hog" model I introduced last month (see Appendix below for more information). For the record, Cellcom Israel continues to appear in the list as of this writing.
It's tempting to pounce, but before doing so, we have to remember that the market is rarely, if ever, negligent. If, in this day of age with CD yields troublingly close to zero, we see a double-digit equity yield, we have to wonder what sort of baggage we're dealing with and whether the risks are acceptable. Mainstream income commentators prefer to steer investors away from such stocks. But high-risk high-return situations do have a place in the market so long as one approaches them with a level head and open eyes (use of the word "Prudent" in the name of this strategy is not done for ornamentation. Prudence, however you want to define it, is what's needed to make any yield-hog strategy work).
We can get a sense of one source of baggage just from the company's name. This is an Israeli firm. Despite all the "stuff" that's gone on in the Middle East for years, the company's business has operated normally. Moreover, geopolitical events pose no special problem at present either. Even so, the Middle East is what it is and expecting any U.S. investor to cavalierly approach an Israeli firm exactly as if it were a U.S. firm makes as much sense as expecting all constituencies throughout the region to sit around a campfire, link arms and sing "Kumbaya."
As to this company's business, it's Israel's largest cellular provider. It doesn't dominate the market, but it is clearly one of the majors (at year-end 2010, Cellcom's market share was 34.5%. The next two firms had market shares of 32% and 29% respectively).
The company carries a lot of debt: NIS 3.9 billion (NIS = New Israeli Shekels) long-term plus NIS 348 million short- term compared to NIS 341 million in equity at the end of 2010). But it can handle the leverage. Operating profit in 2010 was NIS 1.938 billion versus NIS 230 million in net interest expense.
The dividend also seems manageable. In 2010, the company paid out NIS 1.319 billion, which was 75% of cash from operations minus capital expenditures. Moreover, capital spending seems likely to diminish going forward given the extent to which the company has already built up it's largely fiber optic network.
Still, income investors cannot be complacent about the dividend. Here are the issues that need to be considered:
There's tax baggage here. Per Israeli law, 20% gets withheld immediately. To effectively get the full amount, U.S. investors will have to claim a foreign tax credit on their returns.

The dividend has not been stable quarter after quarter as has usually been the case among U.S. companies. The variations haven't been big, but the fact that there are variations makes it clear Cellcom will be much less bashful about making a significant cut if business conditions warrant than is the case with many U.S. companies. They often prefer to tough it out and maintain the full payments if they think they can get through a slump in a reasonable time frame.

There's currency risk. The dividend is declared in the Israeli currency. For the most part, that hasn't been a serious negative for U.S. investors. Aside from the 2008 financial crisis, the dollar has been trending gently upward versus the NIS. But few, if any equity investors are comfortable with forecasting future exchange rates, so this is inevitably going to be something to worry about.

Earnings may dip in 2011 (Remember the tendency of management to allow the dividend level to fluctuate!) due to regulatory pricing pressures. Starting in 2011, fees cellular firms charge one another for retransmission have been reduced and termination fees have been eliminated. Management reports that so far in 2011, the impact has been in line with expectations, but that's small comfort since expectations are lower.

Even without regulatory pricing issues, the market for cellular service in Israel is not growing much anymore (the Israeli penetration rate is 128%, meaning many people already have multiple lines), and another company Xfone (XFN) just received a license to enter the fray. This is not an immediate problem for Cellcom (muscling in against three sizable incumbents is never easy for a market newcomer, especially one as small as XFN, whose U.S. market cap is about $30 million versus more than $3 billion for Cellcom), but it is one more irritant for investors worried about dividend stability and growth).
So now, we're starting to understand why shares of a pretty solid company carry such a high yield. Until the shareholder recoups the Israeli withholding via claim of tax credit, the effective yield is down from 10.7% to about 8.6%. Given the possibility of a softening dollar (which has to be on the table as long as Fed easing remains a concern) and a dividend reduction, we may want to trim our expectations a bit more and brace for something in the 7%-8% range (this is not a precise estimate; it's just a case of thinking-out-loud).
But this does not necessarily mean income seekers should shun this stock.
Even a 7% yield would be pretty good nowadays, and to get to a number like that, we'd be incorporating some very negative assumptions.

We don't really have to fully concede the effective drop from 10.7% to 8.6%. We can claim the tax credit. We won't have use of the funds for the year, so this dividend won't compound exactly the way it would if it were a U.S. firm. And we would have to take an extra step if we want to put the recouped money back into the brokerage account (I'll bet many shareholders will fail to do this.) But even we're sloppy about that, the money will still be ours and the yield seems high enough to allow us to forfeit a year's worth of interest-on-interest for 20% of this particular dividend stream.

Most interestingly, perhaps, is the fact that the analysis to this point made no allowance at all for some upside potential in the company's business. Actually, though, that may be too conservative. While cell phone usage in Israel is quite high, much of it is for plain-vanilla telephone calls. Israel was relatively late to adopt 3G. As a result, market penetration for data-type services remains low and is presently in rapid-growth mode and market conditions are right for this sort of thing: The Israeli population is younger (i.e. skewed toward the kinds of people who use such services) and faster growing than in many developed countries, and the country's territory is small with much of the population concentrated in a small number of regions which, along with its flat and dry characteristics, make advanced networks and services easy to roll out and maintain. The company is also targeting what it refers to as synergic areas such as landline services to businesses and a payment service it refers to as "mobile wallet."
Putting all this together, we see a stock with a nominal yield of 10.7% that seems likely to have a lower effective yield (given the tax and currency-translation issues and the tendency of the dividend payment to fluctuate as well as the likely near-term regulatory earnings hit) but one which may still wind up quite a bit higher than what could be obtained from shares of other companies with comparable fundamentals (thanks to business growth opportunities and the U.S. tax credit).
Neither Cellcom Israel nor any other Prudent-Yield-hog stocks would be appropriate as the core holding in an income-oriented portfolio (all of these stocks come with some kind of baggage). But a collection of a reasonable number of such issues (I hold 15 of them) qualified through a sensible fundamental protocol (see Appendix below) could add spice to a broader equity-income portfolio.
APPENDIX
The Prudent Yield Hog model, created on StockScreen123 and introduced in a 3/1/11 Seeking Alpha article, is based on the notion that income-seekers can achieve satisfactory returns by reaching for the highest possible yields if they work with a list that has been pre-qualified to eliminate companies that bear the greatest risk of dividend cut or elimination.
It uses a screen that contains the following rules:
Basic Universe Definitions
Eliminate OTC stocks, stocks trading below $5, stocks with market capitalization below $250 million, ADRs and companies classified as Miscellaneous Financial Services (most of which are closed-end mutual funds)

Daily volume over the past 60 days must have averaged at least 50,000 shares

Yield must be equal to or greater than 2/3 of the rate on the 10-year Treasury

Yield may not exceed 5 times the rate on the 10-year Treasury

For this pushing-the-envelope version of the model, the stock must rate 40 or better on a scale of zero to 100 under a ranking system designed to evaluate high-yielding income stocks; under the default version, it would have to rate at least 60
Here's a summary of the ranking system referred to in the last screening rule:
Growth Profile (one third of the score)
*Dividend growth (60% of sub-category)

*EPS growth (30%)

*Sales growth (10%)
Dividend Security (one third of the score)
*Trailing 12 month dividend payout ratio (lower is better) sorted relative to industry peers
Investor Sentiment (one third of the score)
*Price signals (30% of sub-category)

*Technical Signals (30%)

-Investor Comfort (40%)
To see for further detail, click here.
From the list of passing companies (i.e., those that have been successfully pre-qualified), select the 15 highest-yielding stocks.
Figure A-1 shows backtested price performance of the strategy from 3/31/01 – 2/28/11 assuming the model is re-run and the list refreshed every three months.
Figure A-1 (Click to enlarge)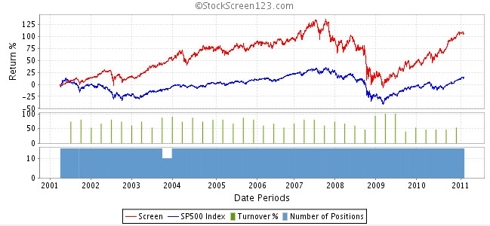 That's price performance only. The model faltered during the financial crisis of 2008, as did most other strategies. But the overall start-to-finish capital gain was 106.7%; or 7.6% annualized, which would be added to the yield, which was often in the neighborhood of 9%.

Disclosure: I am long CEL.